Eight Years On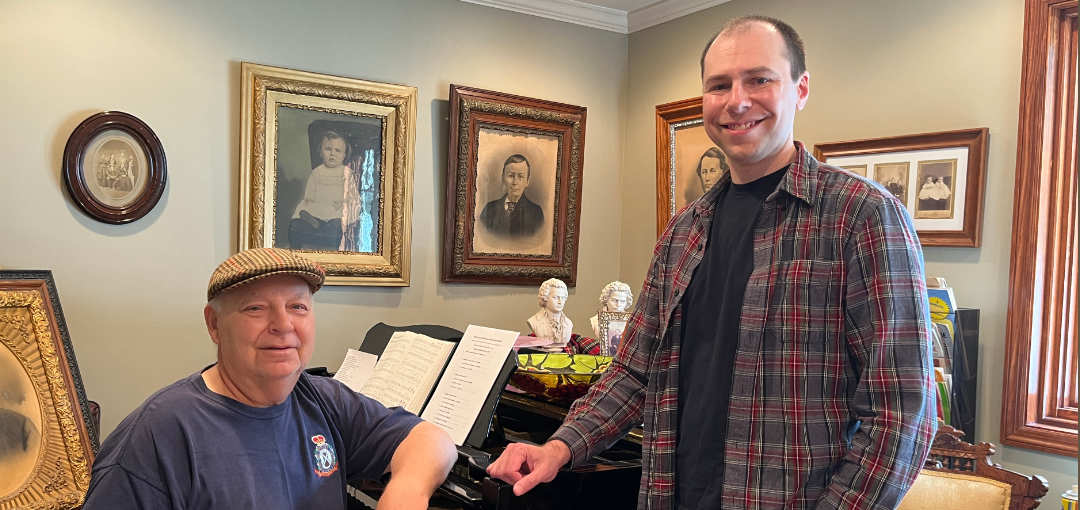 I felt somewhat dismayed as I sat down to write this year's retrospective of Hagenbuch.org. In the previous 12 months, only 300 names have been added to Beechroots, our database of family records. Last year that number was over 1,000. What had happened?
Whatever it was hadn't impacted the number of articles posted to this site. For eight years, my father, Mark, and I have published one story per week. To date, we have shared 422 pieces, totaling over 460,000 words. Our combined efforts now surpass what my father accomplished from 1982–1992 with The Beech Grove newsletter's 436 typed pages. Assuming 500 words per single-spaced sheet, that equals 218,000 words. For comparison, the novel Gone with the Wind has about 418,000 words and War and Peace contains over 560,000. Still, none of this explains the slower progress on Beechroots.
Upon more careful consideration, I began to realize that 2020 and 2021—when thousands of names were added to Beechroots—were actually an anomaly resulting from time at home during the pandemic. In that sense, 2022 marked a return to a more typical pattern of genealogical work. It also emphasized just how important that work is and how updates to our family tree can bear fruit.
One of the sweetest of those fruits stems from connecting with newfound relatives. This past year I traded numerous emails with distant cousins Norma Kay (Penman) Hurter and Walter "Walt" G. Hagenbuch. These communications led to a number of fascinating pieces on the site. Norma Kay contributed a late summer series about the vacations her family took to the shore in the 1950s. Walt provided a number of amazing artifacts to write about, like a Sunday School book once owned by his great grandfather, Henry Hagenbuch III (b. 1833). Additionally, he shared wonderful photographs and details about Henry III and his descendants.
My father and I had the pleasure of meeting Norma Kay along with many other relatives at the 75th Hagenbuch Reunion in June. The experience of that day rekindled the long tradition of our family coming together and marked the end of the reunion's hiatus due to the pandemic. The reunion also highlighted the core focus of this site: family. Throughout the day, the distinguishing features that unite us were on display alongside a table of artifacts including some from scrivener Hannah (Sechler) Hagenbuch, whose Sechler family is entwined with ours. The tour of the cemetery at St. John's Lutheran Church walked attendees through stones belonging to the family of Conrad Hagenbuch (b. 1790). Relatives conversed about other family lines too, such as the Kistlers, who were featured in a three-part article series on this site. Memories were made, relationships renewed, and new contacts found—all thanks to the reunion event.
There are some noticeable patterns in the types of articles we choose to publish on Hagenbuch.org. My father enjoys writing pieces about genealogy related to the careful process of collecting documents and totaling one's ancestors. He has examined the first and last names in his paper records, imagined if the search for ancestors is nature or nurture, and used photographs to tell the story John Hagenbuch/Hagenbaugh's (b. 1817) family. Yes, I have written a few articles in this vein too, discussing the growing number of Hagenbuch lines we have identified in the United States and the release of the 1950 Census in 2022. However, my output is nowhere near my father's in this area.
Instead, I am drawn to mysteries about our family's history and digging up information to solve these. There were several important discoveries this past year such as a bible once owned by Daniel Hagenbuch (b. 1803), evidence of twin sisters Sarah and Rosetta Hagenbuch being born in 1824, and pictures of James Hagenbuch's (b. 1922) helmet in a private collection in France. Yet, some mysteries remain, including the final whereabouts of Thomas H. Hagenbuch (b. 1851) and proof of Charles W. Hagenbaugh's (b. 1862) parents. There is always more work to be done!
Together, my father and I frequently collaborate on articles about family news and culture. One of the biggest news stories of the last year occurred when Christian Hagenbuch's (b. 1747) distillery property became a Northampton County, PA park named Spengler Preserve—free for all to visit. Although, it could be argued that the birth of my son, Henry K. Hagenbuch, was of equal if not greater significance to me! Several obituaries were featured such as the passing of Russell Hagenbuch (b. 1945) and Cora L. (Yoxthimer) Hagenbuch (b. 1947). In less weighty pieces, we explored tales of childhood ghosts and how significant food is to our heritage. Holidays are important to culture as well, and we shared pictures of past Christmases along with the story of our sweater-knitting, German cousin, Regina Hagenbuch.
The Hagenbuch Archives are filled with a plethora of wonderful, family artifacts. One box in the collection was previously owned by Charles C. Hagenbuch (b. 1915). It provided a treasure trove of materials that helped my father explore the life of an uncle he barely knew. A scrapbook made for Charles' brother, Homer (b. 1916), was full of intriguing ephemera, photos, and newspaper clippings. My father also has his own assembly of old newspaper articles which are part of the archives too. Several family artifacts were located on eBay, including a 1920s receipt register from the Hagenbuch Motor Company and a bottle from C. H. Hagenbuch's drugstore. Lastly, the Hagenbuch Archives recently received a special donation: a World War II era uniform identical to what James Hagenbuch would have worn on D-Day.
So much of what we do on this site is tied to the history of our family members. This year featured new details, interesting personalities, and intriguing happenings. We shared stories about how Andreas Hagenbuch (b. 1715) served as tax collector, when John D. Hagenbuch (b. 1874) testified before Congress, the grisly demise of Henry Hagenbuch (b. 1812), and the life of Dr. Phoebe (Palmer) Flagler Hagenbuch. In addition, we examined how our family is rooted in different places all named White Hall and reported on a 50th birthday party held for Eudora Clementine (Fowler) Hagenbuch (b. 1851). Indeed, the past 12 months have been a productive and rewarding time for Hagenbuch.org!
Now as we start the ninth year of our collaboration, my father and I continue to work towards our goal of documenting all of the descendants of Andreas Hagenbuch (b. 1715). Though the pace of entering these into Beechroots has slowed, we hope to boost our efforts this year, continue our research into family lines, and communicate with many more branches of our Hagenbuch family tree.
As always, if you would like to have your family's history and genealogy featured, please send us a message using our email Contact Us form. Make sure to have images, names, and dates ready to share too.
Thank you for your continued support!
-Andrew M. Hagenbuch & Mark O. Hagenbuch