Bringing Together Family: The Children of Conrad Hagenbuch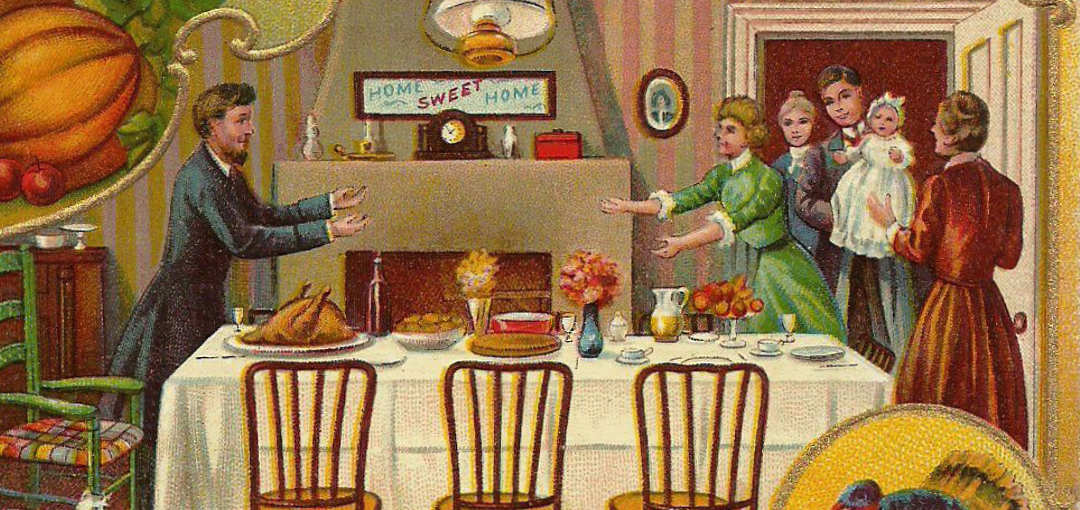 As the Thanksgiving holiday nears, I am reminded of a classic American scene: a family, coming together around the table, preparing to dig into a mouthwatering dinner of stuffed turkey, all the side dishes, and sweet pumpkin pie for dessert. Norman Rockwell's iconic 1940s painting, Freedom From Want, captures the moment perfectly, though there have been other representations of it too. One of these, a 1903 illustration by Louis M. Glackens for Puck magazine, provides a humorous look at a mother preparing a Thanksgiving feast for her eager children.
Bringing together family is an key piece of what my father, Mark, and I do as genealogists. Examples include publishing articles on this site about different family groups, as well as organizing the Hagenbuch Reunion. However, another component of equal, if not greater, importance is the work we do researching families and organizing them in Beechroots. It is a challenging process, complicated by incomplete paper records and the loss of female lines, when they married and took their husbands' surnames. Reconnecting with our Hagenbuch daughters has been a focus of mine during the past few years.
Take, for instance, the family of Johann Conrad Hagenbuch (b. 1790), who went by "Conrad," and has been mentioned in several previous articles. Conrad was a grandson of Andreas Hagenbuch (b. 1715), and he married Mary Ruckle (b. 1790) around 1810. The couple eventually moved to Delaware Township, Northumberland County, Pennsylvania. There, they were members of St. John's Lutheran Church, which happens to be the location of the 2022 Hagenbuch Reunion. They are both buried in the church's cemetery.
For many years, we believed that Conrad and Mary had four children—one son and three daughters. These were as follows:
John "Finis" Phineas Hagenbuch (b. 1812, d. 1891)
Finis was born in 1812 and married Barbara Ann Dentler. The couple had eight children together. He ran a series of hotels in Northumberland County, PA, before moving to Winchester, Virginia during the Civil War. Eventually, he returned to Pennsylvania and died there on February 12, 1891. Finis is buried in Allenwood Cemetery, Allenwood, PA.
Esther "Hetty" (Hagenbuch) Moyer (b. 1817, d. 1847)
Hetty was born on June 19, 1817 and married William Moyer. The couple had at least two children. Esther died on September 29, 1847 and is buried in the St. John's Lutheran Church Cemetery, Watsontown, PA.
Rosetta (Hagenbuch) Mackey (b. 1824, d. 1879)
Rosetta was born on March 7, 1824. She first married David Scott, who appears to have died young. She next married James Mackey and had at least one son with him. She died on December 1, 1879 and is buried in the St. John's Lutheran Church Cemetery, Watsontown, PA.
Rebecca (Hagenbuch) Heiny (b. 1828, d. 1897)
Rebecca was born in 1828 and married John Adam Heiny. The couple had at least five children together. Rebecca died on January 3, 1897 and is buried in the St. John's Lutheran Church Cemetery, Watsontown, PA.
Reviewing the above list of children reveals some unusually large gaps between their birth dates and suggests the existence of other siblings. Such a hunch was confirmed during the summer of 2021 when I received a message from genealogist Karen Deleon. According to Karen, she was related to the Hagenbuch family through a previously undocumented daughter of Conrad and Mary (Ruckle) Hagenbuch named Sarah. A series of email exchanges and research into Conrad's will, yielded additional information about Sarah. The process also uncovered two other daughters, adding three more children to the family group:
Elizabeth (Hagenbuch) Knorr (b. 1810, d. unknown)
Elizabeth was likely born in late 1810, according to census records. She married William Knorr, and the couple had at least one son together. William died in 1841, and it is unknown if Elizabeth remarried. Unfortunately, we do not know when Elizabeth died or where she is buried.
Mary (Hagenbuch) Harleman (b. 1816, d. 1883)
Mary was born on January 16, 1816 and married Edward Harleman. The couple had several children together and eventually moved to Illinois. Mary died on January 5, 1893 and is buried in Mount Pleasant Cemetery, Paynes Point, Ill.
Sarah (Hagenbuch) Hower (b. 1821, d. 1853)
Sarah was born on September 8, 1821 and was the first wife of George Hower, who would go on to marry two more times. The couple had two children together. Sarah died on April 11, 1853 and is buried in Messiah Lutheran Cemetery, Mifflintown, PA.
Having six daughters and one son, it's easy to see why the family of Conrad and Mary (Ruckle) Hagenbuch was incomplete for so long. When each woman married, she took her husband's surname and shrouded her original Hagenbuch identity. Nevertheless, thanks to the power of modern research tools and a helpful tip from a genealogist, we are finally able to realize this family of the past and enable them to enjoy this Thanksgiving together.
Just imagine: at the head of the table sits Conrad; while Mary, our hostess, is seated at the foot and faces him. Beside Mary is the couple's eldest daughter, Elizabeth, and to the right of Conrad sits Finis. Filling in the remaining seats are the five other daughters: Mary, Hetty, Sarah, Rosetta, and the youngest, Rebecca. In total, nine places are neatly set at the table. A large turkey rests upon a platter waiting to be carved. All the fixings are ready to be served, as the pumpkin pie cools in the kitchen. Many smiles, plenty of food, and the simple joys of family fill the room.
A happy Thanksgiving from our Hagenbuch family to yours!