Our Kistler Cousins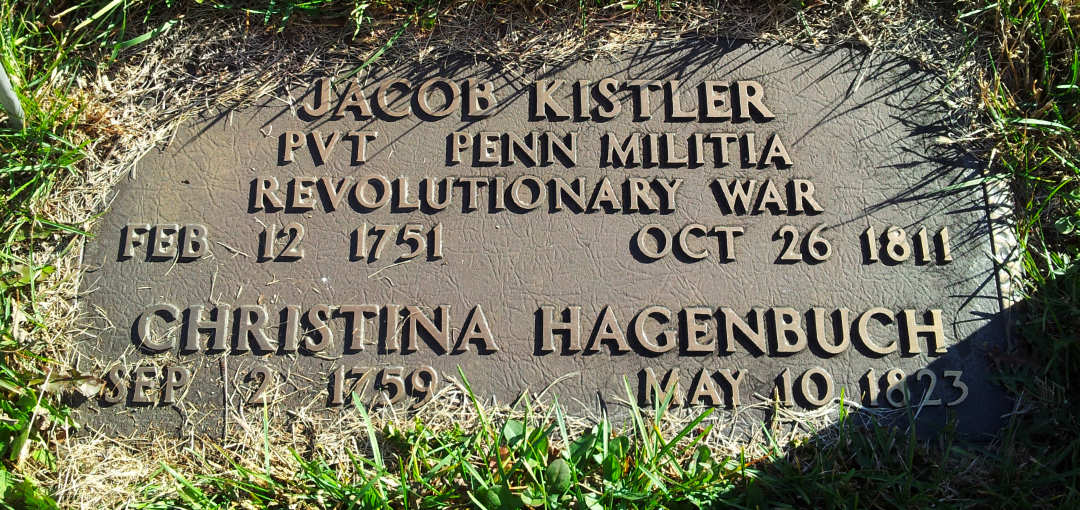 A few weeks ago I was thinking of the Kistler family, which married into our Hagenbuch family through the patriarch Andreas Hagenbuch's (b. 1715) daughter Christina (b. 1759). Christina's mother was Andreas' second wife, Anna Maria Margaretha Friedler. Christina married Jacob Kistler (b. 1751), probably in 1777. They had seven children, one of which was Michael Kistler (b. 1792). The Kistlers were a large family whose home church was the Jerusalem Union "Red" Church in Albany Township, Berks County near Stony Run in what is called the Kistler Valley. This area lies beside Lynn Township, Lehigh County, Pennsylvania where most of the Kistler family lived.
The Kistler family has been mentioned in a few other articles that Andrew and I have written, but we have never fleshed out some of the family's details. Much of the information I have in my paper records was received in the 1980s from a cousin, Elaine Schwar, who died in 2015. Elaine was known in genealogical circles as an expert on Berks County families. She is a cousin to my Hagenbuch clan through my paternal grandmother's Sechler family. And, she is related to the Kistlers. However, some of Elaine's information about the Kistlers was never completed when she was in contact with me because of the lack of internet resources "back in the day."
Today, I can look through my paper records and corroborate the Kistler family information against that which is found using the online tools Andrew and I use. Christina's husband, Jacob Kistler, is the son of Johann George (b. 1720 in Germany) and wife Anna Dorothea (Levan) Kistler. They are buried at the Jerusalem Union "Red" Church Cemetery in Berks County which is about five miles from where Andreas Hagenbuch built a homestead in 1741 and where Christina (Hagenbuch) Kistler grew up. Christina (Hagenbuch) and Jacob Kistler are also buried at the Jerusalem Red Church cemetery.
As I began to research details about the Kistler family to add to our Hagenbuch genealogy, I found some interesting information. Jacob and Christina's children are: Andreas Kistler (b. 1779 and most likely named for Andreas Hagenbuch); Philip Jacob Kistler (b. 1781 and most likely named for Andreas' brother); Maria (Kistler) Happes (b. 1787); Daniel Kistler (b. 1790); Michael Kistler (b. 1792); and Johannes Kistler (b. 1802).
Michael Kistler (b. 1792) was most likely named for Christina's older brother, Michael Hagenbuch (b. 1746), and he was married to Mary Magdalena Brobst. Michael and Mary Magdalena (Brobst) Kistler had 12 children. Most of the 12 children—all born in Lynn Township, Lehigh County, Pennsylvania—lived in the Kistler Valley area and are buried at the Jerusalem Red Church. Their son, Stephen (b. October 1814), married Esther Mosser in 1838.
I decided to follow Stephen and Esther's line and found surprising results. According to the 1850 census, Stephen's occupation was a "tanner and currier [sic]," and the family lived in Lehighton, Carbon County, Pennsylvania. The census lists their children as Charles (b. 1838), Rufus (b.1840), Wilson (b. 1845), and Alfred (b. 1849). Two additional children are listed in Findagrave and were born after 1850: Mary (b. 1851) and Michael (b. 1858). Stephen died in 1880 and Esther in 1877. They are buried in the Stroudsburg Cemetery, Monroe County, Pennsylvania.
Their son, Wilson P. Kistler, is the next line we will follow. As a recap, his line is: Andreas Hagenbuch (b. 1715) > Christina (Hagenbuch) Kistler (b. 1759) > Michael Kistler (b. 1792) > Stephen Kistler (b. 1814) > Wilson P. Kistler (b. 1845). Wilson married Henrietta Stauffer in 1867, and they had two children: Gertrude (b. 1868, m. Benjamin Fredericks) and Sedgewick (b. 1875, m. Bertha Kaul). Wilson was a tanner by trade and served in the Civil War, 27th Regiment Company H. In 1871 he and the family moved to Lock Haven, Clinton County, Pennsylvania. Along with the tannery he owned and operated there, he did business with other tanneries and was vice president of the First National Bank of Lock Haven. Wilson died in 1914 and Esther died in 1929. They are buried in the Highland Cemetery, Lock Haven.
Sedgewick Kistler owned and operated 13 tanneries "in the East," according to his 1952 obituary. He was not only a well known businessman, but also was highly involved in the Democratic party. Sedgewick and Bertha Kaul married in 1906. Sedgewick and his wife Bertha both died in 1952 and are buried in St. Mary's Cemetery, Elk County, Pennsylvania. They had one daughter, Gertrude. Gertrude Kistler was born in 1907 and, at the age of 12, came to an untimely death through drowning during a family trip to Yosemite, California.
According to a news article, in 1920 Sedgewick was attending a Democratic party convention in San Francisco. Sedgewick along with his wife Bertha, daughter Gertrude, a sister-in-law, and their chauffeur went sightseeing in Yosemite at Camp Curry, which is now one of the resort villages in the national park. Gertrude fell into the rushing waters of the Merced River (referred to incorrectly in the news article as the "Mercedes" River) and drowned. While trying to save her, the chauffeur also drowned.
We can only imagine the grief that the Kistler family experienced at the loss of their lovely, young daughter and the added sadness of having to transport the body back to Pennsylvania for burial. The photo of Gertrude attests to her innocent beauty as she looks out at us from 100 years ago. Gertrude was laid to rest in St. Mary's Cemetery, Elk County, Pennsylvania which was where her mother's family (the Kauls) were buried. By the way, the Kaul family were millionaires, making their fortune from the lumbering business.
This is just one family story that may seem minor but adds interest to our genealogical research. The Kistlers are a large family and more information about them will be shared in future articles. As with so many other allied families to the Hagenbuchs, their stories are important to our heritage.