Family Recipes: Wintergreen Cake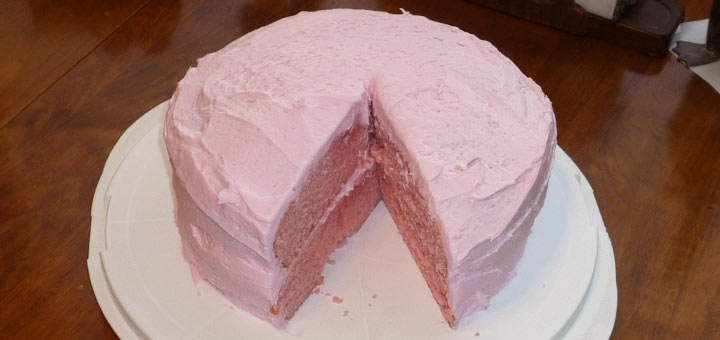 In a previous article, I recounted visiting with my great aunt, Gloria (Felix) Faus (b. 1931), in southern California and discovering a family recipe for bean chow-chow. The recipe had been given to her by my great grandmother, Minnie (Hilner) Faus (b. 1897, d. 1992), whom I called Grandma Faus.
Grandma Faus gave Aunt Gloria many other recipes, including one for wintergreen cake. This one interested my wife, Sara, and I due to its unusual key ingredient: pink wintergreen candies.
Below is an image of the recipe that we found in Aunt Gloria's collection. It appears to be a photocopy from a spiral-bound book of handwritten recipes. This past weekend, we decided to try making the wintergreen cake to see what it would be like.
Wintergreen Cake
Soak 1/2 lb pink wintergreen candies in 1 1/4 cups warm milk overnight. In the morning cream:
1 cup sugar
1/2 cup shortening [or butter]
Add 1/4 cup of cold water with:
3 cups sifted flour
4 teaspoons baking powder
pinch salt
Put in the milk mixture. [Alternate adding milk mixture and dry mixture.]
Beat well. [Beat the egg whites until stiff and just holding peaks.] Fold in 4 beaten egg whites.
Bake about 35 minutes [at 350ºF in two greased and floured 8 inch cake pans].
One of the first challenges in making this recipe was locating the pink wintergreen candies. Due to waning popularity, these sweet treats were difficult to find. My good friend, Clint Shearer, works in the candy business and suggested a grocery store where they were sold.
Supposedly, a customer at this store had specifically requested the candies be kept in stock so she could buy them as treats for her horses! However, with that particular store being two hours away, we checked closer to home. Eventually, we found the pink wintergreen candies at a local CVS.
Our next challenge was correctly interpreting the instructions found in Grandma Faus's handwritten recipe. For example, the recipe neglected to include a baking temperature for the cake. Thankfully, after searching online, we were able to locate a similar recipe which helped to fill in the blanks. The online recipe also included the date it was originally published: 1965.
Lastly, the cake would need an icing—something Grandma Faus's recipe lacked. Sara decided to make a buttercream icing. But, instead of using vanilla, the icing would use wintergreen candies to match the color and flavor of the cake. Her recipe is below:
Wintergreen Buttercream Icing
1 stick unsalted butter, room temperature
3–4 cups confectioner's sugar
1/4 cup warm milk
12 pink wintergreen candies
Soak the wintergreen candies in the milk overnight so they are dissolved.
In the morning, cream the butter until smooth (2–3 minutes). With the mixer on a low speed, add the sugar and milk mixture. Mix until light and fluffy. The icing may also need whipped to achieve the desired consistency.
After baking the Grandma Faus's wintergreen cake and icing it, we sat down to try our creation. Our first impression: It was certainly pink and minty! We also quickly determined that it was more cake than two people could reasonably eat on their own. Therefore, this cake should definitely be shared with family.
We aren't entirely sure we'll be making this recipe for wintergreen cake again. While unique, the flavor and texture could use some improvement. Nevertheless, we enjoyed the experience of locating the candies, baking the cake, and breathing new life into this forgotten family dessert.