The Haugabook Family: A Lost Line of Hagenbuchs?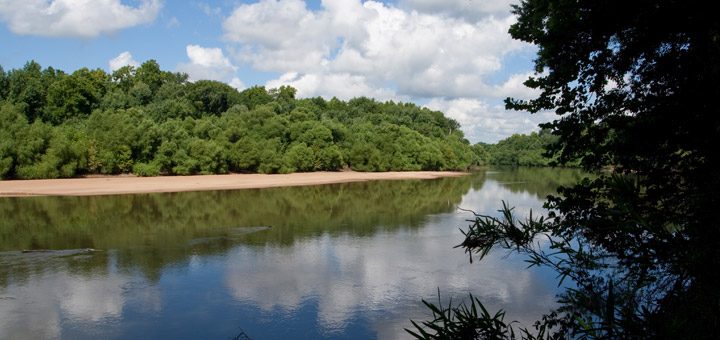 Most Hagenbuchs living in the United States can trace their ancestry to Andreas Hagenbuch, who landed with his family in Philadelphia, Pennsylvania on September 18, 1737. Andreas, however, was not the only Hagenbuch to immigrate to America.
Philip Jakob Hagenbuch, Andreas's younger brother, arrived aboard the Janet in 1751. Records indicate that he later moved to Albany Township, Berks County, Pennsylvania and settled with the family there. He appears to have had no children, leading to a dead end on that family line.
Another Hagenbuch sailed to America in 1734. His name was Jacob Hagenbuch, and his place of origin is listed as Berg near Dagerlen, Switzerland. Interestingly, Dagerlen is only about 10 miles from the town of Hagenbuch. According to researcher Harriet Imrey, Jacob was 30 when he immigrated to Charleston, South Carolina aboard the William. He eventually made his way inland and appears to have settled just south of present day Columbia, South Carolina.
Land documents indicate that Jacob established a homestead along the Congaree River. At that time, this section of the river was known as the Santee, and it was within Saxe-Gotha Township (later it was redefined as Lexington County). Jacob's name also appears on a pamphlet encouraging members of the "Evangelical Reformed religion" to settle in Saxe-Gotha.
Jacob Hagenbuch, coming from Switzerland, was likely a distant relative of Andreas Hagenbuch, who emigrated from Germany. While this is purely speculation, Andreas and Jacob might have shared a great grandfather, making them second cousins. Regardless, it is doubtful that they ever knew one another.
From the moment of his arrival, Jacob Hagenbuch's name was misspelled. In 1735, it is recorded that he acquired 150 acres of land under the name "Jacob Huckaback." Later, in 1742 he received 100 acres more. This document lists him as "Jacob Haghabucher."
Unlike Andreas Hagenbuch, whose family held fast to the traditional spelling of the name, the decendents of Jacob Hagenbuch appear to have changed theirs. According to several researchers writing on Ancestry.com, the name morphed into a number of variations. The 1790 census lists a Jacob Hangerbook, Jr., probably Jacob Hagenbuch's son. In the 1800 census he was listed again, this time as Jacob Hougabook. The "Hougabook" spelling is similar to the name "Haugabook" which is still used by the family.
Jacob Hagenbuch's land was eventually abandoned by the Haugabook family. According to Haugabook researchers, the Haugabooks and their neighbors were rice farmers in the lowlands along the Congaree River. After years of disastrous floods, the families living there had had enough. Some moved to higher ground nearby, while others like the Haugabooks moved further away. They relocated 190 miles southwest to Macon County, Georgia.
Today, there is still evidence of Jacob Hagenbuch's original land. Just south of Columbia, South Carolina, near the intersection of Interstates 26 and 77 lies a swamp along the Congaree River. Older sources refer to this as "Haughabook Swamp" while modern maps mark it as "Hogobook Swamp." This is likely the location of Jacob Hagenbuch's homestead.
Over 280 years later, Jacob Hagenbuch's family tree is still growing, albeit under the name Haugabook. A quick search of Google Images reveals a diverse family, including individuals who appear to be of European and African decent. This is further bolstered by Jan Click on Ancestry.com who writes, "Far from dying out, the Haugabooks (both black and white and various shades in between!) have a family reunion every year."
Here, the histories of the United States and the South are intertwined with the family's story. The Haugabooks, after relocating to Macon, Georgia, appear to have been slave owners. Once emancipated, the former slaves kept the Haugabook name, explaining the diversity found within the family. The name also continued to evolve into alternative spellings such as "Haugabrook" and "Haugabrooks."
A terrific article from the July 1, 2015 edition of the Miami Herald chronicles the Haugabook family's 26th annual reunion. The reunion was started by Joseph Haugabrook in Macon, Georgia, further cementing the connection to Jacob Hagenbuch's line who moved there in the early 1800s. The most recent reunion was held near Miami, Florida and had over 200 in attendance.
After reviewing the evidence, it appears that the Haugabook name is almost certainly rooted in the Hagenbuch family tree with ties stretching back to Switzerland. Jacob Hagenbuch and his Haugabook ancestors are an important reminder that Andreas, while the most noted Hagenbuch to immigrate to America, was not the only one to arrive on its shores in search of a new life.