Uncovering an Illegitimate Child: Julianna Hagenbuch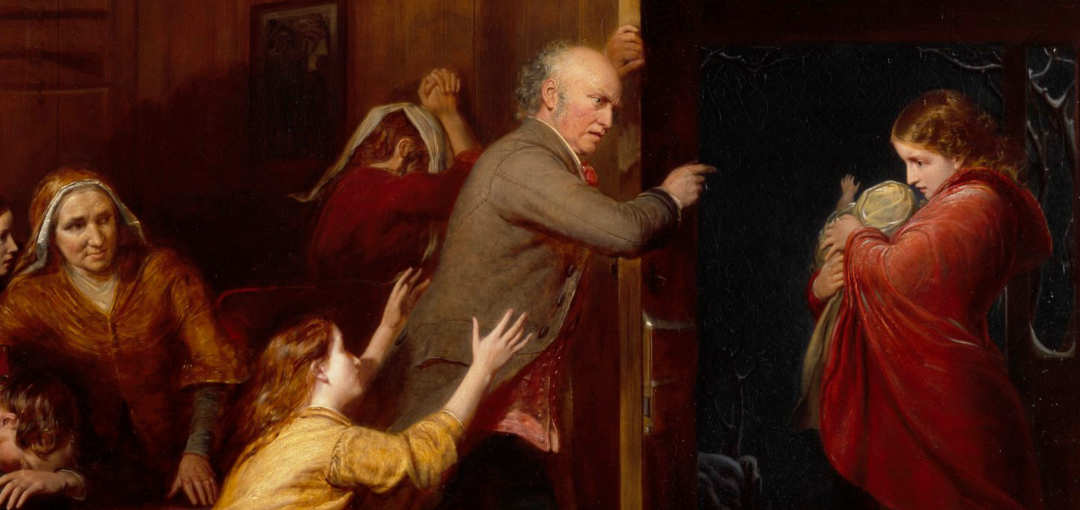 Love child, illegitimate, and bastard—all describe a child born to unmarried parents.
Today, these words don't ruffle as many feathers as they once did. Yet, for our ancestors they carried significant social stigma and legal consequences. Prior to the 20th century, a birth out of wedlock was codified in various "legitimacy laws." While legitimate children enjoyed full rights and a claim on their parents' estate, illegitimate children lacked the same standing. Unmarried mothers dealt with hardship too. Women could be ostracized from their families, have few marriage prospects, and ultimately face a life of poverty.
For these reasons and more, illegitimate children were frequently given up for adoption or raised by relatives as their own children. Many grew up oblivious to their true parentage, unaware of their correct place on the family tree. Such was the case with Julianna Hagenbuch who, until recently, remained largely unknown.
This story begins in 2018, when I discovered the following entry from November 25, 1831 in the Orphan's Court records for Northampton County, Pennsylvania:
On the petition of Eliza Fox late Eliza Lichtenwalter of Lower Nazareth Township, setting forth that the said Eliza had a child before intermarriage named Julianna of which Stephen Hagenbuch is the father, that the said child is a minor under the age of Fourteen years and hath no person to take care of her person and estate. Praying the court to appoint some proper person as Guardian of the said minor. Whereupon the court on the recommendation of the Petitioner appointed Peter Lichtenwalter.
From the text, I surmised that before being married Eliza Lichtenwalter had a child with Stephen Hagenbuch. That child's name was Julianna Hagenbuch. Later, Eliza married someone with the surname of Fox, and Julianna was placed in the guardianship of Peter Lichtenwalter, presumably a relative. Nevertheless, these findings only led to more questions: Who was Stephen Hagenbuch; why did the mother, Eliza, give up her daughter; and most importantly, what happened to Julianna?
The first question was the easiest to answer. In 1831, there was only one Stephen Hagenbuch living near Lower Nazareth Township, Northampton County, PA. This was Stephen (b. 1803), whose line was: Andreas (b. 1715) > Henry (b. 1737) > Christian (b. 1773) > Stephen (b. 1803). We know that Stephen Hagenbuch married Mary "Polly" Schreiber (b. 1807) around 1830, and in 1835 the couple relocated with their children to Bath Township, Greene County, Ohio.
Questions about Eliza and Julianna proved more difficult to answer. Searches of several genealogy databases produced few leads and, without a birth date for either woman, I found myself looking for the proverbial needle in a haystack.
Then, in early 2021 while investigating Hagenbuchs in Michigan, I stumbled upon a curious-looking death certificate. It was for a woman named Angeline Fox who was born on November 24, 1825 and died on May 14, 1905. The document noted that her mother was Eliza Lichtenwalner (quite similar to "Lichtenwalter" from the court text) and her father was "Hagenbuch"—no first name given. Was Angeline actually Julianna? To answer this, I would need to dig deeper.
Research showed that Eliza "Leisse" Lichtenwalner was born on October 5, 1806 to Peter and Susanna (Oswald) Lichtenwalner in Lower Nazareth Township, Northampton County, PA. She married Daniel M. Fox (b. 1806) in 1831, and they relocated to Mahoning Township, Montour County, PA during the 1840s. By 1854, the couple had moved again, this time to Fredonia Township, Calhoun County, Michigan. Interestingly, their graves are only five miles from where Angeline Fox is buried with her husband, John. Angeline had married John Fox (b. 1820) in 1845 in Pennsylvania. The couple moved to Fredonia Township, Calhoun County, MI by 1850 and raised a family there.
Based upon these findings, it appeared that, yes, Angeline Fox was Julianna Hagenbuch. First, her father's last name was Hagenbuch. Second, her mother's name, Eliza (Lichtenwalner) Fox, was the same as the woman who petitioned the Orphan's Court in 1831. Third, her mother's father, Peter Lichtenwalner, matched the guardian who was appointed by the judge. Finally we could tell Julianna Hagenbuch's story.
In early 1825, 18-year-old Eliza Lichtenwalner became pregnant by 22-year-old Stephen Hagenbuch. For whatever reason, the two never married and an illegitimate daughter, Julianna, was born to Eliza in late 1825. What happened next is still unclear. The 1830 United States Census suggests that Eliza may have remained with her parents, Peter and Susanna (Oswald) Lichtenwalner, who were well-to-do landowners. (Peter's profession was recorded in 1850 as "Gentleman.") However, a child Julianna's age cannot be found in their household, indicating that she may have been living with another family.
Stephen Hagenbuch married Mary Schreiber in 1830, and on August 9, 1831 Eliza Lichtenwalner married Daniel M. Fox of Bucks County, PA. Just a few months later, Eliza petitioned the court to give her father, Peter, legal guardianship of young Julianna. Census records confirm that a female of her age was living in Peter's household in 1840. Eventually, Julianna changed her name to Angeline. Perhaps this was her middle name or maybe, as my wife Sara suggested, it was a reversal of her given name. (Julie-Anna when flipped becomes Anna-Julie, which sounds a lot like Angeline.)
Julianna (now known as Angeline) appears to have remained in contact with her biological mother, and in 1845 she married John Fox, who almost certainly was related to her mother's husband, Daniel M. Fox. By the 1850s, both families had moved to Fredonia Township, Calhoun County, MI, suggesting a strong mother-daughter connection. There is no evidence that Julianna ever had communication with her biological father, Stephen Hagenbuch, in Ohio.
The beginning of this article mentioned the troubles once faced by illegitimate children and their mothers. Yet, there were exceptions. After her death, the following was published about Eliza in The Marshall Statesman:
Mrs. Fox died July 5th, 1874. Her neighbors represent her as a kind wife and mother, and a Christian lady of very fine parts.
Julianna "Angeline" (Hagenbuch) Fox and her mother, Eliza (Lichtenwalner) Fox, overcame stigma, enjoyed productive lives, and shared a lifelong familial bond. By sharing their story, we hope their descendants will one day come forward and rightfully join our Hagenbuch family tree.