Friends of the Family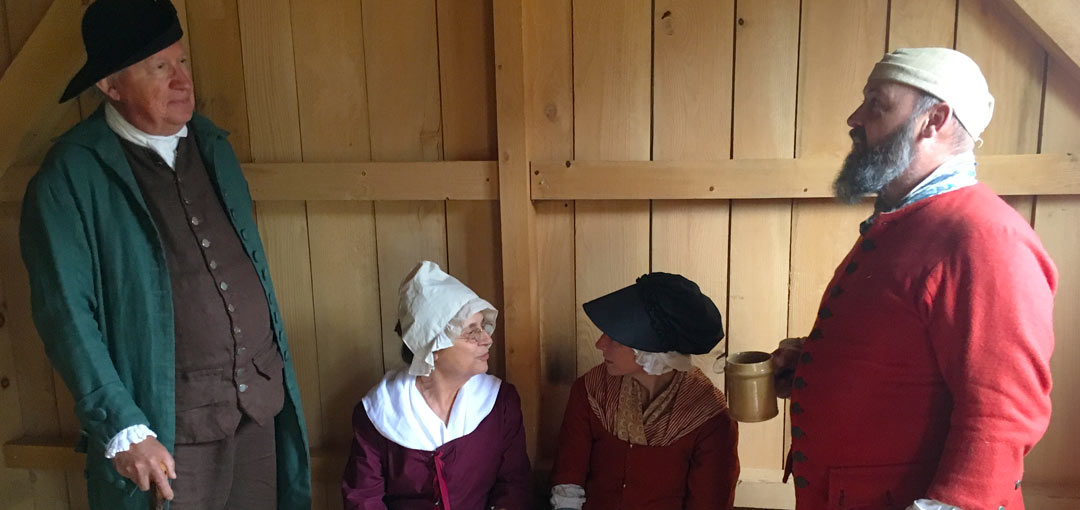 Growing up in Montour County, our family was associated with neighboring farm families that were good friends of my parents, Homer and Irene (Faus) Hagenbuch. There were the Durlin brothers—Bob, Bill, and Fred—and their spouses—Lois, Gladys, and Alice. Bob and Lois's son, Randy, was my best friend in elementary school. Ross Springer and his wife Alma were friends of the family and their son, Lee, was a good boyhood friend of mine. Bob and Phyllis Chaapel lived down the road from our farm, and I remember many Saturday nights when our family and other neighbors would get together at the Chaapel farm house. In fact, I always considered their daughter, Debbie, my first girlfriend!
There were also the Rovenolts, Hartmans, Smiths, Beachels, and Mincemoyers. I could go on and on as our family had many friends. And, of course, the family friends also included relatives, of which our family has many. We saw aunts, uncles, and cousins quite often at our family church, at festivals and fairs, and at family gatherings. The Montour County area where I grew up was made up of a close knit group of farm families and small business folk. We were always bumping into family and friends to share news, plan summer picnics, go winter square dancing, and just enjoy each others' company. There is no doubt that the family of Andreas Hagenbuch shared a similar atmosphere with their family and friends in the Allemangel during the 1700s.
This begs the question: who were the family friends of the patriarch Andreas Hagenbuch and his wives Maria Magdalena and Anna Maria Margaretha? With all that Andreas was involved in, his numerous children, and his reputation in the area, our first Hagenbuch family certainly had contact with many people, some of whom must have been good friends. The problem is there are no records such as diaries or letters that would pinpoint certain people as close friends. However, through research of baptismal records, wills, and final effects, we can at least discern who Andreas and his wives trusted in important matters. These people certainly were good friends as they were entrusted as religious examples and legal representatives.
In the baptismal records of New Bethel Union Church near Andreas' homestead, John (Johannes) Hein appears several times as a friend of the family. On October 14, 1763, Andreas and Maria Margaretha Hagenbuch's son, John, was born. He was baptized on October 16th and the sponsors were John Hein and his wife Anna Maria. Previously John Hein had been sponsor for Andreas' grandson, another John, born in August of 1762 who was the son of Andreas' eldest child, Henry.
In the Spring of 2012, the Albany Township Historical Society members Jon Bond and John Robertson wrote an article about the founding of the New Bethel Church. Several of the founding members of the church are associated with the early Hagenbuchs, notably John Hein.
Hein arrived on the ship Two Brothers in the port of Philadelphia on September 21,1751. He was registered on the ship's log as "Johannes Hein." Like other church founders he remains enigmatic. Records indicate he lived in the valley behind present-day New Bethel with his wife, Elisabeth. Hine left for posterity the first documented records for New Bethel. In a small book . . . Hine wrote twelve pages of introductory text followed by 746 pages of baptismal entries. He was elected as the Baumeister (building contractor and architect) along with Henry Reichelderfer for the first church. He also recorded detailed entries about the construction of Rosenthal (New Bethel) Church.
Of interest is the involvement Hein had in New Bethel, yet Andreas Hagenbuch is not mentioned as an elder nor as a contributor to the church. As indicated in previous articles, this may have been due to Andreas' pietist beliefs.
Other good friends of Andreas and wife Maria Margaretha were certainly Frantz and Christina Bely (Bailey). On May 25, 1755, Lutheran pastor Daniel Schumacher baptized brothers Johann Andreas Bely, 2 years old, and Johann Martin Bely, 1 year old. The sponsors were Andreas and Maria Margaretha. Without a doubt, the oldest Bailey boy was named after Andreas Hagenbuch.
As Andrew wrote in a previous article, in 1763 the Baileys were attacked by American Indians. Living nearby, Andreas and sons Henry and Michael ran to help the Baileys when they heard the attack taking place. One of Frantz Bailey's sons was killed and it's noted that another son, Martin, lived into the early 1800s. It is likely that the son that was killed was Johann Andreas Bailey, the one that was named for Andreas. Johann Andreas would have been 10 years old at the time.
Sponsoring children for baptism was an honor bestowed upon trusted friends or family members, since the sponsors were expected to help raise and teach the children. The Baileys were certainly good friends of the Hagenbuch family, as indicated by the sponsorships and also by the danger that Andreas and his sons put themselves in to protect this neighboring family.
Two other trusted family friends of Andreas were John Brobst (Probst) and Jacob Schmitt. These two men witnessed Andreas signing his will on April 9, 1785. It should be noted that the Brobst family was first known as Probst and the names are often used interchangeably.
John Brobst is most likely Johann Michael Probst who, with his brother Philip Jacob Probst, came to America in 1732 and settled in the Kistler Valley near the Hagenbuchs in Albany Township. The Probst families attended the Jerusalem "Red" Church at Stony Run along with another predominant family—the Kistlers—who married into the Hagenbuch family. Andreas' daughter Christiana (b. 1759) married Jacob Michael Kistler (b. 1751).
The Brobsts were intertwined with the Hagenbuchs and the other families of Albany Township. Along with John Hein, Valentin Brobst was a founder of New Bethel Church. Valentin was a son of Philip Jacob Brobst and died in 1775. Another son of Philip Jacob was Jean (John) Michael Brobst (whose uncle is the Johann Michael Probst who witnessed Andreas' will). When Jean Michael died in 1771, his brother Valentin and Andreas Hagenbuch were administrators of the estate.
In addition to these relationships with the Brobsts, it to believed that Andreas' eldest son Henry's first wife Anna Magdalena was a Brobst. If true, it is not known how Anna Magdalena was related to either John Brobst who signed the will or to Philip Jacob Probst.
Jacob Schmitt (Schmidt) was born in 1741 and died in 1811. He is buried at New Bethel Church. He was married to Anna Margaretha Probst whose brother was most likely the John Brobst (Johann Probst) mentioned above. Therefore, the witnesses to Andreas' will, John Brobst (Probst) and Jacob Schmitt (Schmidt), were probably brothers-in-law to each other and members of the church where Andreas' daughter, Christiana (Hagenbuch) Kistler attended.
There are certainly other close friends of Andreas and his family that crop up in the records and further research will reveal those relationships. Like my experience growing up in Montour County, family members were often close friends too. The Reichelderfer, Kistler, Brouss, Kunz, Dreisbach, and Stumpf families were all married into the family of the early Hagenbuchs and were sure to be friends.
Since more research is necessary to flesh out those people who were in friendly relationships with Andreas and his family, a future article may be necessary. Always remember: there is more to genealogy than names, dates, and places! Another part to understanding and enjoying our history is to recognize those people who were associated as friends with our ancestors.