Pronouncing Hagenbuch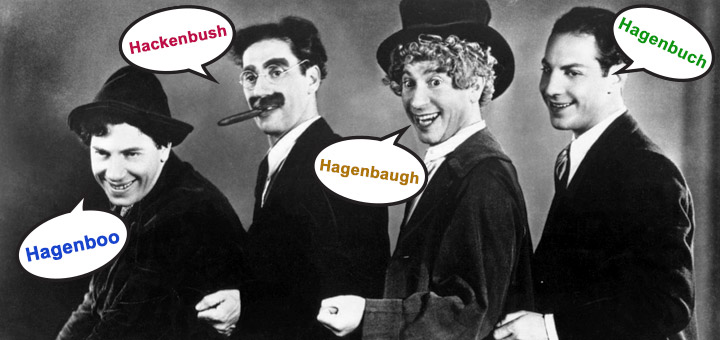 As I have done many times when I have an appointment, I walked up to the receptionist's desk and wrote my name on the pad – "Mark HAGENBUCH" (I print my last name and usually capitalize all letters). When she called my name to be waited on, I heard, "Mark, uhhh, Hagenbutch".
I went up to her and corrected her nicely. "It's pronounced Hagenbuch", I said putting a "k" sound at the end.
"Oh, my apologies, Mr. Hagenbooth," she replied.
I am very proud that I have a name that is unique. It is not Smith, Jones, or Brown. Because of its uniqueness I can trace my family line more easily and find almost every one of my Hagenbuch relatives in the United States and in many countries. But the way people mispronounce my last name does aggravate me.
Hagenbuch is of Swiss derivation as our family is from the town of Hagenbuch, which is north of Zurich. This area of Switzerland speaks German; so the correct phonetic spelling in that language is hah-gen-book, with the o's in the BOOK syllable long and rhyming with kook (no pun intended). But, that "k" sound at the end is made in the back of the throat; that wonderful guttural German!
However, my family in Pennsylvania's Montour, Columbia, and Northumberland Counties pronounced our name as "hag-en-boo" with HAG rhyming with tag. Growing up I wondered how that "ch" was silent. When I took German in High School, my teacher pronounced my last name in the correct German way and I liked it!
In 1978 my wife and I traveled to Germany for the first time. During those two weeks I used the German I knew to communicate and, in my joy, Hagenbuch was pronounced in correct guttural German. Wife Linda asked me why we (since she now used Hagenbuch instead of her maiden Gutshall, certainly another good German name!) didn't pronounce the name correctly.
I explained what I knew of the early history of our name and that my great Uncle Percy, whom I spent a lot of time with as a youngster, told me that his father Hiram had pronounced the last syllable as BOOK (rhyming with took). But that "k" sound must have been lost during the early 1900s.
Was it due to lazy speech? We'll never know. But, from the year 1978 on, I made sure to pronounce our last name with that guttural "k" sound. It is now ingrained in me and my children. I believe we are one of the few families that pronounce it that way; my brothers, sister, cousins, nephews, and nieces still all pronouncing the last syllable as BOO.
Along with the BOO syllable, I have also heard other branches of our family pronounce the last syllable as BAW (rhyming with law), BUCK, BUKE (as in puke), and BAWK (as in hawk). This led to the change in spelling that we find in some of our branches of the family.
Most notably, a small branch living in California spell the name Hagenbaugh. Our mid-west cousins spell the name Hagenbuch but put the BAW sound at the end. Our cousins from the Carlisle, PA area put the BUKE sound at the end.
Incidentally, an early branch of the family spelled the name Hagenbach, which not only changes the pronunciation but the meaning (BUCH in the German for our name is derived from the "beech tree". BACH in means "brook").
I'm sure all of you who share our wonderful last name (or married into it, or have association with it, or have family alliances with Hagenbuchs) have humorous stories of spellings and pronunciations. I have heard Hagenbush, Hagenbuck, Hackenbutch, and even Hattenduck (from the IRS years ago!).
The one that aggravates me the most is from right here in the Dillsburg area. I came to Dillsburg in 1987 and was employed as an elementary principal. I retired from that position 6 years ago, but I have kept very active in community affairs. Many people know me from the schools and the many organizations that I belong to.
Somewhere along the line, the locals began pronouncing my name as Hagenbooth. BOOTH! I will even write it for people and give them a phonics lesson: "CH is pronounced soft and hard. I have the hard "k" sound. It's Germanic. CH does NOT make a TH sound. I am NOT a telephone booth!"
Whichever way you pronounce it, the spelling is most important. We know that our ancestor, Andreas Hagenbuch, spelled his name HAGENBUCH from the oath he signed after leaving the ship in 1737 in Philadelphia. We can be very proud that we have kept that same spelling all these years. As for me, I will continue to put that "k" sound at the end when I say my name, and I will ask people to honor that pronunciation.
And, by the way, the reference to the Marx Brothers in the first image comes from their movie A Day at the Races where Groucho's character is Dr. Hackenbush.  In the recesses of my memory, I know I read somewhere that Groucho knew about the Hagenbuch family who lived in the Los Angeles area in the 1930s.  He named his character in the movie Hackenbush for that reason. Even Hollywood couldn't get our name right!
How do you pronounce our unique name? Let us know.