California, Here We Come!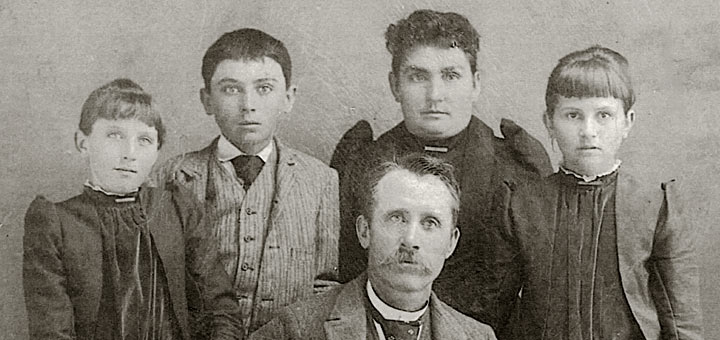 Back in 1979 when I was attempting to contact every Hagenbuch I could through snail mail, I received information from Robert L. Hagenbaugh (b. 1921) from Springville, California. Robert (as previously written in the article "Cop and Robber") was the son of William Lewis/Louis Hagenbaugh (b. 1878)—a genealogist. William's father was William Allen Hagenbuch/Hagenbaugh (b. 1855) who moved from Illinois to California sometime before 1886.
The previous article on this family was sparked by the photo which Andrew came across and purchased on eBay. The photo showed policeman William Raymond Hagenbaugh, a half brother to Robert L. Hagenbaugh. As I mentioned in the end of that article, I am interested in making contact with this Hagenbuch/Hagenbaugh line.
Soon after the article "Cop and Robber" was published, we received a message from Carol Pilch who lives in California and is the granddaughter of Pearle (Hagenbaugh) Rauenzahn. Pearle was the daughter of William Allen and sister to William Lewis/Louis. (Yes, I know… the Williams, Lewis/Louis, Roberts, Hagenbuch/Hagenbaugh get to be confusing!)
Carol sent us wonderful digital images of William Allen and his family with additional information about this group of Hagenbuchs, who are now known as Hagenbaughs. She wrote the following about her great grandfather William Allen:
He was living in Redding [California] in 1890 on an apple farm. From there they moved to Petrolia, CA, according to Mildred and then to Santa Paula where they farmed oranges. I know they were in Santa Paula in 1893 and the census said they were still there in 1900. Don't know exactly when the move to Los Angeles was.
Mildred was Carol's first cousin once removed—Mildred (Hagenbaugh) McDade (b. 1917). In 2007, Mildred was living in Torrance, CA. Carol visited her and writes:
I spent the day with Mildred…She was a lovely person and gave me some of the family photos and told lots of stories…Mildred told me that Will [William Louis, the genealogist] was trying to make a connection to [another] William Hagenbaugh family in L.A. and lent the genealogy records to them and never got them back.
As mentioned in the previous article, Robert Hagenbaugh wrote to me in 1979 stating that his father's genealogical work had been destroyed in a fire. The other William Hagenbaugh family that cousin Mildred told Carol about were originally from Ohio. Further research needs to be done to find if any of that Hagenbaugh family are still in existence.
Wouldn't it be something if—just like the stones at the Hagenbuch homestead that were never missing—we find out that the genealogical work from the 1940s of William L. Hagenbaugh was never destroyed in a fire? Perhaps, it is still in the hands of some other Hagenbuchs (Hagenbaughs)?
Genealogy has its ups and downs. In addition to the exciting possibility that the work of William Louis may still be in existence, the downside of researching this Hagenbuch line was the invalidation of one of their family stories.
It was always thought that William Allen Hagenbaugh's mother, Catherine (Clark) Hagenbuch, was a part of the famous Clark family from Virginia. Catherine Clark (b. 1820) was thought to be a niece to George Rogers Clark, the Revolutionary War hero. George Rogers' younger brother was William Clark of Lewis and Clark fame.
This supported the notion that the middle name "Lewis" (later changed to "Louis") came from the Clark family's association with Meriweather Lewis. The name "Louis" appears in this Hagenbaugh family in the early 1900s with two daughters named Lois and Louise. However, in writing this article and thanks to information provided by Carol Pilch, research shows that Catherine (Clark) Hagenbaugh's father was Peter Clark (born circa 1780) in New Jersey. Although there does seem to be a relationship between Catherine (Clark) Hagenbuch and the well known Virginian Clarks, it is very distant.  A future article will explore this relationship.
Carol Pilch sent additional information about her family which will be recorded in Beechroots. Her great-grandfather is William Allen Hagenbaugh (b. 1855, d. 1937). William and his wife Lydia (Barr) Hagenbaugh (b. 1857, d. 1930) had seven children. The eldest was William Lewis/Louis Hagenbaugh, the genealogist, whose family was discussed previously.
William Allen and Lydia's second child was Edith (b. 1879) who was married to James Green. They had one son, Willard, who was born in 1910. The third child was Fannie (b. 1880). She married Merrill Eddy. They had four daughters: Fern, Velma, Bernice, and Frances. The fourth child born to William and Lydia was Raymond in 1882. Raymond married Amy (whose maiden name is unknown) and they had one son, Jack (b. 1913). The next two children were sons who died the same year they were born: Clarence (b. 1887) and Edwin (b. 1888).
The seventh child was Pearle Louise Hagenbaugh (b. 1890, d. 1961), the grandmother of Carol Pilch. Pearle married Leo Rauenzahn and they had two children: Wesley Barr (b. 1910, d. 1986) and Thiela Mae (b. 1916, d. 2001). Wesley married Martha Jenkins, who was born Martha Preikschat and adopted by the Jenkins family. Thiela married John Rogers and they are the parents of our newly found cousin, Carol Pilch.
Take one look at the photos included this article and one knows that this is a family rich in heritage. It amazes me to think that while my Hagenbuchs here in central Pennsylvania were building the large extended family that I grew up in, another Hagenbaugh family was expanding in California.
We welcome more descendants to the tree of Andreas Hagenbuch (b. 1715)!
This article was updated in March of 2022 to add additional information about Martha Preikschat Jenkins