A Postcard For Salome Hagenbuch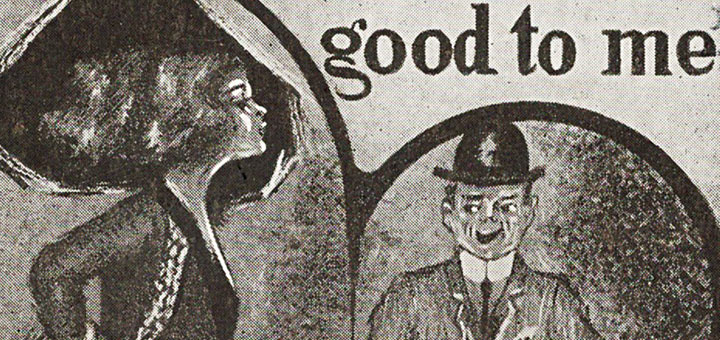 A few months ago, I found a postcard on eBay that was sent from Guy Davis in Nazareth, Pennsylvania to Salome Hagenbuch in Bowmanstown, Pennsylvania. It was postmarked September 4, 1911. On the back of the card was written the following:
Miss Salome Hagenbuch
R.F.D. #2
Bowmanstown, PA

Dear Friend,
Helen received your letter and was glad to hear from you. I thought I would drop you a few lines and tell you who that Guy is that wrote the other card. My [address].

Guy Davis
American Hotel
Nazareth, PA
Genealogy is the study of people, their connections, and their stories—and this postcard definitely had a story story to tell! So, my father and I set about to uncover it.
Our investigation began with the front of the card and the text "It may be artificial but it looks good." The phrase is accompanied by an illustration that depicts a man (on the right) saying this about a woman (on the left). In addition, curved lines framing the two figures and may suggest the shape of a heart or, perhaps, the female form.
Either way, the front of the card implies the flirtatious, even indecent, intentions of the sender. We began to wonder if this was the story of a young man writing to a young woman in an attempt to start something more than a friendship.
Next, my father and I started to search for the people mentioned in the note. As discussed, the sender of the postcard was Guy Davis of Nazareth, PA. Unfortunately, several hours of research yielded nothing definitive. According to the 1910 census, several Guys were living in and around that area of Pennsylvania. However, most of them appear to be either too young or too old to be the right Guy.
Then, we moved onto Helen, who is mentioned in the note as receiving a letter from Salome Hagenbuch. Helen seems to be a mutual acquaintance of both Guy and Salome. One potential lead was a Helen Davis who had an older brother, Guy. The two were living in Reading, PA in 1910. Yet, once again, the ages for this Helen and Guy seemed too young to be correct.
Finally, we turned our attention to the recipient of the card, Salome Hagenbuch, and met with more success. Salome E. Hagenbuch was born on June 23, 1892. She was the daughter of James Monroe Hagenbuch (b. 1854) and Ellamina "Ellen" Jane (Scherer) Hagenbuch (b. 1867) of Palmerton, Pennsylvania. Salome's family line is: Andreas (b. 1715) > Henry (b. 1736) > John (b. 1776) > Reuben (b. 1805) > James Monroe (b. 1854) > Salome E. (b. 1892).
In 1910, when Salome was 18 years old, she was living near Bowmanstown, PA and working as a winder in a silk mill. Research shows that the Baer Silk Mill had opened in 1899 and was located nearby in Lehighton, PA. Perhaps it was during her time at the mill that she met Guy Davis?
Salome eventually was married, though not to Guy Davis. Her first husband was Howard Lester Frey (b. 1893) of Weatherly, PA. They were married around 1916. Salome gave birth to a son, Howard Lester Frey, Jr., on August 21,1917. Sadly, Howard Sr. died three days later on August 24th of miliary tuberculosis.
In 1920, Salome and Howard Jr. were living with her parents in Palmerton. Later that year, she married her second husband, William Alvin Rehrig (b. 1898) of Ashfield, PA. Together, William and Salome would have several children: Dean (b. 1921), Luther (b. 1923), Larue (b. 1924), and Jean (b. 1936). Records show that Larue died as a child in 1931 of pneumonia. They also show that Howard Frey, Jr. remained part of the family, listing his stepfather, William Rehrig, as "next of kin" on his draft card in 1940.
Using the above facts, we can begin to piece together the story behind this postcard. In September of 1911, Salome Hagenbuch was 19 years old, living in Bowmanstown, and working in a silk mill in Lehighton. Perhaps during school or maybe while she was working at the mill, she made two friends—Guy and Helen.
In the note, Guy demonstrates that he is aware of Helen receiving mail from Salome. This could indicate that Guy and Helen were siblings and resided in the same household. However, the return address on the postcard is the American Hotel, suggesting that Guy is old enough to be independent and that he does not live at home.
Guy also mentions that he mailed an earlier postcard to Salome. From his description, it sounds like the first card may have been "from a secret admirer" who is now revealing himself to be Guy Davis in the second.
It's easy to write off this postcard as the failed attempt of a young man to gain the affections of a love interest. After all, we know that Salome Hagenbuch would go on to marry a different suitor five years later in 1916.
Yet, one has to ask the question: Why was this postcard saved for over 100 years? One explanation is that it was simply forgotten, stuffed inside a box of junk, and sold at an estate sale after Salome died in 1970. While plausible, it seems more likely that the card had some significance to her, explaining why it wasn't immediately discarded.
Perhaps then, Guy was or would become more than a secret admirer to Salome? Maybe this card was one of many the two sent back and forth? Perhaps, as she grew older and suffered the loss of a husband and a child, Salome enjoyed remembering the early relationships of her youth?
It's doubtful we will ever know. However, thanks to this postcard and its preservation by Salome Hagenbuch, we are able to learn more about her story and this moment in her life.