The School Christmas Program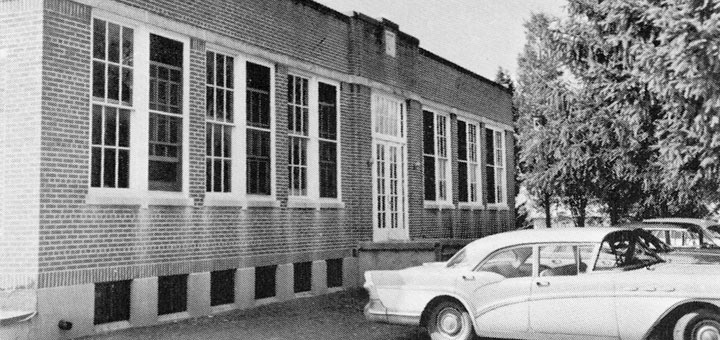 In 2014, I wrote about my memories of Christmas at our family church, Oak Grove, when I was a young boy. Though not quite as vivid, I also have some memories of when I was in first through sixth grades, attending Limestone Elementary School. It was also called California School which came from the name of the Grange that was located next to it.
I talked to my siblings—Barb, Bob and Dave—about their memories concerning the Christmas program at our elementary school. Their remembrances were also shadowy. They did remember having an evening program for the parents, but not much else. Dave remembered when he was in sixth grade (I would have been in first) and the program featured a plywood cut-out of a sleigh, painted on the side which faced the audience. Several children sat in chairs on the other side of the cut out as if they were actually riding in a sleigh. Dave was dressed as Santa, standing on a chair with reins attached to the wall in front. A set of sleigh bells were attached to that so when he "jumped" the reins the bells would sound. Dave thought the bells were from our own farm shed.
I have a few memories. I believe I was in first or second grade and we had learned to sing "Up on the Housetop." There were motions to that song (I can still do them to this day), and we performed the song and motions for the parents. I also remember children dressed as shepherds and wise men. There was probably a manger on the stage with children playing the parts of Mary and Joseph. I don't remember playing any of these parts. I was probably one of the children in the chorus singing Christmas songs as the action took place. I remember a large cardboard cut-out of a camel, maybe two, with a star overhead. This was a purchased piece, very colorful and lifelike.
We all remember the stage that the Christmas program took place on. In fact, as I questioned my siblings and we all thought back to those times, strong memories of Limestone Elementary School were shared. It took only a few minutes for the four of us to talk about our memories of the Christmas school program, but we have spent hours talking about the school: its architecture, floor plan, furniture and teachers.
I also involved our first cousin, Leon Hagenbuch, in the discussion. Leon attended the school from grades one to three. He was Director of Buildings and Grounds for many years at Warrior Run School District, which is where this school is located. He also serves on the reunion committee for the school. Leon confirmed much of what Barb, Bob, Dave and I talked about.
He also reminded me that the correct name of the school was Limestone Consolidated School. It was built in 1932 with the help of some of our Hagenbuch clan (Clarence, Homer, Charles, Cyrus, Franklin/Pete, Norman, Paul Roat, and Herman Bogart). Percy Hagenbuch was vice president of the local school board. Others reading this article who grew up in that area of Montour County will also have memories of their elementary schooling at Limestone School.
Limestone Elementary was a four room school house. When I began attendance there in first grade, 1959, first and second grades were in the same room. Grades 3 and 4 were in another room, grades 5 and 6 in another, and one room was empty of students. That room had extra desks and furniture in it and was also used for instrumental lessons.
I went to first and second grades in the same room; my teacher was Mrs. Fegley. In 1961 the grades were reconfigured. Anthony Township Elementary School, located near the very small town of Exchange, transported its students from grades 3, 4, 5 and 6 to Limestone Elementary to be with the students of those same grade levels already housed at Limestone. Grades 1 and 2 from Limestone were transported to Anthony to be with the students of those same grade levels already housed at Anthony. So, all four rooms at Limestone were now utilized with a grade (3, 4, 5, 6) in each room.
When my sister and brothers attended Limestone Elementary only the three rooms were used: grades 1 and 2 in a room, grades 3 and 4 in a room, and grades 5 and 6 in a room. Two of the teachers they had were the same as the ones I had 10 years later—Mr. Strouse and Mrs. Hartman. However, Mrs. Hartman's name had changed to Mrs. Schnure since her first husband, Charlie Hartman, had died. The other teachers they remembered were Mrs. Murray and Mrs. Diltz. Once the grades were reconfigured, I had Mr. Paulnock and Mr. Hunselman. We all remembered the music teacher, a flamboyant lady who was eclectically dressed with bright clothing, bracelets, and wild grey hair—Mrs. Gestalter!
Limestone Elementary School had a unique feature: two folding walls. The school was divided in half by a hallway down the middle. On either side were two rooms which, as mentioned, totaled four. The front doors of the school were only used by the teachers to enter, students went up steps to the back through double doors. When we walked into the school, the first two rooms (one on the left and the one on the right) had walls which were on hinges and could be folded back like an accordion to make one large area which included the two open rooms and the hallway. I can only remember the walls folded back once or twice each year, mostly when the Christmas program took place.
When the walls were opened to create the large area, chairs were set up in rows to the left for parents to sit. To the right, a raised platform would be installed. That was the stage that my siblings and cousin Leon remember as the place where the Christmas programs took place.
Other features of the school came to mind as we racked our brains for more memories. There was a long hall between the two rooms on the right. This led to the girls' bathroom and a small room which acted as the first aid room. The basement stairs were located on the left beside the door to the boys' bathroom. There was a closet (book room) across from the boy's bathroom. Behind the door of that closet was a rope attached to the school bell located in a small belfry on top of the school's flat roof. That bell was rung at the end of recess.
The basement was divided into two sections. Upon reaching the bottom of the stairs, to the left was a room that was used for storage for the local Boy Scout troop meetings. Later this was used for instrumental lessons by the district band director, Mr. Workman, whom we all remembered. To the right were double doors which led to the cafeteria. My mother, Irene, was a cook there for many years, along with Mamie Swartz, whose sons also attended the school.
Behind those basement rooms was the boiler room and other areas where no one was to enter. Mr. Strouse, the principal and custodian, could be found back in those rooms doing what custodians do. As principal, he served in all capacities. We remember Mr. Strouse getting on top of the school a few times each year to throw the balls down that we had kicked up there. And, I was told by my brother Bob that, although the school had been demolished in 1980, there is a bell which stands where the school did with a dedication plaque to Mr. George Strouse, the man who will always be associated with Limestone Consolidated Elementary.
I'm sure that many of us have memories of school programs as described above. We might agree that the days of school Christmas programs that were Christian-based are in the past. As a teacher at Dalmatia Elementary from 1975 to 1987 (I taught grades one and five), I had the students making creches and singing songs about the birth of the Christ Child. Even as an elementary principal in the Dillsburg area from 1987 to 2008, we would sing not only secular songs the day before Christmas vacation began, but also Christmas carols.
Our days as children at Christmas time, at school, in church, or at home are mostly wondrous to remember. And so, from Linda and I, we wish that you may again experience the joys and wonders of a little child as you celebrate Christmas in the coming weeks. Blessings to you all!