In Search of Hagenbuch History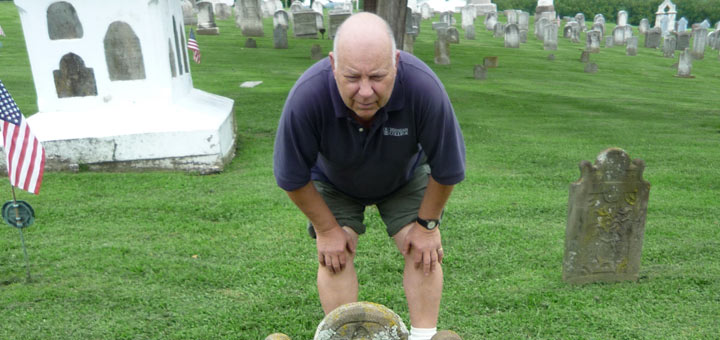 Recently, my father, Mark Hagenbuch, and I spent the day visiting a number of sites within Northampton County, Pennsylvania. We were there in search of Hagenbuch history and had high hopes of uncovering new information about the early members of our family.
Our first stop was in East Allen Township at a field located just off of Nor-Bath Boulevard. Upon arrival, we were met by Peggy Moser, whose brother owns the property. There she guided us to a copse of trees in the middle of the field.
Why were we here? As discussed in an earlier article, Andreas Hagenbuch (b. 1715) purchased a parcel of land in 1773 from Thomas Craig (b. 1695). The land passed to his son, Christian (b. 1747), who built a home and ran a distillery there. We were searching for the remains of these structures.
The day was hot and the wooded thicket was infested with spiders and mosquitoes. Thankfully, we were not disappointed and made several discoveries that will be discussed in a future article.
After leaving the farm, we traveled to the nearby town of Bath, PA and paused to enjoy a picnic lunch in Green Mount Cemetery. While there, we explored the stones and saw many familiar surnames. However, we could not locate the stone of Joseph Hagenbuch (b. 1811) who was mentioned in a recent article. We plan to return and conduct a more thorough search of the place.
Our next stop was the Wolf Academy Historic Site in Bath. There we met Barb Wiemann and Linda Kortz who took us on a wonderful tour of the property. The Hagenbuch connection to this location is Andrew Hagenbuch (b. 1782), who was a member of the Franklin Society.
Though it lasted only about a year, the society debated issues of the early 1800s and held some of its meetings inside the Academy building. Pennsylvania's seventh governor, George Wolf (b. 1777), attended school at the Academy, which reveals how it got its name.
Beside the Academy sits another building—the Ralston-McKeen House. My father and I were also led on a tour of this 18th century home. Though still being renovated, the house allows one to step back in time and experience the past. Anyone in the area should consider visiting. More information can be found on the website: www.govwolf.org.
On the way to our last destination, we made an extra stop at St. John's Church in Howertown, PA. In the cemetery, we found the grave of John Hagenbuch (b. 1776) who was the son of Henry Hagenbuch (b. 1736). John had given the land for the church to be built upon in 1832. His second wife, Hannah (Faust) Beil, is buried in the cemetery too.
Our final stop was at Zion Stone Church in Kreidersville, PA. Arriving early, we took some time to explore the cemetery where Christian and Susanna (Dreisbach) Hagenbuch are buried. Many of the Dreisbach family stones were ornately decorated in carved stone patterns. Soon, we were met by Barry Lerch, who took us inside the church.
From a storeroom, he removed old books containing baptism records and permitted us to leaf through these. We had come to confirm certain details about Christian's family, which we were able to do successfully.
The visit to Zion Stone Church ended up being one of the highlights of the day, as we were able to handle original documents that were well over 200 years old! Before leaving, we stepped into the sanctuary and pondered this place of great importance to the early Hagenbuch family.
Though we didn't find everything we had hoped, my father and I made several exciting discoveries while traveling through Northampton County, PA. Many of the details of these have been purposely omitted from this article and will be covered at length soon. Stay tuned!