Letters From the Past: Part 2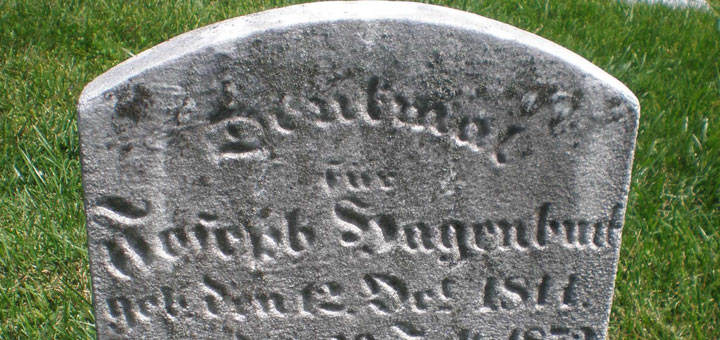 In September of 2017, I wrote an article about the hundreds of letters I found that had been received when I first began working seriously on genealogy in 1978. As mentioned before, these letters are a treasure trove of genealogical information, newsy items, and certainly bring back fond memories of the people who first helped me in compiling the descendants of our patriarch, Andreas Hagenbuch (b. 1715).
In late May of 1978, I sent an introductory letter to Frank Hagenbuch from Stillwater, PA along with a form to complete. Frank's line is: Andreas (b. 1715) > John (b. 1763) > Daniel (b. 1803) > Frederick (b. 1827) > Oscar (b. 1856) > McHenry (b. 1893) > Frank (b. 1916). He must have not completed the form as on May 24 he wrote:
Just got your second letter. Was pleased to have correspondence from you.
Then he wrote down his family information in that letter, and I also have a completed form from him too. Frank's letter with his family information is typical of many I received as he does not have a complete family line past his grandfather. Frank wrote:
I think my great grandfather's name was Fred. The Hagenbuch homestead where he lived is near the Hidlay Church. Fred had five children. I do not know what my great grandmother's name was.
By the way, Frank's great grandmother was Margaret Hidlay—Hidlay Lutheran Church being named for her family! Frank ends the letter with this note:
One last bit of information which I don't know if it is correct. It is my thinking that our family came from Switzerland. I had a furlough in Switzerland in 1944. I was told there were a lot of Hagenbuchs in that country. I had no opportunity to contact any people by that name.
I have two other letters from Frank in the archives; one dated Aug 1, 1978 and the other dated Feb. 15, 1979 when he wrote that his health was declining. I have no other letters from Frank in the archives but according to Findagrave he died in 1999 and is buried at the Stillwater Cemetery in Columbia County, PA.
One of the close relatives I reconnected with in 1978 was Bruice Hagenbuch who, along with his brother Andrew and his sister Julia, owned the homestead which had been in my Hagenbuch family since 1853. It was in that year that it was purchased by my great great grandfather William Hagenbuch (b. 1807).
Since the three siblings owned the Montour County Hagenbuch farm and lived near the family church, Oak Grove Lutheran, I always had somewhat of an association with them. In the summer of 1970, I had even helped out on the farm and had gotten to know these first cousins once removed quite well. But, after I went away to college, married, and moved to Herndon, PA, I had not kept in contact.
In 1978 I reconnected with Bruice as he best knew the history of our Montour County family. In 1975 he had made application to the state to have the farm designated as a century farm since it had been in the family since 1853. On November 19, 1978 Bruice wrote the following about the farm's Hagenbuch roots:
Mattie White told us in December of 1965 that her grandfather rode a horse down from Hidlay's church and bought the farm in 1853. Checking the deeds and graves at Oak Grove we could piece together how the farm was in William's estate until the late 1890s when it was deeded to Hiram's widow and then to Israel about 1910. I do not have the exact dates in my mind now, but it was fun checking into these records.

We were not able to tell who lived on the farm from the time William died to the time grandmother bought it. Uncle Joe was here for a time when it was in his father's estate, and Uncle Percy lived here when his mother owned it, until my parents were married.
This information, although second hand from a cousin, Mattie (Hagenbuch) White to Bruice, is very important as it is a written account of who owned the Montour County homestead. The letters I have saved over the years contain a lot of buried information just like what Bruice wrote to me forty years ago.
Some of the letters contain information that not only may solve some mysteries, but also spur Andrew and I on to continue the search for ancestors for which we need more data. For example, in 1978 I sent an introductory letter to Richard Hagenbuch from Perkiomenville, Pennsylvania. Richard, born 1932, sent a detailed five generation family chart beginning with his great grandfather, Joseph Hagenbuch (b. 1811), married to Lydia Hahn. Richard wrote:
I have found a lot of information on the Hagenbuch famiy in the library of the Schwenkfelder Church, dating back to the 1740s. Apparently, the Hagenbuchs belonged to the Schwenkfelder Church as the title of the book where the information is listed is Families of the Schwenkfelder Church.
Richard goes on to list some names and dates of his immediate family which also fit into the hand written family chart he sent. Richard's great grandfather, Joseph (b. 1811), is one of those Hagenbuchs which Andrew and I have researched to find his line back to Andreas (b. 1715).
At this time, we believe that Joseph's father may have been Andrew (b. 1782) of whom we know some details, but nothing of his possible marriage or children. This Andrew is the son of Andreas' son Christian (b. 1747) which would make Richard of Perkiomenville's line: Andreas (b. 1715) > Christian (b. 1747) > Andrew (b. 1782) > Joseph (b. 1811) > Andrew (b. 1852) > Leon (b. 1907) > Richard (b. 1932).
I had not been in contact with Richard since the early 1980s. Checking Findagrave reveals that he died in 2013. Sadly, this means I can no longer utilize the knowledge he had about his Hagenbuch family. However, he does list three daughters on his 1978 family chart. I must try to track them down and contact them.
Sifting through these letters not only adds more information to our research but also gives me the impetus to contact cousins with whom I have not written to for so many years. Although, as I continue to state, the letters are a treasure trove of information, they also create lots of extra work; but, that work must be taken on.
In future articles, more letters will be assessed as a record of correspondence that occurred 40 years ago—correspondence that will raise as many questions as it provides answers.