Seven Cemeteries in One Day, Part 2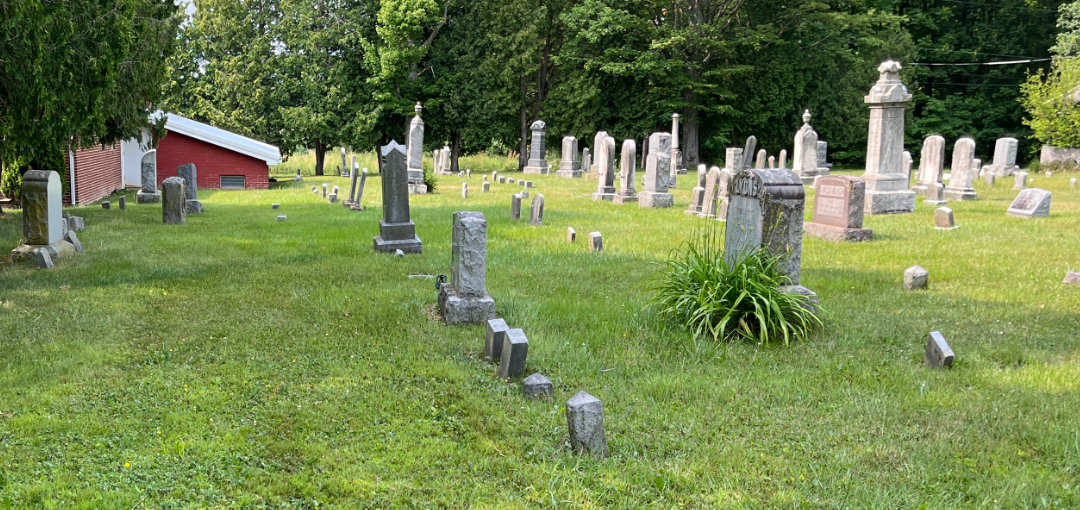 Back in 1983, I was 30 years old and my father was 66 years "young" as they say. We were both fit and able to walk and walk past rows and rows of gravestones looking for that easy to spot name: Hagenbuch. We had spent most of the morning on this day at Hidlay Church Cemetery, Laurel Hill Cemetery in Orangeville, and Highland Cemetery in Light Street—all located west of Bloomsburg, Pennsylvania. These were covered in the first part of this article series.
Now it was time to take a walk through Bloomsburg's cemetery, Old Rosemont. Interestingly, New Rosemont Cemetery is not located next to Old Rosemont in Bloomsburg. New Rosemont Cemetery in Columbia County is located in the nearby town of Espy, Pennsylvania!
Old Rosemont Cemetery has 5,018 gravesites. Luckily for Dad and I there were only 17 Hagenbuchs, mostly clustered in one area. My memory is not good enough, after 40 years, to remember how we found this cluster. But after we did, I realized that very few of the names were familiar. One of them did stick out: Benjamin Del Fel Hagenbuch (b. 1833, d. 1883) and his wife Sarah Jane (Ammerman). I had been in contact with the descendants of Benjamin back in 1978, our Bedford, Pennsylvania cousins. A number of articles have been written about this family group and their ancestor, Benjamin, who served in the Civil War.
The other names were not familiar and I remember jotting down the information from the gravestones. Since then, through the research that Andrew and I have done we can identify each of these Hagenbuchs. For example, there are two daughters of Michael (b. 1799) and Mary (Hess) Hagenbuch: Audland May (b. 1863, d. 1887) and Annie (b. 1867, d. 1898). Also buried at Old Rosemont are Stewart Pierce (b. 1851, d. 1912) and Mary Katherine (Jones) Hagenbuch. Stewart's father, Samuel H. Hagenbuch (b. 1818) is buried at Highland Cemetery in Light Street.
In addition, there was a very important find, Isaiah Bomboy Hagenbuch (b. 1836, d. 1912), who was a Sergeant during the Civil War. He was married three times and all three wives are buried with him. There has never been an article written on Sgt. Isaiah and his family. As usual, when Andrew and I write articles, we discover new avenues we must explore!
By the time we had finished the whirlwind tour of Old Rosemont, it was time for lunch. If you have ever traveled in this area of Columbia County along Route 11 (also known as the Danville-Bloomsburg Highway), you know there is an eating establishment named May's Drive-In. Another May's is located along the Susquehanna River opposite Lewisburg, PA. May's is known for hamburgers, fish sandwiches, French fries, and ice cream—all the foods Dad and I were now craving! We stopped there and had lunch.
Driving from May's Drive-In to Danville, PA was 9 miles. Danville is the seat of Montour County, so we crossed from Columbia County to the county I grew up in. Danville was the "go to" town when I was growing up. I was born there at Geisinger Hospital; it's where I took piano lessons as a boy; we bought our groceries there; I checked out books from the Thomas Beaver Library; and I bought comic books at Ditzler's News Stand. Our farm was located near Washingtonville, PA which is north of Danville.  Also, our family church, Oak Grove Lutheran, was situated on one of the back roads between Danville and Washingtonville. I know the whole area like the back of my hand!
Dad and I were headed through Danville. Then from there we traveled about 7 miles on the back roads to the family church and cemetery, at Oak Grove, where six generations of Hagenbuchs are buried. Several articles have been written about Oak Grove and its founding in 1867. My great great grandfather, William Hagenbuch (b. 1808, b. 1879), was part of that founding. At the writing of this article, there are 26 Hagenbuchs buried at Oak Grove. In 1983, there were 19. Since then my father and mother have been buried there along with various cousins. Whereas I stated in Part 1 of this series that visiting the family cemetery of Hidlay is similar to a living organism, Oak Grove is exceptionally alive to me as I grew up with many of the Hagenbuchs buried there.
The oldest Hagenbuch gravestone at Oak Grove is my great great grandfather's, William, who died in 1879. The second oldest is the stone of Sarah Elizabeth (Robbins) Hagenbuch (b. 1853, d. 1881). Sarah was the first wife of my great great uncle Joseph Hagenbuch (b. 1852, d. 1935) who, after his first wife Sarah died, married her sister, Mary Emma Robbins (b. 1860, d. 1943). Both sisters/wives are buried beside great great Uncle Joe.
My great grandparents, Hiram (b. 1847, d. 1897) and Mary Ann (Lindner) Hagenbuch are buried near my great great grandparents, William (b. 1808) and Rebecca (Muffley) Hagenbuch. Nearby are my grandparents, Clarence (b. 1889, d. 1967) and Hannah (Sechler) Hagenbuch. Five great aunts and uncles and an infant uncle, Lawrence (b. 1921, d. 1922), are all buried in this same tight area. Several articles have been written about these close relatives—articles that flesh out the characters of, at least to me, these very important people.
But along with all these relatives with the last name of Hagenbuch, are so many other relatives who married into the family. They are cousins with different last names. There are also so many friends of my parents and grandparents whom I knew growing up in this church full of extended family and friends. My parents are buried in the lower right section of the cemetery where their friends, the Browns and the Bowers, lay close by. I remember that day in 1983, the day Dad showed me this section where he and my mother had purchased their cemetery plot. We walked among all the relatives' graves that day telling stories and remembering those who we conjured up in our memories.
Take for instance the Lindner family, my great grandmother's people. They are buried in a small area behind the main Hagenbuch plot, the most prominent stones being for my great great grandparents: Israel (b. 1827, d. 1901) and Catherine (Messerschmidt) Lindner (b. 1827, d. 1916) . My father's and my own generation never seemed to know much about these relatives although they were well known during their time.
I know about them through the stories which my father's first cousins—Bruice, Andrew, and Julia—told me about them. This jogs another thought in me. I did not consider myself that day in 1983 just a Hagenbuch looking for Hagenbuch gravestones. My mental and physical being is from so many other families that are important: Lindner, Muffley, Faus, Hilner (Heilner), and Sechler. Which leads us to the next cemetery we visited that day.
During the early 1980s, Dad and I helped mow the Upper Chillisquaque Cemetery where our Sechler family is buried. This cemetery is four miles from Oak Grove Church on Mexico Road. My great grandparents, Samuel (b. 1855, d. 1928) and Mary (Davis) Sechler are buried there, along with others of this family. Several articles have been written about Samuel and Mary Davis, notably detailing their love letters from 1879–1880.
My father's first cousins, Harold Sechler and Myron Cromis, maintained the property by mowing and trimming the cemetery hillside as an act of family respect and love. I remember loading up Dad's riding mower and a push mower for myself, then meeting Myron and Harold at the cemetery for a morning of mowing fellowship of sorts. Myron, a bit chubby, didn't work as hard as Harold who even in his 60s could push his mower unceasingly. In his right hand he would carry a stick he found on the ground, "in case I see any snakes!"
From Oak Grove, we traveled to this cemetery which is named for the Chillisquaque Creek that flows nearby. We didn't spend much time there. But, we paid our respects to Grandpap Sechler, whom my father remembered along with the other Sechler family members. We talked and shared stories about this family, as important to us as the Hagenbuchs, especially since Dad's middle name is "Sechler."
We had one more cemetery to visit. To get to this one, we actually had to travel past my parents' home east of Montandon, cross over the Susquehanna River through Lewisburg, and arrive at Dreisbach United Church of Christ Cemetery. It was 14 miles from the Upper Chilliquaque Cermetery. In June of 2015, Andrew and I had visited this cemetery but in 1983 I had never been to it. I knew that located there were the gravesites of Andrew (b. 1785, d. 1863) and his wife, Mary (Weikel) Hagenbuch. Andrew was the brother to my 3rd great grandfather, Henry (b. 1772). Henry and Andrew had lived next to each other in Columbia County after Andrew had moved there in 1805. But, probably sometime in the 1840s, Andrew and his wife, Mary, moved to Union County, PA to be near their son Peter (b. 1819, d. 1875).
In this small country church cemetery, lie the only two Hagenbuchs. It was easy for Dad and me to find their stones. We had come full circle that day. We started at Hidlay Church Cemetery to visit my 3rd great grandfather's grave, Henry. We ended 41 miles away visiting his brother Andrew's gravesite. These two brothers grew up together in Berks County on the family homestead. They moved to Columbia County in the early 1800s, lived near each other for about 40 years, then separated 40 miles apart. Did they ever see each other after that? Well, in one day my father and I, in our travels, brought them together along with many other Hagenbuchs in cemeteries along the way.
Cemetery visitation isn't all that it used to be. At one time, relatives visited their dead loved ones on Memorial Day, Independence Day, Veterans' Day, and other important dates pertaining to the buried folks' histories. The visitors laid flowers, trimmed around the stones, and straightened the American flags that graced the military veterans' sites. They walked among the stones sharing stories with each other about the lives of the deceased and their adventures. Tweaking their memories, the visitors smiled and laughed and probably shed a tear.
Most of this tradition is now gone. But, some of us not only remember those cemetery visits, as I did in the two article, but also try to continue them. Genealogy is more than just abstract research. It is physical and appeals to the the five senses. Meaningful genealogy has got to have boots on the ground too!