Returning to the Hagenbuch Homestead and Cemetery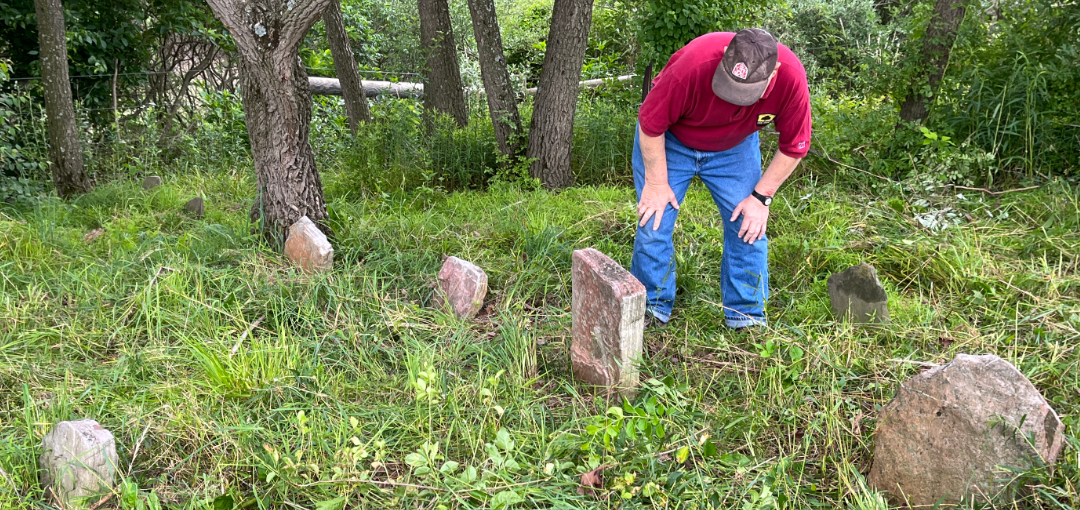 It's been awhile since my father and I have visited the Hagenbuch Homestead in Albany Township, Berks County, Pennsylvania. The last time we were there was on a cold, winter's day in January of 2020. Imagine all that has happened in the last three years!
In a small cemetery at the edge of a field can be found our earliest family members, including Andreas Hagenbuch (b. 1715) and his two wives: Maria Magdalena (Schmutz) and Anna Margaretha (Friedler). Their graves look down a hill towards the site where Andreas established his home in 1741, and his grandson Michael (b. 1805) built a stone farmhouse in 1851.
Last month, my father and I returned to the Hagenbuch Homestead. It was the first stop on a day trip to see several family cemeteries. We were greeted by the owners of the property and took a few moments to catch up with them. Then we headed up to the graveyard.
Some of what we found was to be expected. Everything was overgrown and in need of cleaning. But there were a few surprises too. For instance, we immediately noticed a fence had been placed around the cemetery. This was a welcomed addition, since it will prevent grazing cattle from making a mess of the stones.
We had brought along a sickle, and I began to cut down the tall grass and weeds. Soon, the grave markers came into view. They were as we had left them three years prior, and in one case, even better. I looked up and saw my father staring at a stone. I walked over and we both agreed. We could see a hint of writing that we hadn't noticed previously—a "D" or maybe the top of a "B". If it was a "B" then it might by part of the "HB" ligature as found on other family markers.
The stone in question was to the right of Jacob Hagenbuch's (b. 1777, d. 1842). We know that Jacob's second wife, Magdalena (Knepper) Hagenbuch (b. 1789, d. 1846) is buried nearby at New Bethel Church. So was this marker for his first wife, Magdalena (Wolf) Hagenbuch (b. 1779, d. 1817)? If it was, then her stone might have included the inscription "M. HB".
With the cemetery cleaned and it starting to drizzle, we stopped just down the road to visit the new owners of the house which is believed to be the original site of Andreas' home. They were generous with their time and were genuinely interested in the history of their property.
It was now pouring rain as we headed up Hawk Mountain and past Schambach's tavern. We made our way north to our next stop, Saint Canicus Cemetery in Mahanoy City, PA. According to Findagrave, James "Jimmy" Hagenbuch (b. 1922, d. 1945) is buried there. James served in World War II as a paratrooper in the 101st Airborne and was killed during the D-Day invasion.
The rain subsided, and the sun warmed the humid air.  We had packed a lunch and ate quickly before walking the graveyard in search of Jimmy's stone. Being a veteran who was killed in action, we expected to find his stone marked with an an American flag. No such luck! We looked and looked but without success. While we do believe Jimmy is buried there, his flat stone may be covered with a layer of glass clippings.
Disappointed, we spied a stone for a family of Mulveys. As discussed in a previous article, Jimmy's mother was a Mulvey. We briefly placed an American flag on the stone, along with a reproduction of his helmet and uniform. We plan to return to Mahanoy City again in order to locate Jimmy's grave.
Our next stop was Oak Grove Lutheran Church in Montour County, PA. Besides hosting the Hagenbuch Reunion for many years, Oak Grove's cemetery holds many of our ancestors, including my grandparents Homer and Irene (Faus) Hagenbuch. My father and I strolled through the cemetery and took a photograph with the grave of William Hagenbuch (b. 1807, d. 1879), which was featured in the first article posted to Hagenbuch.org in 2014.
The last cemetery we visited was at the former site of Center Lutheran Church, also in Montour County. While the church is no longer there, the graveyard remains. In this place lies Thomas Sechler (b. 1819, d. 1894) and his wife Christiana (Henry). They are the grandparents of my great grandmother Hannah (Sechler) Hagenbuch (b. 1889, d. 1967), making them my 3rd great grandparents. I had never been to this cemetery before, so I was pleased to learn of its location from my father.
We ended our day trip by having supper in Lewisburg, PA at The Fence. Locals know this place as a traditional drive-in restaurant, and my Hagenbuch grandparents would occasionally stop here for a bite to eat. I had the fish sandwich in memory of my grandfather, Homer. It was one of his favorites.
Again, it rained, as we drove south along the Susquehanna River towards home. It had been a wonderful day—visiting the Hagenbuch Homestead, walking cemeteries, and sharing stories. A few days later, we would celebrate my father's 70th birthday and bring to a close a memorable time spent with family.