Seven Cemeteries in One Day, Part 1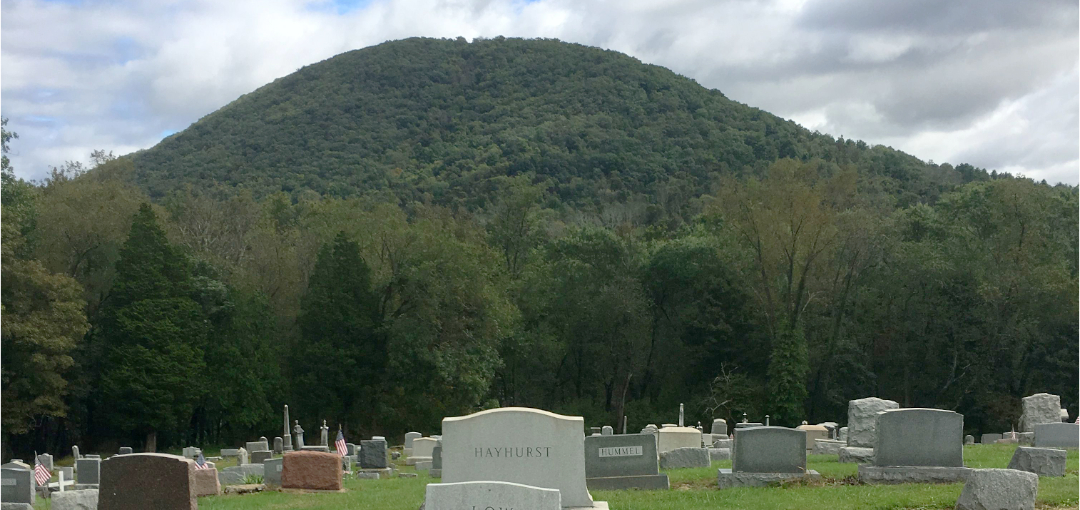 When I was young, my family didn't go on outings to the circus or trips to Disneyland. We couldn't afford them. Instead, we stayed in our small rural West Texas town, and my parents took us to cemeteries.

–Jenny Lawson, author
Before the internet, much of my genealogical research in Pennsylvania was done by visiting cemeteries. Sometimes, for an hour or more, I would scour the grave areas, walking up and down rows upon rows of stones, looking for the name "Hagenbuch." Often, I had an inkling that a Hagenbuch forbear was buried in the cemeteries I visited, but I would have no idea where the stone was located. If luck shone on me by finding that curious surname on a stone, it often yielded information that I needed to add to my paper records.
Cemeteries are places that are sometimes looked on with trepidation and curiosity. After visiting many, many cemeteries in the last 60 plus years, I have learned not only to treat them with respect, but also to appreciate what they represent. I had an acquaintance years ago—her name was Mira—who took people on tours of local cemeteries. Usually there were some important people buried in the cemetery. However, the main theme of the tour had to do with respect, solitude, and refuge found in cemeteries.
Mira would point out stones of the important people, folks who had accomplished an act which made a difference in local or national history. She also talked to the group about the quietness of a cemetery, the safety it provided for animals such as squirrels and rabbits, and even the exercise one received when walking among the stones looking at the names of all those who had passed away. She even pointed out interesting stones: those carved with weeping willows, angels, lambs, and baskets of flowers. Mira would show the tour group head stones and foot stones, as well as cradle graves which usually meant the untimely death of a child.
Most of all, throughout the whole tour, Mira would speak of "respect, respect, respect." She would turn the attention of the group to several stones which had fallen over, broken off, or unfortunately, been pushed over due to vandalism. Her point was that the stones should be uprighted and fixed. Leaving a gravestone fragmented and lying prone on the ground was the ultimate in disrespect.
In about 1983 my father, Homer Hagenbuch (b. 1916), and I took a road trip visiting seven cemeteries in one day. It was a long day but one I will never forget. I mostly knew of some of the relatives buried in those cemeteries, but I expected to find even more Hagenbuchs and update my paper records from gathering birthdates and deathdates from the stones we found. I was living in Hummels Wharf, PA at the time, just north of Selinsgrove, and my parents lived in Montandon which is just south of Milton. I picked Dad up early in the morning and we drove 30 miles east to the first cemetery—Hidlay Lutheran near Bloomsburg. Hidlay is one of the main Hagenbuch cemeteries for my clan.
There are 49 Hagenbuchs buried in the small, quiet, secluded cemetery beside Hidlay Lutheran Church. Included are my 3rd great grandparents, Henry (b. 1772) and Mary (Wolf) Hagenbuch; my 4th great uncle John Hagenbuch (b. 1763) and his wife Magdalene (Dreisbach); and my 3rd great uncle Samuel Hagenbuch (b. 1806) and his wife Mary Susannah (Hess). Most of the 49 Hagenbuchs buried at Hidlay have been written about in previous articles. They represent the main lines of the Hagenbuchs who lived in this area of Columbia County, PA. Although I had been in Hidlay cemetery previously, walking among these Hagenbuchs gave me a feeling of connection, a picture in my mind of each and every one of them. Hidlay cemetery is like a living organism to me, filled with my ancestors speaking words of family history.
Dad and I left Hidlay and drove four miles to the Laurel Hill cemetery located at Orangeville, PA. Twelve Hagenbuchs are buried there, none of which are of my direct line. However, as at Hidlay, they represent the notable Hagenbuch name in Columbia County. Buried at Laurel Hill are Isaac (b. 1801) and Salome (Knepper) Hagenbuch. Isaac is a son of my 3rd great grandfather, Henry (b. 1772). Also, at Laurel Hill are buried two of Isaac's sons: Michael (b. 1822) and William (b. 1838). As its name indicates, Laurel Hill is a small rise with the graves arranged haphazardly. My recollection is that Isaac Hagenbuch's gravesite is located towards the top of the hill.
Leaving Orangeville behind we drove another four miles—almost completely in a circle—to Highland Cemetery just at the edge of the small village of Lighstreet. Lightstreet was very familiar to Dad and I, as my parents would take me square dancing at its community hall back in the 1960s. What wonderful memories that brings back!
Highland was a cemetery I had never visited before that day. I was surprised to find 16 Hagenbuchs buried there, some of whom were not familiar to me! The oldest gravesite was William Herman Hagenbuch (b. 1814) whose father was Simon (b. 1788). Simon's father was John (b. 1763), who is buried at Hidlay and was the youngest son of Andreas (b. 1715). Simon is buried at Briar Creek Cemetery near Berwick, PA. William Herman's second wife, Mary (Keller) is buried beside him. His first wife, Sarah (Bittenbender), died at the age of 23 and is buried at Hidlay.
William Herman's son is also buried at Highland Cemetery in Lightstreet: Emory Dennis (b. 1848). He married Ardelia Creveling. Their two sons, Reber Willett (b. 1871) who died as a child and William Herman (b. 1880) who was named for his grandfather, are lying with the other Hagenbuchs in Highland.
The next oldest stone after William Herman (b. 1814) is "S. H. Hagenbuch"—Samuel (b. 1818). Samuel was the son of previously mentioned Simon (b. 1788). Samuel's first wife, Susan (Evans) is buried with him. She died at the age of 40 and Samuel remarried Sarah Knarr. Sarah is buried at Laurel Hill Cemetery in Orangeville. Two of Samuel's sons are buried at Highland Cemetery: James E. (b. 1863) who died as a young adult and Hervey (b. 1874) who died at the age of 10.
As I looked through the 16 Hagenbuch names buried at Highland Cemetery in Lightstreet, I noticed there were two male Hagenbuchs I could not identify: Willis (b. unknown, d. 1858) whose stone is engraved with "son of R. and R." and Ramsey (b. 1836, d. 1860) with no other details on the stone. I checked with Andrew, and he told me he thought both of these Hagenbuchs and their information were in Beechroots. He had added them two years ago. As so often happens, this led me to realize there is more story to the story of Ramsey and Willis. I look forward to writing a future article on them and their family history.
Leaving Highland Cemetery, Dad and I traveled into the town of Bloomsburg to check out the huge cemetery there. I was not sure what I would find as I had never been to this burial ground before. This cemetery and three more after that were still on the schedule for the day. Lunch was calling us, but there were many more relatives to find! The day was young.
The story of Seven Cemeteries in One Day will continue in the next part in this series.