The Wiz at the Hagenbuch Motor Company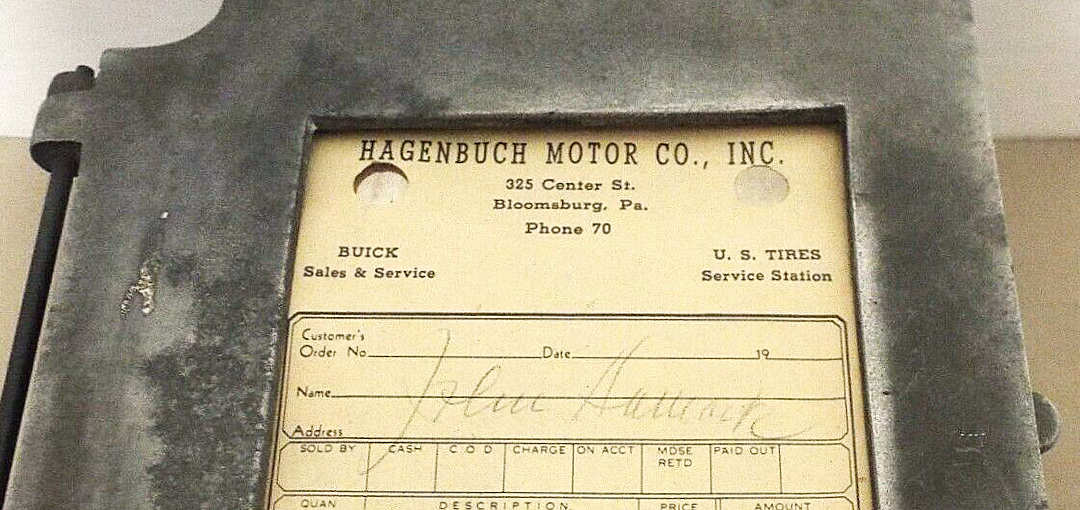 A few weeks ago, I noticed an interesting family artifact appear on eBay. It was a cast iron receipt register from the 1920s, branded as "The Wiz." Inside the device was an old receipt from the Hagenbuch Motor Company of Bloomsburg, Pennsylvania. This led me to wonder: how did The Wiz work, what was the Hagenbuch Motor Company, and which of our relatives owned it?
Of these questions, I found it the most challenging to learn about The Wiz. Manufactured by the American Sales Book Company in Niagara Falls, New York, the machine dated from the 1920s and was patented. However, patent details from before the year 2000 are more difficult to search for and my attempts only led to dead ends. I began to investigate how other receipt registers from the time period worked. Eventually, I determined the device was designed to expedite the process of copying sales receipts.
The Wiz would have been loaded with three rolls of paper: one with printed top receipts, another with carbon copy paper, and the last with bottom receipts. The sales person would record the transaction on the top receipt, which would transfer to the bottom receipt through the carbon copy paper. A hand crank on the side of the machine was turned to advance the paper to the next blank receipt, and the completed top and bottom receipts were able to be torn off. The business kept the top one, and the bottom one was handed to the customer.
The receipt still in The Wiz showed that it had been once owned by a Buick dealer, the Hagenbuch Motor Company, located at 325 Center Street, Bloomsburg, PA. While researching the business, I learned that it had originally been known as the Hagenbuch-Buckalew Motor Company and was formed on December 1, 1924. In 1926, the dealership was reorganized under one owner, William Herman Hagenbuch, Sr., and rebranded as the Hagenbuch Motor Company.
The Hagenbuch Motor Company provided sales and service for Buicks, along with used cars from a variety of manufacturers. By the mid-1930s, it became a licensed Pontiac dealer too. The company remained in business until William died in 1950.
William Herman Hagenbuch, Sr. was born on January 6, 1886 in Lightstreet, Columbia County, PA to Emery D. Hagenbuch (b. 1848) and his wife, Ardelia E. Creveling (b. 1853). William's line is: Andreas (b. 1715) > John (b. 1763) > Simon (b. 1788) > William H. (b. 1814) > Emery Dennis (b. 1848) > William Herman (b. 1886). He married Mary Alice Ohl (b. 1891) on July 16, 1915. At the time, William was working as a salesman for Moyer Brothers Drugs in Bloomsburg, PA. He eventually became an automobile dealer and ran the Hagenbuch Motor Company from 1924 until his death on August 1, 1950.
Below is a video of a 1924 Buick touring car—a model that would have been available for purchase at the business:
The couple's only known child, William Herman Hagenbuch, Jr., was born on March 23, 1919 in Bloomsburg, PA. He attended Bloomsburg University (then Bloomsburg State Teachers College). During World War II, he joined the United States Army Air Corps and served from 1942–1944. William Jr. trained as a pilot and attained the rank of lieutenant. On August 2, 1949, he married Inez Othelia Driggers (b. 1926) in Reeves County, Texas. They had one child, Mary Christina, who was born in Bloomsburg, PA on July 15, 1950. At that time, William worked selling automobiles, perhaps at his father's garage.
Sadly, William H. Hagenbuch, Jr. died on April 9, 1955, only five years after his father, William Sr. He is buried with his parents in Bloomsburg. Inez married again, this time to Howard J. Eberwein (b. 1908). She died on February 4, 1994 in North Carolina.
Several years ago, I stumbled upon the 2017 obituary of Mary Christina, the only daughter of William Jr. and Inez (Driggers) Hagenbuch. Mary had been married to and later separated from Albert Sumner, Jr. The couple had a daughter, Mariah (Sumner) Schick, and a son, Caleb Sumner. Because of William Jr.'s untimely death and Inez's remarriage, this family's Hagenbuch line is somewhat obscured. Nevertheless, it is hoped that through this article they may be reconnected with our tree.
Interesting family artifacts are a terrific way to learn about the past and discover the lives of our ancestors. Through an old receipt register posted to eBay, we are able to better know the family of William Herman Hagenbuch, Sr. who once owned and operated an automobile dealership in Bloomsburg, PA.