A Winter's Day in Hagenbuch Country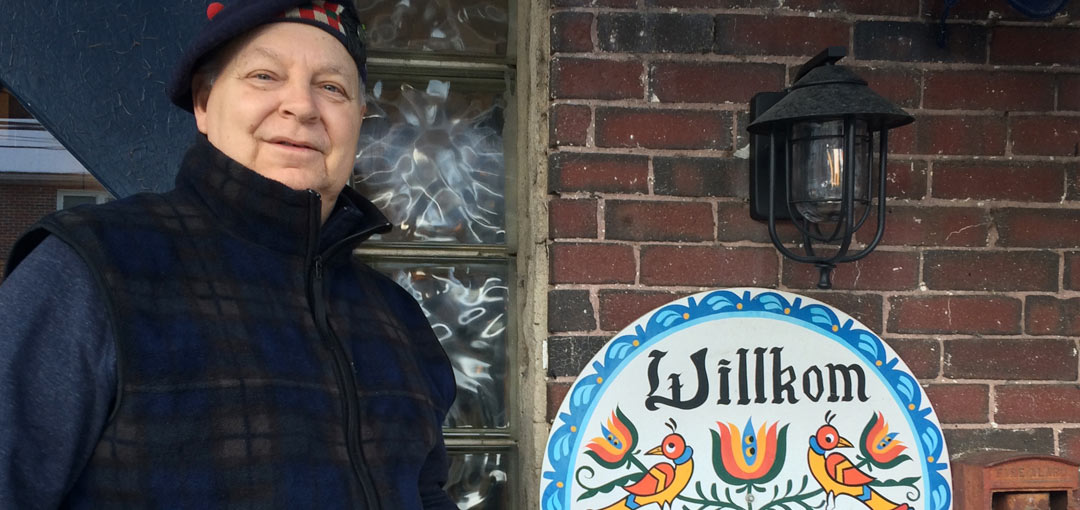 On a cold January day, my father, Mark Hagenbuch, and I ventured into Hagenbuch country—Albany Township, Berks County, Pennsylvania. We had three important stops planned for the day, all of significance to our family.
The first was to the Albany Township Historical Society. Though the historical society has a Kempton address, it is actually located in the town of Trexler, a place once known for the manufacturing of a potato cutter invented by Albert E. Trexler. At the historical society, we met Peggy Light, who graciously showed us several books that we had been looking to peruse for aspects of Hagenbuch history.
We spent several hours combing through the books and talking to Peggy. In one of the books, we discovered something we hadn't seen before: a baptism done by Daniel Schumacher while he was pastor at Friedens White Church in the 1770s. The baptism occurred on April 11, 1773 for Mary Magdalene Stapleton. She was born on December 31, 1772 and was the daughter of Robert and Anna Maria Stapleton. Her baptism sponsors are what really caught our eye. They were John Stapleton and Mary Magdalene Hagenbuch, who is believed to have been born around 1750 to Andreas and Maria Margaretha Hagenbuch. While this baptism doesn't tell us much about Mary Magdalene Hagenbuch, it is another another piece of information to add to her life's story.
Besides looking through the historical society's collection of books, my father and I were able to tour their museum and other facilities. One of the items that caught our eye was an original Trexler potato cutter that had been manufactured in the area.
Our second stop was to the Hagenbuch homestead, which is also located in Albany Township. My father and I walked through a snowy field to visit our ancestors' graves inside the family plot there. The air was cool and the sky clear. Everything was quiet, giving us a glimpse of what the place must have been like for Andreas and the other Hagenbuchs who once called this plot of land home.
Coincidentally, the snow around the gravestones made it easier to see their similarities and differences. For the first time, we felt that we could distinguish between the older stones in the front row and the newer stones behind them in the middle and back rows. The stones used for the early burials were of a different type and thickness than those used later, which were cut from distinctive bacon stone.
Our third and final stop for the day was to the Deitsch Eck Restaurant in nearby Lenhartsville. Given the Eck's hours of operation, we are often unable to dine there when visiting the homestead. However, we were in luck this trip and were quickly seated. The restaurant's walls are decorated with the distinctive hex sign artwork of artist Johnny Ott, and the one dining room even contains an old-fashioned bar. No liquor is served there, though!
Over orders of traditional Pennsylvania Dutch foods—chicken and waffles, several types of fritters, and scrapple—my father and I discussed our day spent together in Hagenbuch country. Albany Township is an important place for our family, not just because it is where our ancestors are buried, but also because our family's earliest stories are rooted in this land.