Painting Portraits of Our Family, Part 2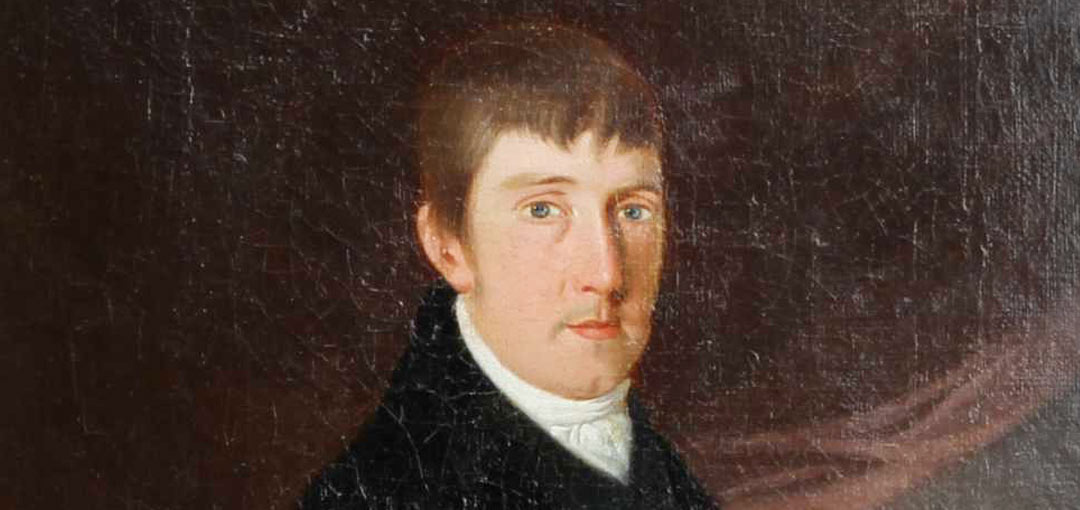 The primary career of women, like Andreas' wives, in colonial America was housewife or Hausfrau (that is, running the household) and raising the children. However, Andreas' daughters and possibly a granddaughter were also likely involved in the linen business, which we believe was quite extensive. As written in a previous article concerning Andreas' will, six of his daughters and one granddaughter received equal parts of the white linen goods.
… what concerns the white linen goods, that the said Maria, Magdalena, Anna Elizabeth, Christina, Anna Margaretha, Anna Barbara, and Magdalena Brobst, shall share the same in 7 equal shares and rough cuts …
At the death of Andreas in 1785, his daughters' ages ranged from 21 to 47. All the daughters were married except for the youngest, Anna Barbara, who was 21. So, most likely, they were all running their own households except for Anna Barbara who was at home. However, the will does not give any of the linen to the eldest daughter Catherina but instead to her daughter, Magdalena Brobst. If the five married daughters (Maria, Magdalena, Anna Elizabeth, Christina, and Anna Margaretha) and the one married granddaughter (Magdalena Brobst) were involved in the flax and linen business, most of it was being done in their own homes. But the product belonged to their father.
A career portrait might show these daughters and granddaughter with several pieces of equipment: a flax break, scutching swords, a hackle, a flax comb, and what most people are familiar with, a spinning wheel. After spinning the rough "tow" into thread, it was strung on a loom and woven into linen. All of this was difficult and tedious work, work that Andreas' daughters, along with the usual hausfrau jobs, were familiar with. If these ladies were involved in the linen business with their father (and grandfather), it seems that it was a choice on their part—a career that was accomplished on the side to the family business.
Three of Andreas' sons were all farmers: Michael, Christian, and John. The career of Andreas' eldest son, Henry, can mostly be categorized as a tavern keeper and business man. In previous articles, readers have learned about Henry's tavern in Allentown called the Cross Keys. Although ale and beer would have been served at colonial taverns, the preferred drink to purchase would have been distilled liquors such as rye whiskey (mostly found in Pennsylvania), brandies, and imported rums. Henry's career portrait would depict the jovial tavern keeper with a barrel, possibly a mug, maybe some clientele in the background enjoying themselves at the Cross Keys establishment. He might also have a ledger in front of him to keep track of the foods and drinks that were sold on each day with the clients' names.
Keep in mind that Henry was also a career soldier for a year or so. As captain of a wartime company, his portrait might also include a battle scene in the background or possibly some American flags hanging behind him in a portrait. It seems that Henry's career paths were choices rather than necessities, and he appears to have enjoyed his life as a tavern keeper. As most soldiers who were not conscripted, or those who became officers, he probably enjoyed the military life, at least in the beginning. But, once in battle and captured, it turned sour. He did not reenlist and went back to the Cross Keys to continue a pleasurable business of serving food and drink.
Youngest son John, although a farmer, had various jobs throughout his life until he found his niche. In 1806, he moved to Columbia County, Pennsylvania with his wife Magdalena Dreisbach and raised his 8 sons there. John has had much written about him in previous articles, listing his jobs as tailor, saddler, distiller, and the recipient of father Andreas' cherished religious book, True Christianity. Since it is difficult to depict all these career moves for John, maybe he is best portrayed holding a book representing True Christianity, which is theorized to have changed his life from a "jack of all trades, master of none" to a solid citizen owning 500 acres of land and marrying a woman of substance. Of course, it could be argued that his wife, Magdalena, was instrumental in turning his life around too. Therefore, he should be portrayed with both the book and the wife!
It is believed that Christian was more than a farmer. As an expert distiller who may have shipped his product to his brother Henry in Allentown to be served at the Cross Keys, he selected this lucrative career. He would have learned this skill from his father Andreas and others who were making whiskey and brandy in colonial Pennsylvania. It was a common practice but may have been paramount for Christian. A portrait of Christian would simply show him holding a handful of rye on the stalk, as is shown in the portrait of Frederick Eichelberger, a well known rye whiskey distiller from York County, Pennsylvania.
Michael's portrait, like his brother John's, is difficult to create simply because his fingers, also like father Andreas, were in all sorts of jobs. He was a farmer raising livestock, a tanner of hides, and a purchaser of land which could be lumbered off to make charcoal and to produce the tannic acid for tanning. He also distilled whiskey and brandy. He raised other crops including flax to weave linen. Probably not the businessman that Andreas was (as Andreas loaned money and speculated on land), he kept the home farm working and raised his family there. His portrait might be one of the farm, livestock, crops, and children. Of all the brothers, he seems to be the one who was the "jack of all trades" and charged with keeping the original family farm in good stead.
Visualizing our ancestors in paintings along with their career objects brings them to life. Andreas' children, both women and men, were hard workers who carried on the skills they had learned from their father and mothers. Although we have no portraits of these earliest of our ancestors, we have enough details to enliven them in our mind's eye.