Christmas Babies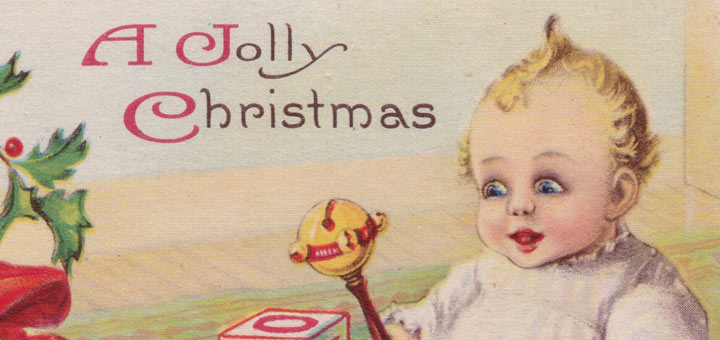 People born on holidays often see it as a double edged sword. Some of the holiday-born believe that the festivities take away from their birthday celebration. Others believe the holiday enhances their own personal party. In one account I read, a Christmas day-born lady stated that she always gets double presents and never has to think about planning a party, decorations, inviting guests, and so on. The Christmas day observance took care of all those details!
Which of our Hagenbuchs could look forward to a Christmas birthday celebration? Which parents had the joy of welcoming a child into the world on the day that first and foremost commemorates the birth of the Christ child? It took a few hours, but by researching through the vast genealogical records we have—both on paper and in Beechroots—four Hagenbuchs were identified with December 25th birthdays. There are surely more, and not every birth date has been recorded for the Hagenbuch descendants of Andreas and his wives.
Baby Magdalena Hagenbuch was born on December 25, 1799. She was the second child of Henry (b. 1772) and Mary (Wolf) Hagenbuch. Henry is a son of Michael (b. 1746) and the grandson of Andreas (b. 1711) and his second wife. Henry and Mary moved from Northampton County, PA to what was then Northumberland County. In 1813, it became Columbia County. This means that Magdalena was born in Northampton County. We have no other information on Magdalena. She most likely died as a child and is buried at Hidlay Church Cemetery where her parents are buried. A Christmas child who brought joy to her parents, and sadness with the end of her young life.
It's highly unlikely that siblings would be born on the same day but not the same year; and especially if that day were Christmas! But, that's the story of sisters: Wilma Clare Hagenbuch born December 25, 1929 and her sister, Donna Irene Hagenbuch born December 25, 1936. These Christmas babies' parents are William Donald and Irene (Cavanaugh) Hagenbuch who were living in Pittsburgh, PA in 1979. William was born in 1900 and belongs to the Montgomery, PA Hagenbuch line. His grandfather was Hiram Hagenbuch (b. 1842) who has appeared in several previous articles.
As to the Christmas sisters, Wilma and Donna: Wilma died in 1975 and was married to Norman J. Napier. In 1960 Wilma and Norman were living in Erie, Pennsylvania. Nothing more is known of them even after hours of research. Donna was married to Marlin Wakefield Stumpff. Marlin died in 1991 and is buried at Grandview Cemetery, Washington County, PA. Donna is most likely still living. In 1994 she was living in Burgettstown, PA which is north of Pittsburgh. As with her sister Wilma, after hours of research nothing more can be found on her.
Another Hagenbuch Christmas baby was born on December 25, 1933 in Pottstown, PA (or, according to the Social Security applications, East Greenville, PA). Carl Nester Hagenbuch's parents are Leon James and Luella (Nester) Hagenbuch. Unfortunately, Carl's genealogical line to Andreas is in contention. However, at this time, it is thought to be: Carl (b. 1933) < Leon (b. 1907) < Andrew (b. 1852) < Joseph (b. 1811) < Andrew (b. 1782) < Christian (b. 1747) < Andreas (b. 1711). The part in contention is not knowing for certain Carl's great great grandfather. At this time, Andrew (b. 1782 and Christian's son) seems to fit best.
Carl was married to Shirley Marie Gresh and in 1980 they lived in Gilbertsville, PA. At that time, he was Vice President of a company called Dutch Built Kitchens in Pottstown. Carl and Shirley had two children: Ricky and Lisa. Currently, nothing more is known of Ricky and Lisa, but an attempt has been made to contact them and their children.
Four Hagenbuch Christmas babies: Magdalena, Wilma, Donna, and Carl. At Christmas time we contemplate the mysteries of Christmas: the virgin birth, the star leading the Magi, and the angelic host speaking to the shepherds. On a smaller scale, mysteries surround the four Christmas babies. However, we recognize them as descendants of our immigrant forefather, Andreas, and look for more information to complete their stories.
From Andrew, me, and our families, we wish you a blessed Christmas and grand New Year.