Hannah (McWilliams) Davis: Young to Old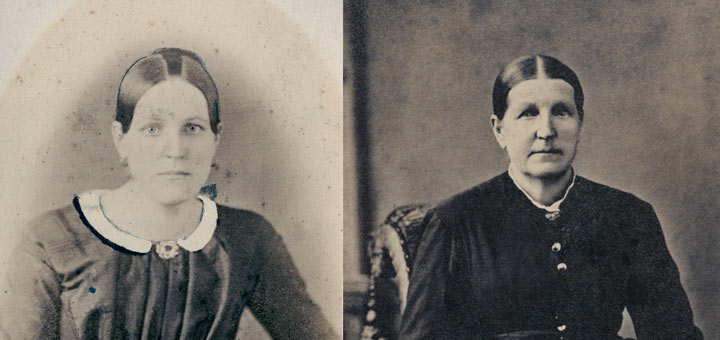 In talking to other genealogists, I am reminded how fortunate I am to to have so many family photos—some dating back to the latter half of the 19th century, a few even earlier. Part of my collection, which Andrew and I refer to as the Hagenbuch Family Archives, is from my Sechler line, the family of my grandmother, Hannah (Sechler) Hagenbuch (b. 1889).
A few years ago, I came into possession of a copy of a photo of Hannah (McWilliams) Davis. Hannah, born 1827 and died in 1896, was my great great grandmother and the grandmother of Hannah (Sechler) Hagenbuch mentioned in the first paragraph of this article. This was a great find for me as I had never seen a likeness of my great great grandmother. The photo, probably taken about 1890, was featured in the September 2013 article Four Weddings, One Dress.
Last year when Andrew and I visited my first cousin, Joe Robb, he showed us an album which featured photos of the Sechler family. The first page had an unidentified photo of a young woman. Beside that photo was another one of a young man, also unidentified. In turning the page, there was the photo of Hannah (McWilliams) Davis: the same image that I possess.
Joe's mother, my Aunt Florence (Hagenbuch) Robb, had collected the photos. Most all other photos were identified except for that first photo and the one beside it of the young man. I put two and two together. Looking close at the likeness of the young woman as compared to the photo of the older Hannah Davis and realizing that Aunt Florence had put the photo of the young woman on one page and older Hannah Davis on the next, I concluded that the unidentified photo is of Hannah Davis when she was young. The photo of the young man must be Hannah's husband, William Henry Davis.
As conveyed in a previous article, William Davis took his family from Northumberland County, Pennsylvania to Iowa in 1855. However, by 1860 Hannah, her two daughters, and her son are living back in Northumberland County, near Milton, PA, without William. In 1889, William died in Iowa. The photos we have identified as young William and young Hannah are most likely taken about 1855, possibly as keepsakes for other family members who believed they would not see them again for many years because of their move to Iowa.
But, most interesting of all is the body language seen when comparing the two photos. It's as if the photographer in 1890 was viewing the 1855 photo of young Hannah as he positioned old Hannah in exactly the same manner! In both photos, Hannah has her right hand lying across her lap. Also, in both photos her left hand is holding a book.
Is the book a Bible? If so, it would be in English, not German, as the McWilliams and Davis families were Presbyterian. She is seated in both photos looking straight at the photographer; and her closed, slight smile is the same. A coincidence? Andrew and I do not think so.
What is different in the photos are the fashions—the changes that took place in hairstyles and dresses between 1855 and 1890. Young Hannah is wearing a stylish dress of the period, a tartan fan front dress.  Tartan (plaid) was very popular at the time because of British Queen Victoria's obsession with all things Scottish. Victoria dressed herself, her husband Prince Albert, and their children in Scottish tartans. This carried over to America and influenced the fashions here.
Young Hannah is wearing a pin at her neck and possibly earrings. Curiously, it looks like someone took an ink pen and filled in around her white collar and head. Is that an ink spot or a ribbon peeking out from behind her left shoulder?
By comparison, old Hannah is wearing the more plain dress of the late 1800s, which is buttoned down the front. One cannot be sure if she has a black lace handkerchief tucked inside her right cuff, or is that part of the dress? Around her left wrist is a bracelet, or is that also something attached to the dress? She may have a small broach at her neck, or perhaps that could be a button?
Another point of interest is the hairstyle. Young Hannah's hair is made up in an interesting manner. In researching hairstyles of the 1850s it does appear to be fashionable. She has two parts in the hair with the center of the hair pulled back. Old Hannah has the single part that was worn by women of the late 1800s.
The photos in this article give us not only a look into the past, but also a look at the aging process. Subtle similarities can be identified between Hannah (McWilliams) Davis in her twenties and in her sixties. I'm sure we have all looked at ourselves at a young age and then compared that photo with a current one. What a difference those years can make!
"Age is something that doesn't matter, unless you are a cheese." -Luis Bunuel
Special thanks to Joe Robb for providing the images found in this article.