Your Husband, Ben: Letters from the Civil War, Part 3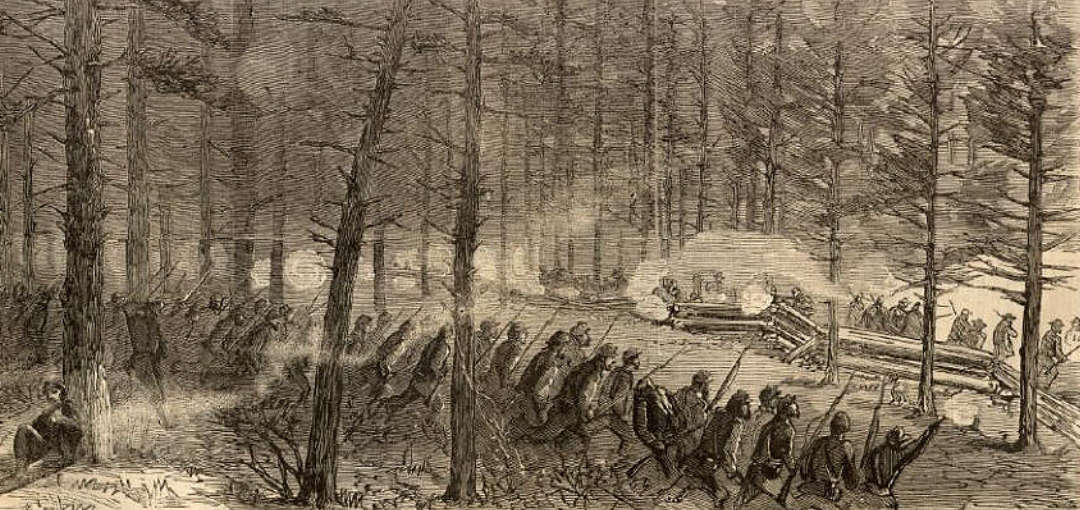 In Part 2 of this series, Benjamin "Ben" Del Fel Hagenbuch (b. 1833) had joined the Union Army for a third time in late 1864. After training, he arrived in Virginia and participated in the Stony Creek Raid on the Weldon Railroad. By January of 1865, he was stationed at division headquarters for the 5th Corps outside of Petersburg, Virginia. Ben continued to write his wife, Sarah Jane (Ammerman) Hagenbuch (b. 1831), during this time. Read Part 1 and Part 2 in this series.
---
Benjamin Del Fel Hagenbuch Civil War Letters
Part 3: January 20, 1865 – February 23, 1865
---
January 20, 1865, Saturday
Headquarters, 2nd Division [Near Petersburg, Virginia]
Dear Wife,
I received your letter last night and was glad to hear that you are all well. You was sorry you wrote cross ways1 on that sheet. I am not for I can read every word of your writing no matter how you write. I am also glad you all have shoes again, and I must with sorrow tell you that we will not get paid now not until March. Why it is, I cannot say. I think the Government is too careless in regard to paying their troops. Oh what misery it is the cause of. One thing is certain. They know those one year men got large bounties and perhaps that is the reason.
So my Dear Ones, you will have to get Jackson2 to let you have such things as you want and trust you as you're all in your own hands. He need not be afraid of his pay. I am sorry that I let my feelings towards Jackson get the better of me, for I surely thought it was him. But now that I know that it was that busybody brother, John, I will write to him, for I have not wrote to him since the election.
I am glad that I did not make an ass of myself by writing to him as I was a going to. Oh Dear, but it will be hard for you to be without money. How can you get along? It is too bad. Still it will not be long, a little over a month. Yet if I thought I would be successful I would put in for a furlough and try and get my pay at Washington. I am afraid I cannot get one, for without a letter from home. That it is actually necessary or, in case of sickness or death, it is no use trying. But I think I will try my lucky star, as it has not failed me so far.
I have been lucky so far. Pretty near always been out of the company and at last, I think I am in about the best and safest place in the army.3 Always in good quarters and not much duty to do. I like it much better than cooking for the Colonel, for I am not so near the front and have no picketing nor drilling in battle, no charging breastworks, nor storming forts. But our place is in the rear to prevent straggling and guard prisoners. So if I knew that you where well-provided for, I would be as merry as any of the soldiers.
There is good news of the success of our army everyday, and it is thought now with certainty that the rebs will lay down their arms before spring. I hope and pray it will be the case. Tell Robert4 I cannot write to him now for I have no stamps to pay postage. If I had I would write, but I want him to write to me, for it will learn him to write which is very important to him to learn as he is getting to be old enough to be a pretty good writer.
I am sorry that I must do without a box of your canned fruits on account of not getting paid, for they would taste oh how good. But why do I talk. Other of our soldiers gets boxes from their brothers and sisters, but I have none that thinks enough about me to even write, let alone send me a box. Well my dear, I can stand it. I think if only I keep my health as good as it is now, I am content for I never was healthier or heavier than I am now. I want to come home, if I can, for I would like to see you and the children especially little Joe,5 the dear little pappy's pet.
Oh how I wish I had your picture. I must stop for this time. Oh my how it rains as hard as it can pore down. Bill Thomas is on guard. He will get a big dunking. I just missed it. I came off last night.
Good night dear ones. I will try to come home. Write soon. I remain your ever true husband.
Ben
---
February 19, 1865
2nd Division Headquarters, 5th Corps
Hatcher's Run, Virginia
Dear Wife,
This morning, I received your letter, it being three weeks today since I had a letter. I cannot see why it is. I have written. This is three letters since we left our old camp and one just before we left. I sent you some cotton in that one. It appears you did not get it, or you would said something about it. In the next, I told of our battle out of which, thank God, I came unhurt.
We expected to return to our old quarters but were disappointed after laying in the mud and rain and storm for 3 long weeks. We have again got up good warm houses. We finished ours last night and moved in. Oh what a difference between this and our log houses. I like my new house better than the the last one. It is larger and warmer. It being Sunday today I thought I would rest, for I never worked so hard as I did the last 3 or 4 days. Yet most of the boys are busy working at their huts, for not half of them are finished.
I would be sorry to hear of Pats enlisting.6 Tell him to keep out as long as possible. If I was home now, no money could hire me again. I do not think soldiering now is quite different from what it was two or even one year ago, and if there is a campaign this summer, it will be one of the hardest of the war. But if he thinks, like I did, that the draft will surely catch him, a good big bounty in cash would be better than nothing.7 If he comes, I wish he would come to this army, for I do not think they will do much hard marching.
The 210th wants recruits. He can get in if he wishes they lost several in this last battle: 7 killed, 40 wounded, and 30 missing either stragglers or prisoners.8 While the fight was going on, we was in the rear out of reach of musketry but shells came crashing amongst us, fortunately not hurting any of the guards but scaring the doctors who all ran and left the wounded in the woods. But the brave boys that came along would not let their comrades lay, but shouldered them up and hurried to the rear.
Such an excitement I never saw, when the 3rd Division broke and came running back, trampling down everything in their way. It was no use for us provos9 to try to stop them. On they came pell-mell, knocking us down and trampling us under foot. All the Division and Corps provos charged bayonet on them, and we had orders to shoot them. Some did fire on them but I did not, nor could I fire on men that had fought as hard as they had. If they had been deserters, I could, but not in that case.
I have not saw Jim10 since I left the old camp. I would like to see him. I expect they will move the hospital up here. How close to here they will be I cannot tell, but I hope not far off. I saw Lem Mood. He looks well, sends his love to Pats. He is in the 6th Corps.
If I get back, I will attend to Robert. I will make him feel for his bad conduct, and I will curb his high spirits. He must be attended to. You must not let him master you, if you have to use hard means to accomplish it. For if once he finds you fear him, then you are done. Your authority will be of no use. Besides the younger ones will learn the same spirit and be just as bad.
I must stop, for I have a pot of been soup on the fire for supper, and it is about done. I must attend to it. Anyhow, who was so kind as to furnish you with flour and meat and fire? Tell me next time. Write soon for I cannot wait so long.
Goodbye for this time, and I remain as ever your true Husband,
Benj. Hagenbuch
Headquarters, Hatcher's Run
I am making you a nice ring out of a peach nut. Will send it next time.
The paymaster is on the road here. We will get pay in a day or two.
---
February 23, 1865
Hatcher's Run, Virginia
Dear Wife,
I have no time to write much tonight. There is talk of another move. I am well and hope you all are the same. Enclosed I send you two rings: one gum and one peach pit. Wear them if you can. They are no use to me. I made them while I have nothing else to do.
We expect to get paid tomorrow. The pay master is here. I will express it to Jack11 and you get it there. I think that will be the safest way. The pay master is here. We will get but four months pay and one advance. If they had waited until the [illegible text] of March, we would get six.
My love to the children, and I remain as ever your true Husband,
Ben Hagenbuch
Write soon.
---
Footnotes
Cross writing was a practice of writing the letter normally, then turning the page 90 degrees and continuing to write more. Crossed letters were done to save money on paper and postage, since they effectively doubled the amount of text that could fit on a single page. A future letter from Ben to his wife uses this style of writing and will be shown at that time.
Jackson appears to have run a general store in Bloomsburg along with his brother, John. It is unclear what their last name was.
In his next letter, Ben states "It was no use for us provos to try to stop them." This suggests he was part of the provost guard, a group of soldiers that would enforce discipline in the army.
Ben's eldest son was Robert Del Roy Hagenbuch (b. 1853).
This is his daughter, Clara Josephine Hagenbuch (b. 1863), who was a toddler when the letter was written.
"Pat" may be a middle name or nickname of a family member. Currently, no Pat or Patrick has been found in related family lines.
In this passage, Ben explains why he enlisted in 1864. He was afraid he would be drafted, so he decided to take a cash bonus and willingly join.
The Battle of Hatcher's Run was a Union victory fought from February 5–7, 1865. Click here for more information about this battle.
Provos refers to the provost guards. See footnote #3 above.
Jim is James W. Chamberlain of the 6th Pennsylvania Infantry, Co. A.
"Jack" may be the owner of Jackson's store.