Your Husband, Ben: Letters from the Civil War, Part 1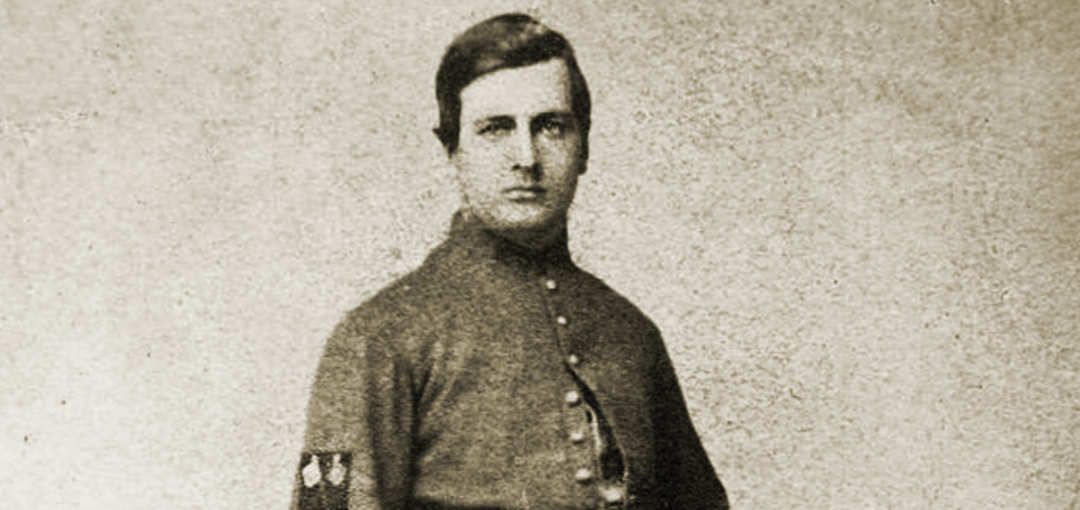 Journals, letters, and postcards are some of the best ways to examine the daily lives of our ancestors. Sixteen letters, penned by Benjamin Del Fel Hagenbuch during the American Civil War, are held by Auburn University in Alabama. This series of articles will explore the people, places, and events mentioned in these messages, providing a glimpse into the mid-19th century at a pivotal point in our family's history.
Benjamin "Ben" Del Fel Hagenbuch was born on October 27, 1833 in Columbia County, Pennsylvania. He was the eldest son of Robert (b. 1808) and Hannah (Bomboy) Hagenbuch (b. 1808). His line is: Andreas (b. 1715) > Christian (b. 1747) > John (b. 1785) > Robert (b. 1808) > Benjamin Del Fel (b. 1833). According to the 1850 census, at the age of 17, Ben was living in Bloomsburg, Columbia County, PA and working as a blacksmith.
On March 7, 1852, he married Sarah Jane Ammerman (b. 1831), and they started a family. By 1860, the couple had three children: Robert Del Roy (b. 1853), Charles Harvey (b. 1855), and Mary Willetta (b. 1858). The family lived in Bloomsburg, where they rented a house and Ben worked as a tinsmith.
The Civil War began on April 12, 1861 with the attack on Fort Sumter, South Carolina, prompting President Abraham Lincoln to call for 75,000 volunteers to join the militia from across the Union. That summer Ben enlisted in the 35th Regiment of Pennsylvania Volunteers, which would form the 6th Pennsylvania Reserve Regiment. He joined as a third-class musician, a rank that paid $17 per month.
Records show that the 6th Pennsylvania was at Camp Biddle, Greencastle, PA from July 12–22, 1861. The regiment then moved to Washington, D.C. on July 22 and was on duty at Tennallytown, MD from July 27 to October 10, 1861. Finally, they relocated to Camp Pierpont, near Langley, VA, for the winter and remained there until March of 1862.
On January 1, 1862, while stationed at Camp Pierpont, Ben wrote a letter to his wife and family in Bloomsburg. Though he almost certainly had written others before it, this message is the first in Auburn University's collection. Minor edits have been made for spelling and punctuation, while larger edits are in brackets and additional explanations in footnotes.
---
Benjamin Del Fel Hagenbuch Civil War Letters
Part 1: January 1, 1862
---
Camp Pierpont, VA
January 1, 1862
A happy New Year to you my Dearest ones at home. I hope you have enjoyed it and all the good things that are required on such days, for I am pretty well stocked now. But if it had not been for you, I shouldn't have had any extras for today; but thank fortune I have a wife that still loves and remembers me.
I received that box last night. Oh but I was proud of it, you may believe, and it just came in time for today. What remarks the rest of my roommates made when I opened it, and they wished they had a good little wife to send them such things. I pitied them and gave each a taste of my things. Some of them has been in here longer than I have and never got anything from home yet. They said I must surely have a bully1 woman, or you would not always be sending me things and that you are a good cook and baker they know.
Yes, I tell them, just the one for a poor boy like I am and always have been. All that I am sorry for is that I have no house of my own to keep you better and that I have not a nice little place in the country—somewhere it would be better for our children. We could bring them up to a more useful life than in a town, where they are always idle and not only that, but they learn everything that is bad. But I hope they will live to be an honor to their country and to us, instead of being a disgrace as many town boys and girls are. I am proud of my children and hope I ever shall be. Tell Robey I got his things and tell Willey that pap got her little pie.2 I thank them for their little presents and may the Lord keep them safe in his care is my prayer.
Oh my wife, but your sausage and panhaas3 is fine and fat and good. I am glad it is. So nice them pies. Oh but they put me in mind of home and of the times we have had in gathering and preparing that kind of berries (my favorite Elder). I tell you, but they are good. The bread I can easy tell is homemade. So much better [than what we get], but still we get very good bread here. That nice little roll of butter, oh how nice it is. Our preacher wanted to buy it off me. He boards here; but the Colonel4 is here sick. He wanted it for him. I told him I would see about it. I like good things as well as they, and I do not care about selling mules.5 As is reported, we get our pay tomorrow. Then I will tell grandmother6 that her present is just the fit, and I am very much obliged to her.
Dear wife, I hope now to start for home soon for the pay master was here last night, but I did not know it or I could a got mine last night. Jim Chamberlain7 got his and left this morning. I did not know it, or I would have sent this with him. He says if nothing turns up, he will pay us tomorrow or Saturday. I hope he will. I must stop for supper is about ready, and I am having some sausage and panhaas cooked and I must attend to it.
My Dearest one, I am a thousand times obliged to you for your present and now I close by ever remaining true to you to the last. Your husband, Ben.
Give my thanks and love to Uncle Rheubin8 if you see him. Those cherries were nice.
---
Many soldiers at Camp Pierpont were sent boxes and packages from home during the holidays. A piece in the Philadelphia Sunday Transcript published on December 24, 1861 records that the soldiers received clothing like socks and comforters, as well as food and rye whiskey. The men frequently shared their presents with one another, including with the sick and wounded in the hospital.
Research suggests that Ben mustered out of service in 1862. While most soldiers in the 6th Pennsylvania enlisted for three years, Ben did not remain with the regiment for that long. One theory is that he was discharged due to the reduced need for military musicians. According to The U.S. Army School of Music:
On July 17, 1862, Congress passed Public Law 165. Public Law 165 abolished regimental bands in the volunteer army and provided for the mustering out of all musicians within 30 days of passage.
Yet, this was not the end of Ben's service during Civil War. In June of 1863 as the Confederate Army marched north, Pennsylvania formed emergency militia units to defend the commonwealth from General Robert E. Lee's forces. Ben enlisted for three months as a corporal in Company D of the 53rd Pennsylvania Militia and marched to protect Reading, PA. With the Confederates routed at Gettysburg, his unit saw no fighting and Ben returned home in August.
Ben would join the Union Army once again in 1864, a decision that would take him away from Pennsylvania and bring him closer to the death and destruction of war. His letters from that time period will be shared in the next part in this series.
---
Footnotes
In the 19th century, "bully" could refer to something being very good.
Ben appears to have called his son Robert "Robey" and his daughter Mary Willetta "Willey."
Panhaas is another name for scrapple.
Research shows that Colonel Rickets was discharged in February of 1862 due to a prolonged illness.
It's not immediately clear what Ben is referencing by "selling mules." This may have been a figure of speech suggesting that he doesn't mind parting with something valuable.
Ben appears to be talking about his paternal grandmother, Phebe (Coleman) Hagenbuch (b. 1779). She was recorded in the 1860 census.
James "Jim" W. Chamberlain was a principal musician for the 6th Pennsylvania Reserve Regiment. In April of 1862, he transferred to Company A as a private.
Uncle Rheubin is Reuben Bomboy (b. 1811, d. 1898). He was likely the brother of Ben's mother, Hannah (Bomboy) Hagenbuch.