School Picture Day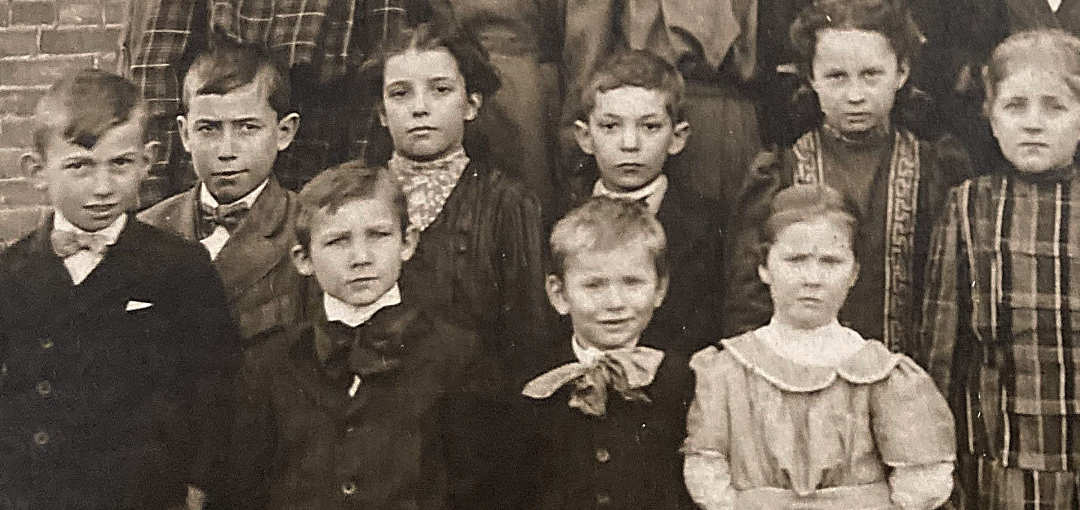 An important day in the calendar of public school life was "picture day." Having taught elementary school and serving as an elementary principal, all told for 35 years, that special day was filled with smiles, primping, fresh clothes, and sometimes even tears. Every child would get a free plastic comb which sometimes was more trouble than what it was worth for their already beautifully coiffed hair. Parents would ask if their children could have their photos taken before lunch so the spaghetti and milk stains didn't show up on the untarnished clothing they were wearing.
About the same day that the article on the 1926 photo of Delaware Run School was being written two weeks ago, cousin Barb (Bogart) Robbins sent us a 1911 photo of students and their teacher taken at Limestoneville School in Limestone Township, Montour County, Pennsylvania. This photo is in contrast to the Delaware Run School photo in several ways as it continues to have us think about school days of 100 years ago.
The photo on which this article is based includes Bernice (Hagenbuch) Bogart (b. 1903) and her brother Cyrus Hagenbuch (1905). They were the two eldest children of Percy (b. 1880) and Gertrude (Hill) Hagenbuch (b. 1881). An article appeared about this family in September 2015 and other articles have appeared about Bernice, Cyrus, and especially Percy—my great Uncle Perce. Barb (Bogart) Robbins line from Andreas is: Andreas (b. 1715) > Michael (b. 1746) > Henry (b. 1772) > William (b. 1808) > Hiram (b. 1847) > Percy (b. 1880) > Bernice (Hagenbuch) Bogart (b. 1903) > Kenneth Bogart (b. 1932) > Barbara (Bogart) Robbins.
Bernice, as the eldest in the family, would have attended school first and in this photo she is either 7 or 8 years old. Cyrus appears to be either 5 or 6 years old, very young to be going to school, with the compulsory school age at that time being eight. When I wrote to cousin Barb Robbins about that, she wrote back that her grandmother Bernice was known was "Bossy Bernice" as a youngster and brother Cyrus was probably sent along with her to attend school at an early age because Bernice would surely have taken good care of him!
Percy Hagenbuch's farm at this time was located off Quarry Road, since the present Route 254 between Milton and Washingtonville did not exist. Bernice and Cyrus would have had about a 45 minute walk (taking their little legs into account) from the farm to Limestoneville School. The school was located on the west side of the small village of Limestoneville, and as a boy growing up nearby, I remember it well. By that time, it had been added onto and served as a family dwelling. Standing at my grandparents' house or across the street at Max Hoffman's weld shop, I could see the school but never realized that it had been the educational establishment for several of the Hagenbuch family.
We are fortunate that on the back of the photo are the names of the students and teacher. Although this detail may not be important to many of our readers, whenever possible family historians need to attach names to faces, as it's paramount that people are always remembered. Back row, left to right: Nellie Shalter, Florence Heddings, ? Balliet, Mabel Geiger (Teacher), Hazel Phillips, Erma Smith, ? Balliet. Third row, left to right: Laura Beaver, Wilda Van Norstrand, ? Birninger, Earl Dye, Roy Koser, Nellie Muffley, Malcolm Lahr, James Pfleegor. Second row, left to right: Thomas Pfleegor, Grace Muffley, Pharus or Russel Koser, Helen Heddings, Helen Stamm, Emma Pfleegor, Mary Beaver, Margaret Dye, Sarah Dye, Mary Pfleegor. Front row, left to right: Norman Pfleegor, Pharus or Russel Koser, Cyrus Hagenbuch, Bernice Hagenbuch.
Along with Cyrus and Bernice, many of the names are familiar to those of us who grew up in the Limestoneville area. The Pfleegors still live just outside the village. The Dye family lived just down the road. Pictured in the photo, young Earl Dye grew up to have the automobile garage and was well known by everyone, as were the families of Heddings and Balliet.
In comparison to the previous article, which depicted the children at Delaware Run School in 1926, these children are well-dressed. All the children are wearing shoes, boys have bows at their necks and girls have bows in their hair. The girls are fashionable dressed in lovely white blouses and dresses with the younger ones in plaid, which was popular during the Victorian era when many people were captivated with this type of clothing. The boys are in jackets and everyone's hair is "done up" nicely. Like the children in the Delaware Run area, these children were growing up rurally, but they seem to be of a higher socioeconomic status than the children at Delaware Run. One has to believe that this school picture day was announced beforehand so that the children were dressed in their finest for the traveling photographer.
Like the Delaware Run school, this school also has wire-covered windows, but of a higher grade than chicken wire; and on the right brick wall it looks as though a naughty student wrote something on it with chalk! The Limestoneville School was not used after 1932 when the new school, California Elementary, was built several miles away. Two other local schools also closed at that time—the old California school (located near the new California Elementary) and the Limestone Run School just north of Limestoneville.
Sometime in the mid 1900s, the Limestoneville School was purchased by a local family. They added additional space and used it as a home until April of 2019. On the 15th of that month, a terrible storm whipped through Limestoneville with winds upwards of 105 mile per hour and destroyed the roof of the former school. The family was safe, but the building was condemned. In February of 2020, it was torn down and now, along with a few other one-room school houses, is just a memory. However, it should be noted that many other one-room school houses still exist in this area of Pennsylvania.
The above photo, preserved with the names of the students and teacher, is important to local history and genealogy. Some time will be taken to research the children depicted in it, simply because it's an obsession for family historians to track down folks and make connections between families. This process also uncovers facts about their careers, ancestry, and burial spots.
For example, one child in the photo is identified as "Mary Beaver." Bernice and Cyrus Hagenbuch had a sister named Mary (b. 1908) who married Lester Rupp Beaver (b. 1907) in 1932. My initial thought was that perhaps this Mary Beaver was his sister? A quick check of census records showed that this hunch was incorrect. Lester Beaver and his siblings were raised in Centre County, Pennsylvania, not Montour County. A single photo can lead us on quite a treasure hunt, especially one with so many faces to identify!
Thanks to Barb Robbins, Kathleen (Robb) Shuler, Leon Hagenbuch, and John Marr for providing information for this article.