Family On The Move: 1500–1800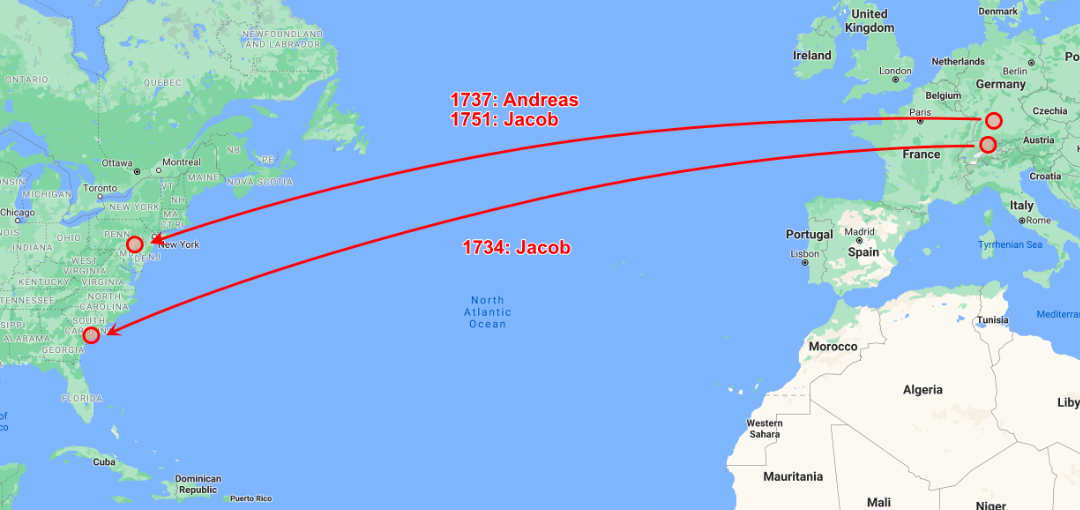 Like many American families, our Hagenbuch family story is one of movement. It began in Switzerland sometime before the 1500s, migrated to what is now Germany in the 1600s, and finally came to America in the 1700s. From there it spread to all corners of what we know today as the United States.
While we have discussed various aspects of our family's movements in different articles, we have not visualized these in a single narrative. This series seeks to remedy that and capture 500 years of family migrations through maps, census records, and other sources.
The Beginning: 1500s
The deepest roots of our tree date to the early 1500s in what is now called Switzerland. It is here that Hans Hagenbuch was born in 1505 and lived in Welsikon within the municipality of Dinhard. While we cannot definitively trace our family line to the town of Hagenbuch, Switzerland, it should be noted that Welsikon is only seven miles from the village. It is probable that some residents of Hagenbuch, which has existed since at least the 800s, adopted the town's name as their surname. Unlike other surnames such as "Miller" or "Smith," "Hagenbuch" does not directly correspond to a profession. Instead, it describes a species of tree or a type of fence construction used in feudal forest management.
The next few generations of our family remained in this area of Switzerland. Hans and Barbel (b. 1510) Hagenbuch had a son, Gebhart (b. 1535). He stayed in Dinhard, married Ursel Ammon (b. 1545), and had a son, Ulrich (b. 1581). Ulrich married Margaretha Meck (b. 1586) and moved only a short distance away to Neunform. The couple had a son, Hans Jacob, who was born in 1620.
Switzerland to Germany: 1600s
Hans Jacob married Barbara Bucher (b. 1616), and they moved back to Welsikon, Switzerland. Their son, Hans Jacob Jr., was born here in 1649. At this point in our story, a minimum of 150 years of family history had occurred in an area about 10 miles wide. That was about to change though, because in 1652 Hans Jacob Sr. and Barbara (Bucher) Hagenbuch moved their family to Cleebronn, 130 miles north, in what today is southern Germany.
The family put down new roots in this area. Their grandson, Hans Michael, was born in 1685 and baptized nearby in Schwaigern. He later married Anna Christina Fritz (b. 1692) in 1712. The couple moved 10 miles north to Grossgartach (now part of Leingarten), where their sons Andreas (b. 1715) and Philip Jacob (b. 1725) were born and baptized.
Germany to America: early 1700s
The Hagenbuchs began leaving for America in the early 1700s. The first Hagenbuch who is known to have made the journey was Jacob (b. c. 1705). In 1734, he sailed to Charleston, South Carolina and established a homestead near the modern day city of Columbia. Jacob was from Switzerland, not Germany, and had been living in Berg within the municipality of Dagerlen—only two miles from Dinhard. It is likely that Jacob was a close relative of our family group and may even have been a second cousin to Andreas (b. 1715).
Three years later in 1737, Andreas left Grossgartach, Germany and sailed to Philadelphia, Pennsylvania. He transplanted our family line in the Americas and established a homestead in Albany Township, Berks County, PA. In 1751, his younger brother Philip Jacob immigrated to Pennsylvania and joined Andreas' family in Albany Township.
Growth in Pennsylvania: late 1700s
As explored in a number of previous articles, Andreas had three wives and 12 children. The children frequently married into neighboring families and lived close by. However, several began to move further away by the late 1700s. In 1773, Andreas' eldest son, Henry (b. 1736), had relocated to what would eventually be known as Allentown, Lehigh County, PA. In the growing city, he ran the Cross Keys tavern and raised a large family with his second wife, Susanna Wettstein (b. 1743). Many of his children married and started families in this area.
Andreas' next son, Michael (b. 1746), remained in Albany Township and took over the family homestead after his father retired. He married Eva Elizabeth Kunz (b. 1745), and they raised a large family. The third son, Christian (b. 1747), moved to East Allen Township, Northampton County by 1782. Here, he met and married Susanna Dreisbach (b. 1756) and established a family only 10 miles north of where his eldest brother, Henry, lived. Meanwhile, around 1786, Andreas' youngest son, John (b. 1763), moved to East Allen Township to be near his brother, Christian. He married Maria Magdalene Dreisbach (b. 1766) and started a family, though he would not stay here for long.
Between the years 1500 and 1800, our Hagenbuch ancestors moved first from Switzerland to Germany and then to America. While the first transatlantic Hagenbuchs landed in South Carolina, our family settled in Pennsylvania where, by the late 1700s, they resided in three counties: Berks, Lehigh, and Northampton. The next article in this series will explore how our family moved into other areas of Pennsylvania and eventually pushed west, all the way to the Pacific Ocean.