Exploring Henry Hagenbuch's Family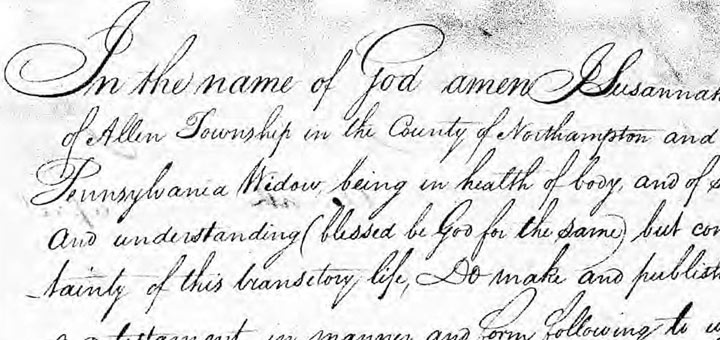 Genealogy is more than just the study of one's ancestors. It's also a process that requires the questioning of previous research and longstanding assumptions.
Some people consider this frustrating, since the work on one's family tree never seems to end. Yet, for others like my father, Mark Hagenbuch, and I, this is precisely what makes genealogy so engaging.
A few weeks ago, we shared Beechroots, an online genealogy tool we have developed to catalog family information. We were happy to see several readers sign up to use it—thank you, and we look forward to your contributions!
One of my goals with Beechroots is to begin with Andreas Hagenbuch (b. 1715, d. 1785) and work forward through the generations until reaching the present. At the same time, my father is working backward towards Andreas from today. Perhaps, one day we will meet in the middle like the railroads did at Promontory Point, driving the golden spike in our finished family tree.
Right now, I am stepping through the twelve children and countless grandchildren of Andreas, which covers a period in Hagenbuch family history from roughly 1750 to 1850. There are many gaps to fill and mysteries to solve. This article presents recent findings with the children of Henry Hagenbuch (b. 1737, d. 1805), the eldest son of Andreas.
It is known that Heinrich "Henry" Hagenbuch was born on December 20, 1737 soon after his father, Andreas, and his mother, Maria Magdalena (Schmutz) arrived in Philadelphia aboard the Charming Nancy. The family eventually settled in Albany Township, Berks County, Pennsylvania, and it is here that Henry spent his youth.
Henry was first married around the year 1760 to Anna Magdalena—birth name unknown. It was originally thought that Anna Magdalena was a Brobst, though this has been questioned and further research is needed.
What is known is that Henry and Anna Magdalena would go on to have six children together. These are as follows:
John Hagenbuch (b. 1762, d. 1763)
John is the first baptism record listed in the New Bethel Church records. This records his birth on August 4, 1762. As mentioned in a previous article, it is believed that he died as a child, and his death date is approximate.
Jacob Hagenbuch (b. 1765, d. 1811)
Jacob Hagenbuch was born on May 20, 1765. As an adult, he inherited his father Henry's tavern business. He married Margaret Romig and together they would raise a family in Allentown, Pennsylvania. He died on February 26, 1811.
Anna (Hagenbuch) Nisely (b. 1769, d. unknown)
Anna was Henry's eldest daughter. She is mentioned in Henry's will, along with her husband, George Nisely. There is no firm birth or death date for Anna. She is thought to have been born between Jacob and Christian.
Christian Hagenbuch  (b. 1771, d. 1849)
Christian was married twice, both times to the daughters of Revolutionary War colonel, John Siegfried. He was likely born in 1771 and married Susanna Siegfried by 1793. After Susanna's death in 1799, he remarried, this time to her younger sister, Elizabeth. They would eventually move to Greene County, Ohio with family. Christian died on September 12, 1849.
John Hagenbuch (b. 1776, d. 1845)
John was born on April 11, 1776. He was first married to Elizabeth Knauss, and the two raised a family in Leighton, Pennsylvania where John owned a hotel. After Elizabeth died in 1827, John moved to Howertown, Pennsylvania and married Hannah Faust Beil. He died on April 6, 1845.
Joseph Hagenbuch (b. 1778, d. 1835)
Joseph was born on March 18, 1778 and married Maria Magdalena Mickley in January of 1800. They lived in Lynn Township, Lehigh County, Pennsylvania where they raised a large family. Joseph died on March 19, 1835.
After Joseph was born, it is believed that Henry Hagenbuch's first wife, Anna Magdalena died. One theory suggests that she was buried at the Hagenbuch homestead, where a stone marked "AMHBIN 1781" has been found. However this is not certain.
Henry was married again, this time to Susanna Wettstein who was born in 1743. Based upon Susanna's will, it appears that she already had a daughter, Christiana, from an earlier marriage. Christiana would eventually marry Christian Queen.
Research indicates that Henry and Susanna had three children together. These are as follows:
Maria (Hagenbuch) Siegfried (b. 1781, d. unknown)
Maria was born in 1781. She is mentioned as "Mary" in Susanna's will and as having married Daniel Siegfried. Daniel was the son of Colonel John Siegfried. It is not known when Maria died or if she had any children.
Esther Hagenbuch (b. 1784, d. 1825)
Esther was born on October 14, 1784. She was the youngest child in the family and appears to have never married. Upon Susanna's death, she received most of her mother's estate. She died on August 12, 1825.
Henry Hagenbuch, Jr. (b. 1785, d. unknown)
Henry, Jr. was Henry's youngest son. His birth and death dates are estimated. It is unknown if he was married or had children.
Henry Hagenbuch died on April 20, 1805 in Allentown, Pennsylvania. Because he died intestate without a will, court proceedings are one of the only sources of information about his eight biological children who were living at the time. When Susanna died on June 28, 1823, she had made a will. This just mentions the names of her four biological children, three of whom were born to Henry.
Today, many of Henry Hagenbuch's descendants live throughout the United States, and it is known that at least a few of them read this site. Future articles will continue to explore the families of Andreas Hagenbuch's children and grandchildren.
Updated 6/12/2018 to make Henry Hagenbuch the youngest of the children and updated again on 8/26/2023 to correct Henry's birth and death information.