'Reney, Get Your Hiney Down Here!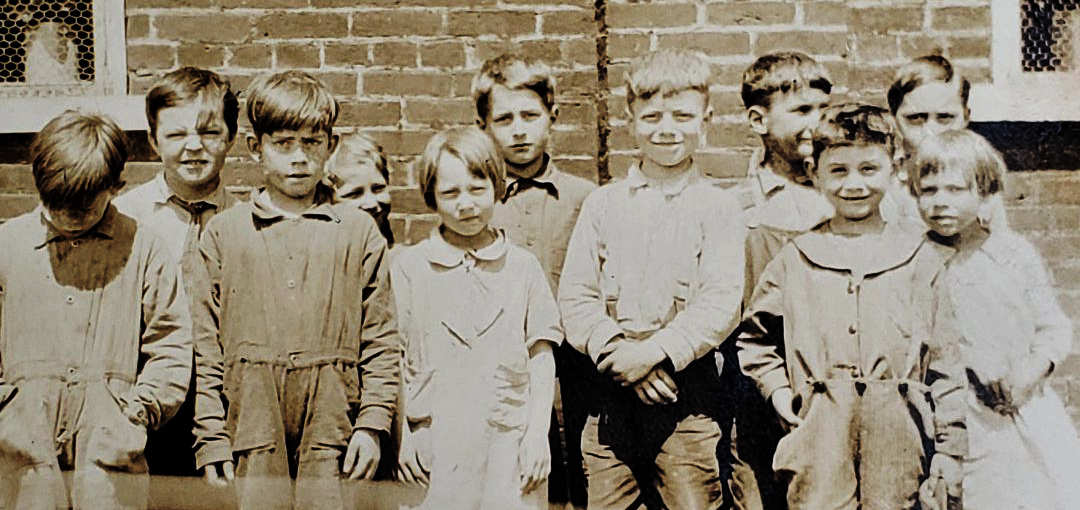 School days, school days, Dear old Golden Rule days
'Reading and 'riting and 'rithmetic, Taught to the tune of a hick'ry stick!
—Will D. Cobb and Gus Edwards, 1907

Dotted across Pennsylvania are one-room schoolhouses. Growing up in rural, central Pennsylvania I saw one or more of these brick schools most every day. Many of these were located only about five miles apart, sometimes less, because children walked to school "back in the day." In my growing up haunts of Montour and Northumberland Counties, there were schools named Paradise, Jackson, Mexico, Limestone, and Oak Grove, to name a few. Hagenbuchs attended all of these schools and my grandmother, Hannah (Sechler) Hagenbuch (b.1889), taught at the Oak Grove one-room, brick school house before she married my grandfather, Clarence, in 1914.
Soon after the Civil War, one-room school houses began to pop up across the country, although public education did not become compulsory for children in Pennsylvania until 1895. That's when the counties began building projects of one-room schools for the children in rural areas. Before that time, children were taught their "reading, 'riting and 'rithmetic" at church schools or area schools funded by educational-minded citizens.
The first public schools can be traced back to Horace Mann, an educator in Massachusetts in the mid-1800s. One of my favorite quotes is from Mann: "Be ashamed to die until you have won some victory for humanity." This statement and another one about education are still meaningful today: "Education then, beyond all other devices of human origin, is the great equalizer of the conditions of men, the balance-wheel of the social machinery."
Recently, a 1926 photo was shared on Facebook by the Watsontown Historical Association depicting children at Delaware Run School located in Delaware Township, Northumberland County, Pennsylvania. Identified in the photo beginning in the back row, left to right are: Lucille Maier, Verna Mincemoyer, Althea Zarr, Wilson Reynolds, Paul Mincemoyer, Preston Bieber, Robert Laidacker; front row, left to right are: Miriam Laidacker, Lloyd Zarr, Birchall Koons, Marlin Koons, Lola Laidacker, Leonard Philips, [Unknown] McCarty, and the little girl with the page boy's haircut, lower right is my mother Irene (Faus) Hagenbuch (b. 1920). Her parents were Odis G. Faus (b. 1899) and Minnie (Hilner) Faus (b. 1897).
This photo has a lot of interesting details. Take a close look at the "Our Gang" clothing and at least three of the children have bare feet. There is chicken wire in the windows, and it looks like there are plants growing in tin cans on the sills—perhaps some type of class project?
Irene Faus attended her first years of school at Delaware Run School and, she would tell the following story:
We lived just up the road from the school on the farm with the windmill. I did not want to go to school but Mommy wrapped up a lard sandwich for me and sent me off down the road to the one-room schoolhouse. When lunch time came, I ate my sandwich, and we were sent out for recess. I hightailed it back home as fast as I could because I didn't want to be there! When Mommy saw me running home she grabbed a switch to make me go back to school. But, I climbed up the windmill beside our house; I was so scared. She came after me with the switch and yelled, " 'Reney, get your hiney down here!" I eventually came down, crying. She marched me right back down to the school for the afternoon. I stayed all day, every day after that.
My mother told me this story several times and each time we would both laugh. Of course, I knew not only where the school was, but also the windmill where the Faus family lived in 1926, since I married a preacher's daughter in 1974 who lived right up the road from those places. My wife Linda Faye's father was minister at Delaware Run (St. John's) Lutheran Church from 1969 to 1986. And, Emerson and Emily Rupert, members of that church, lived at the house with the windmill.
As Andrew and I have written many times, genealogy has a lot to do with connections. Our family is very connected to one-room school houses. Although my Montour County family was a rural bunch, education was very important. We have several photos and other ephemera in the Hagenbuch archives that attest to this fact. Future articles will explore some other one-room school houses and their connection to our family.