John Hagenbuch (b. 1776) and Lehighton's First Tavern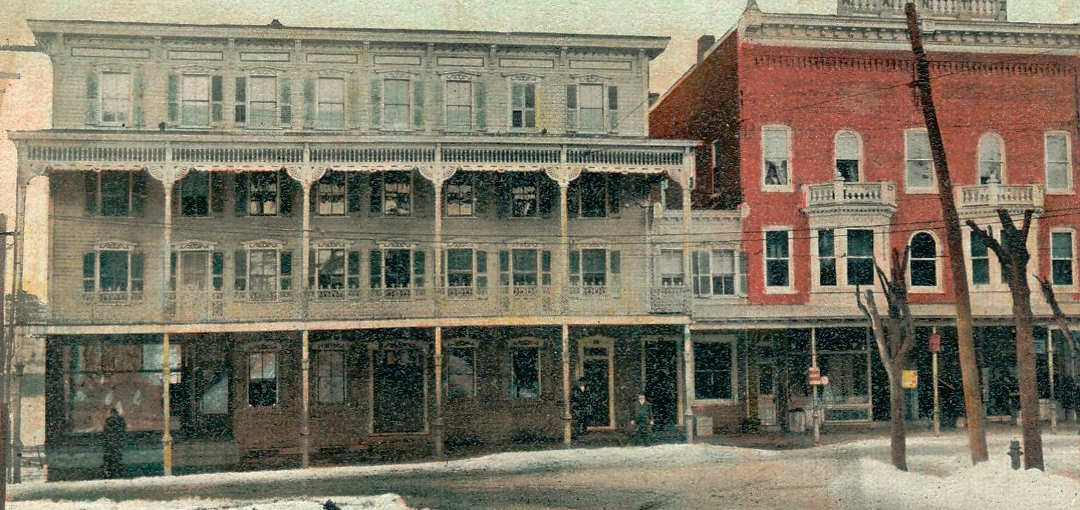 Take a quick look at the family tree of Andreas Hagenbuch (b. 1715), and you will see many John Hagenbuchs. My father, Mark, and I have been diligently working to untangle them and their histories. While much has been written about Andreas' son, John (b. 1763), relatively little has been said about his nephew, John, whose line is as follows: Andreas (b. 1715) > Henry (b. 1737) > John (b. 1776).
John Hagenbuch was born in Pennsylvania on April 11, 1776 to Henry Hagenbuch (b. 1737) and his first wife, Anna Magdalena. (Anna Magdalena's birth name is unknown, although some researchers believe her to have been a Brobst.) It should also be noted that the couple previously had a son named John who was born in 1762 and died as an infant. Today, it seems unusual to name a child after a deceased older sibling. However, the practice was not uncommon for the time.
As a boy, John would have assisted his family in running a tavern—Hagenbuch's Wirthshaus—in what would become Allentown, PA. His father, Henry, had established the business in 1773. Eventually, the tavern grew and expanded into the Cross Keys Hotel. This experience would become useful to John later in his life.
Around 1800, John married Elizabeth Knauss (b. 1781). According to the Knauss Genealogy compiled by Wilbur Lewis King in 1930, she was the daughter of Paul Knauss (b. 1747) and Anna Catherine Griesemer (b. 1754). The 1810 census shows that couple lived in Moore Township, Northampton County, PA and then in 1820 resided in East Penn Township, just south of Lehighton, PA.
Yet, this seems to contradict the History of the Counties of Lehigh and Carbon which states that in 1809 John came from Siegfried's Ferry in Allen Township to open the first tavern in Lehighton, PA. After reviewing the available evidence, it seems possible that around 1800 John and Elizabeth lived near Siegfried's Ferry. Next, they moved to Moore Township where they had a home for a few years. In 1809, John built a tavern to the north in Lehighton. Once the business was up and running, he found a home in East Penn Township—outside of Lehighton—and moved his family there.
John and Elizabeth (Knauss) Hagenbuch had at least five children together:
Stephen Hagenbuch (b. 1801, d. 1839)
Stephen is believed to have been born in 1801 and was John's eldest son. He appears on the 1830 census with a wife and daughter. According to the History of Carbon County, Stephen owned a general store with his brother-in-law, Thomas Craig Jr. He is missing from the 1840 census, suggesting that he had died by 1839.
Catherine (Hagenbuch) Craig (b. 1803, d. 1871)
Catherine was eldest daughter of John and Elizabeth and was born on March 12, 1803. She married Thomas Craig Jr. around 1828 and was his second wife. The couple had a number of children together. She died on November 26, 1871 and is buried in Towamensing Cemetery, Palmerton, PA.
Reuben Hagenbuch (b. 1805, d. 1861)
Reuben was born on July 18, 1805. He married Sarah Salome (Bauman/Bowman) Hagenbuch in 1828. The couple had nine children together. He took over his father's tavern around 1832 and ran this until 1843 when it was sold to Peter Bauman—a possible brother-in-law. After this, Reuben tended to the canal locks on the Lehigh Canal at Parryville, PA. He died on May 13, 1861 and is buried at St. John's Church Cemetery in Palmerton, PA.
Mary M. (Hagenbuch) Audenried (b. 1809, d. 1877)
Mary was born on March 17, 1809 and married George Audenried. The couple had several children together. She died on May 5, 1877 and is buried at Greenwood Cemetery, Howertown, PA.
Sarah A. (Hagenbuch) Miller (b. 1814, d. 1886)
Sarah was born on November 23, 1814. She married Henry Miller in 1833 and had nine children, many of whom died young. She was educated in Easton, PA at the Moravian Seminary. Sarah died on January 17, 1886 and is buried at Greenwood Cemetery, Howertown, PA.
On November 18, 1827, John's wife, Elizabeth, died at the age of 46 and was buried at St. John's Church in Palmerton, PA. John continued to run his tavern until 1832 when he passed the operation to his son, Reuben. Reuben ran the business for about a decade before selling it. In 1867, the original tavern was torn down and rebuilt as the Exchange Hotel. This remained until the late 1970s, when the structure was demolished to make way for a high rise apartment building.
After leaving Lehighton in 1832, John Hagenbuch returned to area where he had once lived in Allen Township (now called East Allen Township), Northampton County, PA. Here he married a widow, Hannah (Faust) Beil (b. 1783), and the couple lived near Weaversville Road. That same year, John donated one and a half acres of his land to build a new church. Fittingly, it would be named St. John's. Though the original church is no longer standing, another was erected upon the site and presently remains in use.
John Hagenbuch died on April 6, 1845 and his second wife, Hannah, died on March 11, 1871. Both are buried at St. John's Church Cemetery along Weaversville Road in Northampton, PA. One interesting fact about the couple: They shared the same birthdate—April 11th!
There are many Johns in the descendants of Andreas Hagenbuch. John (b. 1776) is one of the earliest. He was Lehighton's first tavern keeper and later a church benefactor. But even more importantly, he established a family of Hagenbuchs that continues to grow.