Correction to Peter L. Hagenbuch's Lineage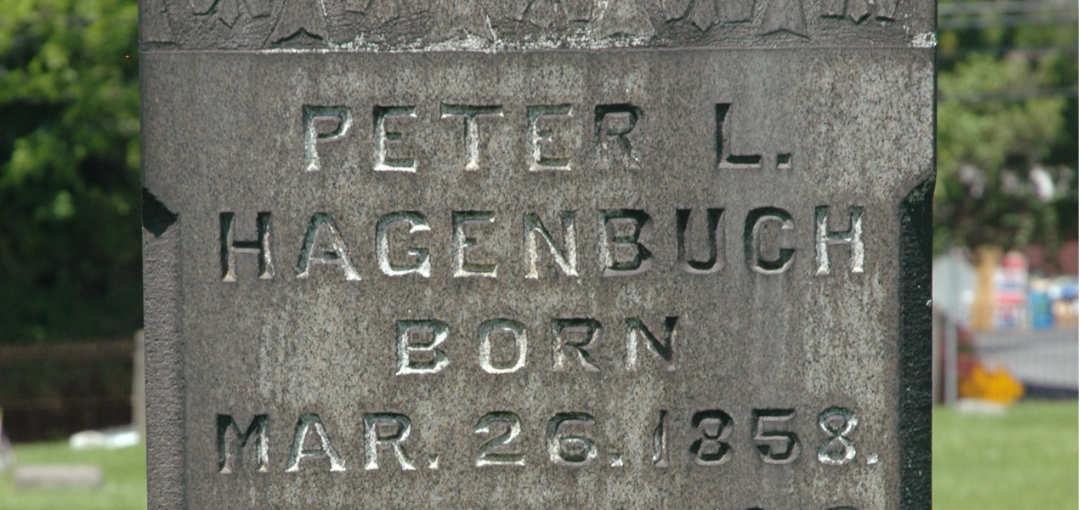 In February of 2016, I wrote an article on the Peter Lewis Hagenbuch family. Peter was born in 1858 in Northampton County, Pennsylvania. He died in 1912 and is buried at St. John's Lutheran Church Cemetery, Nazareth, PA. At the time the article was written, I thought I had a lead as to the missing link(s) between Peter's father, Reuben (b. 1825), and his well-known great grandfather Henry (b. 1737), who was the eldest son of the patriarch Andreas (b. 1715).
Before continuing, let's go back further than 2016 to the 1980s when I was attempting to track down Hagenbuch lines without all the new research and technology that we have today. Back then, I was penciling in my paper records with the information I could found out from living Hagenbuchs, gravestones, and county histories. In 1980, I was in contact with Peter's son, Clayton Reuben (b. 1893) who lived in Easton, PA. From what little information I had, I believed that Peter's grandfather may have been Joseph (b. 1795). However, Joseph's father was Jacob (b. 1765) and it was back another generation to Henry (b. 1737). Instead of one missing link, I had (mistakenly) identified two missing links!
When I wrote the 2016 article, I had an idea that the two missing links may not be correct, but I had nothing else to go on. The possibility of the following lineage for Peter was an educated guess: Andreas (b. 1715) > Henry (b. 1737) > Jacob (b. 1765) > Joseph (b. 1795) > Reuben (b. 1825) > Peter L. (b. 1858). Eventually, new discoveries called into question my earlier assertions.
For one thing, Joseph (b. 1795), was found to be the child of Andreas' son Christian (b. 1747). While Jacob (b. 1765) did have a son named Joseph, he was born around 1799 and is believed to have left Northampton County. Then, in January of 2022, Andrew received an astounding letter and family information from Walter "Walt" Hagenbuch (b. 1925), a descendant of Henry (b. 1737). Andrew detailed this in a previous article.
Walt's Hagenbuch line is as follows: Andreas (b. 1715) > Henry (b. 1737) > Henry II (b. 1786) > Henry III (b. 1833). Henry III is Walt's great grandfather, and his letter centered on that line. But, along with documenting Walt's lineage, Andrew made a concrete connection from Henry (b. 1737) to Reuben (b. 1825) and thence to Peter (1858). This was accomplished by identifying one missing link—Henry's son Henry II was Reuben's father!
As Andrew wrote in his 2022 article: "For decades, little was known about Henry II. Some genealogists thought he died young, while others omitted him altogether." Details about his life were sketchy to say the least. However, thanks to Walt's information provided from a Sunday School book owned by Henry III, we now know that he married and had a number of children, one of which was Peter's father, Reuben (b. 1825). This means that Peter L. Hagenbuch's correct line is: Andreas (b. 1715) > Henry (b. 1737) > Henry II (b. 1786) > Reuben (b. 1825) > Peter L. (b. 1858).
For the last several months, Andrew suggested that I update the 2016 article I wrote about Peter L. Hagenbuch's family. Although the article references a curious mystery about Peter's lineage—one or two missing links—it had to be updated so that we can finally list the facts for posterity. In addition to this article laying out the true facts of Peter's lineage, I have added a note in the 2016 article that the information on Peter's lineage has been updated. To get the whole story about Peter, all three articles must be considered: the 2016 article, Andrew's 2022 article, and now this article.
Unlike mathematics and physics, genealogy is not an exact science. Andrew and I consistently come across mistakes family historians have made that have impacted how we approach writing factual narratives about our people. In fact, my attempt at nailing down the lineage of Peter Lewis Hagenbuch back in 1980 and in 2016 is an example of a genealogist (me!) accepting assumptions to create (what I believe to be) facts
In this instance and in every other like it, Andrew and I will correct the occasional mistakes that have been made in our research. I am the first to admit that the early research of our family history is laced with a few errors. It is our duty to correct these and add to the new information we find in hopes of recording the most exact genealogy we can. With this article I have finally made sure that the story of Peter Lewis Hagenbuch has been told in an exact manner.
Oh, except genealogy is not an exact science! Even so, Andrew and I are making it as close to exact as possible.