Family Connections: The Siegfrieds and the Hagenbuchs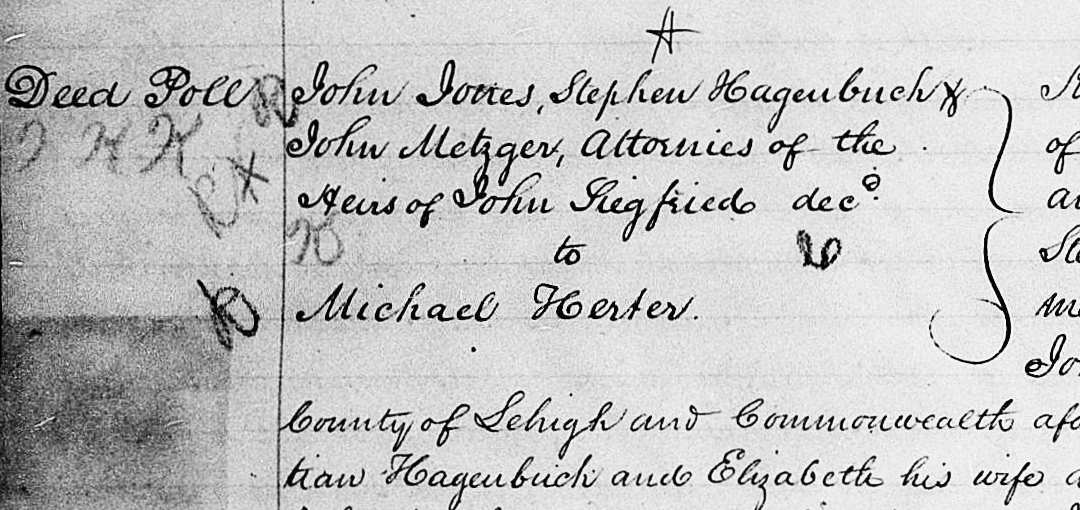 The story of our family includes more than just Hagenbuchs. When a couple marries, a new family is connected to ours. Close friends, baptism sponsors, and business partners form other types of alliances too. My father, Mark, has previously written about some of the many families who are connected with the Hagenbuchs.
I returned to this subject after receiving an email that inquired about a property deed from 1833. The document transferred ownership of 87 acres of land from John Siegfried to Michael Herter and was situated in East Penn Township, Northampton County (now Carbon County), Pennsylvania. What made the deed so interesting is that it also mentions two Hagenbuch names: Stephen and Christian. Before exploring who these individuals were, it's necessary to identify the owner of the property.
Johannes "John" Siegfried was born on October 27, 1745 in Maxatawny Township, Berks County, PA, about 12 miles from the Hagenbuch Homestead. He was the eldest child of Joseph (b. 1721) and Anna Maria (Romig) Siegfried (b. 1724). In 1769, he married Mary Levan (b. 1747), and the couple had seven children together. Eventually, the family settled along the east bank of the Lehigh River in Northampton County, PA. Here, they operated a tavern and ferry service across the river.
During the Revolutionary War, John Siegfried served as a colonel in the Northampton County Militia and participated in numerous battles including Brandywine, Germantown, Monmouth, and Princeton. He died without having written a will at the age of 48 on November 27, 1793. Legal wranglings over his estate continued into the 1800s.
Considering the close proximity of the Siegfrieds and Hagenbuchs in Berks County, it stands to reason that Andreas Hagenbuch (b. 1715) may have known John's father, Joseph Siegfried. Both families had similar circles of friends too. Joseph was married to Anna Maria Romig, and her brother, Hans Martin Romig (b. 1719), lived only a mile from the Hagenbuch Homestead in Lynn Township. Hans and his wife, Anna Elizabeth (b. 1723), were baptism sponsors for Andreas' daughter, Anna Elizabeth (b. 1754). The Romigs (originally Romich) may have even known the Hagenbuchs in Europe and heralded from Ittlingen, Germany, which is about 10 miles from the town where Andreas grew up.
Joseph Siegfried's son, John, moved his family to Northampton County in 1770. There, he set up a tavern and ferry service, known as Siegfried's Ferry, to transport people and commerce across the Lehigh River. Andreas purchased land five miles to the east of Siegfried's Ferry in 1773 and built a distillery to be run by his son, Christian (b. 1747). Two years prior in 1771, Andreas' eldest son, Henry (b. 1737), bought a lot just to the south in what would one day be known as Allentown. Upon this, he erected the Cross Keys Tavern. It seems likely that Andreas and his sons would have known and interacted with John Siegfried at his tavern or by making use of his ferry crossing.
As mentioned earlier, John Siegfried was a colonel in the Northampton County Militia during the Revolutionary War. His service brought him into contact with Henry Hagenbuch, who enlisted in the same militia and attained the rank of captain. While there is no direct evidence of the men's wartime interactions, they must have developed a friendship that brought their families into contact with one another.
Around 1796, Henry's son, Christian (b. 1773), married John's daughter Susanna Siegfried (b. 1776). After she died in 1799, Christian was remarried to her sister, Elizabeth Siegfried (b. 1783), in 1802. That same year, Henry's daughter, Maria "Mary" (b. 1781), married John's eldest son, Daniel (b. 1769). In other words, three of John's seven children were married to Hagenbuchs with two of his daughters marrying the same man.
When John Siegfried died in 1793 without a will, it's no wonder that the Hagenbuchs had a strong interest in his estate. On the 1833 deed for John's land in East Penn Township, Stephen Hagenbuch (b. 1801) of Towamensing Township was named as one of the individuals who represented the heirs to the property. As described in a recent article, Stephen was the son of John Hagenbuch (b. 1776), who was the brother of Christian (b. 1773) and Mary (b. 1781). Stephen was acting on behalf of his Uncle Christian and Aunt Mary, both of whom had married into John Siegfried's family.
But the Siegfried-Hagenbuch connections doesn't end there. Christian Hagenbuch and his second wife, Elizabeth Siegfried, also had a son named Stephen (b. 1803). This Stephen Hagenbuch married Mary "Polly" Schreiber (b. 1807), and the couple served as the baptism sponsors for a cousin, Stephen Hagenbuch Siegfried. (Yes, his middle name was Hagenbuch.) Stephen H. Siegfried was born in 1828 to Joseph (b. 1789) and Maria Magdalena (Mickley) Siegfried (b. 1804). He was baptized that same year at Schoenersville Christ Reformed Church in Northampton County, PA.
Does the Mickley name sound familiar? Well, there is a Hagenbuch connection there, too! Just like the Siegfrieds, the Mickleys intermarried with the Hagenbuchs. Stephen Hagenbuch's uncle, Joseph Hagenbuch (b. 1778), had married Maria Magdalena Mickley (b. 1778). She was the aunt of Maria Magdalena (Mickley) Siegfried, who was the mother of Stephen Hagenbuch Siegfried. The Mickleys came from the town of Egypt in what is now Lehigh County, PA. This area is located on the western bank of the Lehigh River, directly across from where the Siegfrieds had their inn and ferry service. Geography, business, and blood all worked to form relationships between these families.
Looking back now, I wonder if this piece would have been more aptly titled "Even More Friends of the Family: Siegfrieds, Romigs, and Mickleys." What started as a look at the connections between the Siegfrieds and the Hagenbuchs, slowly expanded to include a few other allied families, too. Ultimately, an old deed from 1833 revealed more than what it recorded on paper. Rather, the document helps to define just how intertwined our earliest ancestors were with other families in one region of Pennsylvania.