Back to My Roots with Photos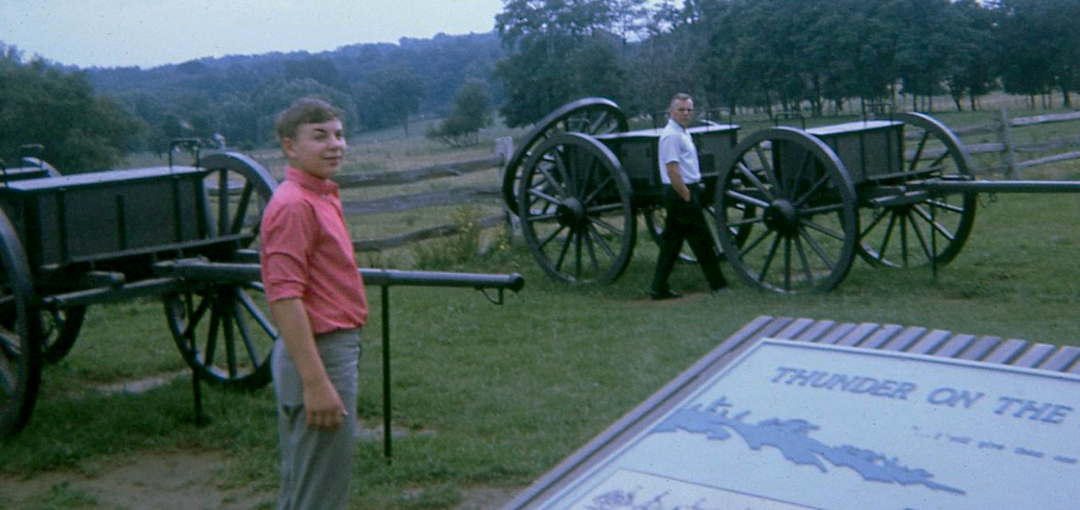 When I began dating Linda back in 1972, I became interested in photography. My mother, Irene, had already been taking a lot of photos for years and many of these were on slides. We had a slide projector, and every once in a while, Dad would get it out and we would have a slide show. This started back in 1967, when we moved from the farm to our house outside Montandon, Pennsylvania. Credit must also be given to my Aunt Ellen for our family's interest in photography. She enjoyed the art and skill of capturing images. Because of her dedication, we have a record of our family's activities during the mid-1900s.
My camera interest also led me into the vogue at the time of using slide film to make images. Along with the slides that my parents had, I have hundreds and hundreds of slides that cover more than 25 years. These include the early years when Linda and I were first together, the years when our children came along, and the following decade. The slides are captured on 2 x 2 inch cardboard or plastic squares with a tiny, transparent image mounted in the center. They are organized in carousels that are labeled, so I can find certain times in my life quite easily.
When Andrew and I started writing our articles almost 9 years ago, we mostly wrote and used images about our closest family members. Over the years, in our goal to record every Hagenbuch, allied family, their lives and activities, we have written about and used photos of many distant relatives. But recently, maybe because for my 70th birthday party held in June when my children displayed 20 some photos from my life, I have decided to scan some of my slides. As I went through just a small portion of the slide carousels, I realized there were so many I would enjoy sharing. So, without further ado, here we go!
In February of 1967 when I was 13, we moved from the farm near Limestoneville to our own home near Montandon, PA. This was a huge lifestyle change for my parents and me. Dad had several new careers, until he found the one he loved at Bucknell University in Lewisburg, PA. This gave him weekends off—no cows to milk! That summer of 1967 we took a day trip to Gettysburg. It was my first time there. As a budding history nerd, I became completely struck by the combination of American history and our family's history. On that day, I found Peter Hagenbuch's name on the Pennsylvania monument. The above image shows Dad and me with Union caissons.
As tradition, every Sunday we dressed in our finery for church at Oak Grove Lutheran, especially on Easter. Mom and Dad got all "gussied up" on Easter Sunday of 1977. This was taken in our back yard. Mom was so proud of her acre of trees and flowers. I love the stance of my father too. I have seen this same stance in a photo of my great grandfather, Samuel Sechler (b. 1826).
After leaving the farm, Dad was dissatisfied with the first several jobs he had. Then he obtained a job he enjoyed: being groundskeeper at the Bucknell University golf course. In the winter, he was on a crew that maintained machinery, cleared snow, and did lots of odd jobs. Here he is on his mower at the golf course. He had so many interesting stories about golfers, and he picked up lots of lost golf balls during those years!
For several years, Linda and I would join my mother at my sister's house near Dauphin, PA. Barb's husband, Tom Huffman, dabbled on the side with farming. When sweet corn was "in" we would pick, husk, blanch, and bag over 1,000 ears of corn in a day! Linda and I would husk the corn (sometimes joined by my niece Melanie pictured here), while Mom and Barb did the blanching, cutting off the corn, bagging, and freezing. Mom was in charge, and I can still see her keeping us on task—pulling out the steaming hot corn ears from the boiler and cutting the corn off with a butcher knife. Good times! Linda and I have continued the tradition of "putting food by."
In 1980, Linda and I moved from our apartment in Herndon to our first house in Hummels Wharf, PA (just north of Selinsgrove). There we began raising our family. Linda was at home with the children, and I taught school across the Susquehanna River at Dalmatia Elementary. I loved teaching first and fifth grades! In 1981, Andrew was born. I was working diligently on genealogy as that was when I recorded hundreds of Hagenbuchs which are now my original paper records. We had been in contact with my father's first cousin, John R. Hagenbuch (b. 1910) and his wife Ola (King) who lived in Annandale, Virginia.
We went to visit them in the spring of 1982. John had worked as an accountant in Washington D.C., and he took us to all the D.C. sites. We had a wonderful two days with John and Ola. It was my first sight seeing trip to our Capital; first time in the museums, the Capitol building, the national Botanical gardens; and the first time I ever ate Peking Duck—all accompanied by lovely Linda Faye and my first born, Andrew. Here is Andrew, just beginning to stand, with John and Ola.
Our distant cousin, Regina Hagenbuch from Edesheim, Germany, visited us for several weeks in the summer of 1985. She spoke no English so I brushed up on my German and became the interpreter. We took her to a lot of different places: Washington D.C., Baltimore, and many family outings. I remember her calling our locale "Land der Brücken" (Land of Bridges) because of the many bridges crossing the Susquehanna River. It was a grand time, and she helped to continue our family's relationship with the "old country."
My first truck was a 1980 Datsun King Cab. It got a lot of wear and tear as we did a lot of traveling with the children, hauling cords and cords of firewood, and was just a unique vehicle to own. Linda, Andrew, and Katie are giving it a thorough washing.
One of my prized possessions is my Yamaha grand piano. We bought it in 1980, when we moved from Herndon to Hummels Wharf. It now is in my music room at our Dillsburg home which we built 33 years ago. Katie and Julie both took piano lessons. Linda took lessons as a young lady. I have been playing since I was 8 years old. In this photograph taken in 1992, Julie and Katie are having fun tickling the ivories.
I went through about 100 slides to select these few I wanted to share. Writing this article and remembering the past by looking at photographic images has given me several days of sheer enjoyment—bittersweet nostalgia. The years just roll on by. I had to end with a photo of me from May or June of 1971. I am either opening a high school graduation present or a birthday present. The photo was taken in our home at Montandon, the home that holds so many wonderful recollections.
Because of all these slides, I think of what Bob Hope sang: "Thanks for the memories!"