Ellen Hagenbuch: Photographer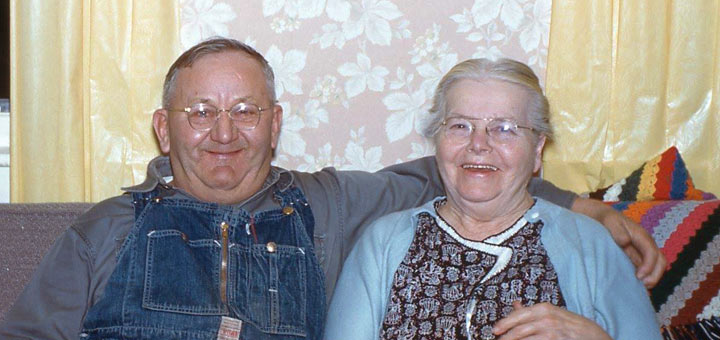 My Aunt Ellen died last February, 2018. The article Last of Their Generation described her life as a lover of family, flowers, and photography. After her death, her niece and nephew (my first cousins), Kathleen (Robb) Shuler and Joe Robb, began to sift through the hundreds of photos and slides that Aunt Ellen had taken over the years.
Joe recently purchased a slide scanner, and a few weeks ago sent us some of the images taken by Aunt Ellen. Suddenly, a whole new world of nostalgia was opened as her nephews and nieces were reminded of their years growing up in the 1950s and 1960s. Some photos we have seen before, while others are new to us. Along with rekindled memories, the photos have been the impetus behind long conversations between several of us cousins and siblings as we attempt to recognize faces and solve simple, yet intriguing, mysteries. Aunt Ellen's legacy continues as her work in photography brings our family closer together.
Kathleen Shuler writes:
As a young child one of my fondest memories while visiting my grandparent Hagenbuch's home in Limestoneville was the occasional Saturday or Sunday evening slideshow given by my Aunt Ellen. Many of Aunt Ellen's slides were of her siblings and nieces and nephews. It was always fun to watch up on the big screen if the next picture was going to be me or one of my cousins. As a child, you didn't realize what great memories are being made; but I sure appreciate what Aunt Ellen gave us through her many pictures from the early fifties and sixties when her nieces and nephews were growing up.
Aunt Ellen lived with and took care of her parents (my grandparents), Clarence and Hannah (Sechler) Hagenbuch, all of her life. When they passed away in 1967, she continued to live at the house in Limestoneville, Montour County, Pennsylvania.
Joe Robb has already spent hours and hours looking through and scanning Aunt Ellen's slides. Identifying and organizing the slides will be a monumental task.
Joe writes about this important work:
Ellen Hagenbuch, my aunt, was my mother's younger sister by only thirteen months. Aunt Ellen became the main photographer of her family starting in the early 1940s and lasting into the mid to late 1980s. Her photography spanned the era of the Kodak box camera with its large 3×5 black and white negatives, then evolved through the 2 1/4 x 3 1/4 negative format and in the early 1950s the 35mm color positive slide films. In the late 1960s through the mid 1980s she used a few of the various newer "instamatic" cameras and films as these photo technologies changed.

In her later years Aunt Ellen created a family photo scrapbook of her siblings and their children and grandchildren from prints that she had taken as well as prints collected from family members.

The time frame that most of her nieces and nephews remember are the 1950s to late 1960s when Aunt Ellen was actively taking pictures of her family and all of her 8 nieces and 11 nephews. During this time period, she used the popular 35mm camera format. She photographed her subjects on the 35mm color positive transparency films. This is what we refer to as slide photography.

This slide format allowed her to give "slide show presentations" at evening gatherings of the Hagenbuch family in her home at Limestoneville as well as slide presentations to various community organizations.

Starting in the early 1950s, Ellen and her sister Mary—Mary (Hagenbuch) Taylor—took several trips throughout the United States and Canada. She recorded photo images of these travels with her 35mm camera onto slide film.

One of the most memorable slide presentations that I recall was her trip in July 1954 to the western United States to see many of the National Parks. Some other trips that she took were to Florida, the New England states, Montreal and Quebec, as well as trips to many flower gardens throughout Pennsylvania and other states along the east coast.

In her collection, Aunt Ellen had 35mm slides of several distinct subjects or areas of focus: her siblings, their families and older relatives; her travels; flowers and gardening; local farms, barns and landscapes; church events; babies, weddings, graduations, cats and kittens!

Many of the photographs she took were planned out with props and staging materials. This was realized as more and more slides have been analyzed. This has raised some questions:

Who took all the slides where she appears? My guess is her sister, our Aunt Mary, may have taken some. But who took the family group pictures? Was it one of the older nieces?

What happened to her camera equipment? Did she sell it in later years at the annual Limestoneville yard sale? I currently have the only slide projector that she used for all her shows and it still works.

Some slide cartons contain groups of wedding slides of people that I don't believe are relatives. It will be interesting to identify them and make connections.

The largest number of slides in this collection are of flower gardens, flower shows, and botanical gardens. The next largest grouping would be her travel slides; and then a fair number of local and Pennsylvania landscapes. Some of these appear to have been taken from inside her car or at roadside stops.

I believe that the most interesting part of this collection will come when the estimated 300 to 400 black and white negatives are scanned. Many appear to be from the 1940s and are treasures yet to be discovered.
The scanned photos that Joe has sent have certainly jabbed a soft spot in my memory, especially the ones that follow. The first features our grandmother dressed in her Easter best. Surely, this outfit was hand tailored by one or more of her daughters, or by herself. Grandma Hagenbuch was a beautiful woman, even in her later years.
This photo shows a laughing couple—my grandparents! I rarely saw them laugh and never saw a photo where they are both enjoying each other's company in such a wildly happy display. Married for over fifty years, we know they were reserved yet loving sweethearts.
This wedding photo of my sister, Barbara Hagenbuch (soon to be Mrs. S. Thomas Huffman), has produced much scrutiny and many comments. I have not seen this living room in our farmhouse near Limestoneville since we moved in early 1967. The TV set, paint by number picture in the right corner, and the glass swans on the TV that were purchased at Corning Glass all brought back memories from 50 years ago.
Barb was married in August of 1961. We believe Aunt Ellen staged this "face in the mirror" photo because none of us remember a mirror such as this hanging over the TV. She must have provided the gilt mirror just for this exceptional photo. A close look with a magnifying glass shows the reflections of my brother Bob and me as we are sitting behind the soon-to-be wedded Barb. And, on the TV set is a photo of our brother Dave as a confirmand at our family church, Oak Grove Lutheran.
Did Aunt Ellen not only stage the mirror image but also had Bob and I sit so we were in the photo with her? Did she make sure Dave's photo was placed on the TV set so all of us siblings were present in the photo? It is a special photo, indeed!
Finally, here is one of my favorite photos of my Grandma Hagenbuch. I remember making the May Day basket at school the day this photo was taken. I remember my mother having me pick some wild violets and place them in the basket. I remember Mom driving me to Grandma and Pap Pap's in Limestoneville so I could present this to Grandma. I am so fortunate that Aunt Ellen preserved this very special event that I can always revisit because of my Aunt's joy of photography.
But, I am not the only fortunate one. All of our family and future generations will reap the benefits of Aunt Ellen's forethought. She has left us a photographic record that cannot be matched. Our Montour County Hagenbuchs look forward to discovering many more photographic treasures that will keep us smiling – sometimes with a tear in our eye.