Dueling Frogs: R. D. Hagenbuch's Trade Card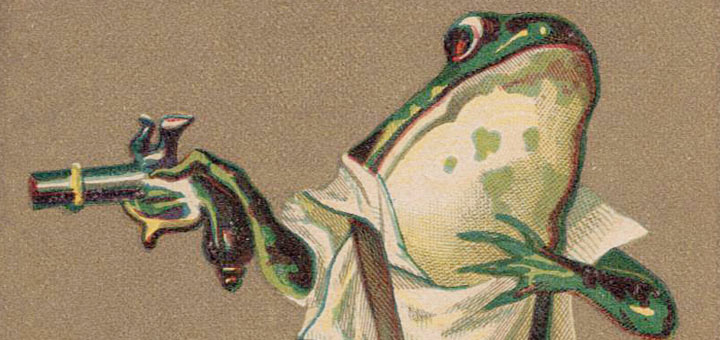 As discussed in a previous article about Dr. Jayne's Sanative pills, trade cards were a popular form of advertising during the late 1800s. On the front side of a trade card was printed an interesting image, while the back side listed information about an individual or company, similar to a modern day business card.
It is known that at least a few enterprising Hagenbuchs used trade cards to promote their services. One of these individuals was R. D. Hagenbuch—a bill poster and advertiser from Bloomsburg, Pennsylvania.
When I first saw R. D. Hagenbuch's trade card, I was immediately struck by the odd image on the front (the back was blank). The illustration depicts a suspender wearing frog, holding a pistol with one hand and clutching his heart with the other. Had the poor amphibian been shot?
I began to research the trade card and soon found that it was part of a series entitled "My First." Each card in the collection showed a frog participating in an activity for the first time. The activities included: wearing a suit, smoking a pipe, singing a song, and shooting in a duel.
Confirming this, another version of the trade card illustration used by R. D. Hagenbuch was clearly printed with the text "My First Duel." So, the frog on the card was engaging in his first, and apparently last, duel.
Curiously, while looking at trade cards from the 1870s and 1880s, I saw several others that depicted frogs dueling. Sometimes this was done with pistols, but other times they used swords or even cattails. It appears the Victorians had a peculiar fascination with dueling frogs!
Next, I wondered about the identity of the R. D. Hagenbuch whose name was on the card and who worked in Bloomsburg during the late 1800s.
An R. D. Hagenbuch was previously written about on this site—R. D. Hiram Hagenbuch of Montgomery, Pennsylvania. However, besides living in the wrong town, R. D. Hiram wasn't born until 1884, making him too young to be the person on the card.
Another possibility was Robert DelRoy Hagenbuch, who was born in 1853 and lived for many years in Bloomsburg, PA. He last appears there on the 1880 census, right around the time the trade card was printed. Though he technically had two middle initials, Robert DelRoy is actually buried as "Robert D. Hagenbuch" indicating that he likely combined the two middle names into one. Furthermore, he appears on the 1860 census as "R. D. Hagenbuch." Robert's line is: Andreas (b. 1715) > Christian (b. 1747) > John (b. 1785) > Robert (b. 1808) > Benjamin (b. 1833) > Robert DelRoy (b. 1853).
Noting the above, it would seem that Robert DelRoy Hagenbuch is the Bloomsburg area bill poster and general advertiser mentioned on the card. He would have been in his 20s or 30s when the trade card was printed.
In the mid-1870s, Robert served as a private during the American Indian Wars. After returning, he married Sarah A. Warr (b. 1861) and the couple raised a large family together. Their children were: Katherine "Katie" L. (b. 1878), Charles (b. 1881), Jennie (b. 1882), Cora (b. 1884), Lysle (b. 1887), Fred (b. 1889), Benjamin Del Fell (b. 1891), Anetta (b. 1893), Robert DelRoy Jr. (b. 1894), Sarah "Sally" Ann (b. 1896), and Ella (b. 1898).
Around 1890, the family moved from Bloomsburg to the town of Shenandoah in Schuylkill County, Pennsylvania. There, Robert's brother Charles Hervey (b. 1855) ran a drug store. It is also worth noting that Shenandoah is only a few miles away from Mahanoy City, where Robert's uncle, Charles Coleman Hagenbuch, had established a drug store too.
Robert DelRoy Hagenbuch died on May 3, 1929 and is buried in the Odd Fellows Cemetery in Shenandoah Heights, PA. The trade card he left behind not only provides interesting insights into the types of advertising done in the late 1800s, but also serves as a reminder of his life and family.