Charles C. Hagenbuch and Dr. Jayne's Sanative Pills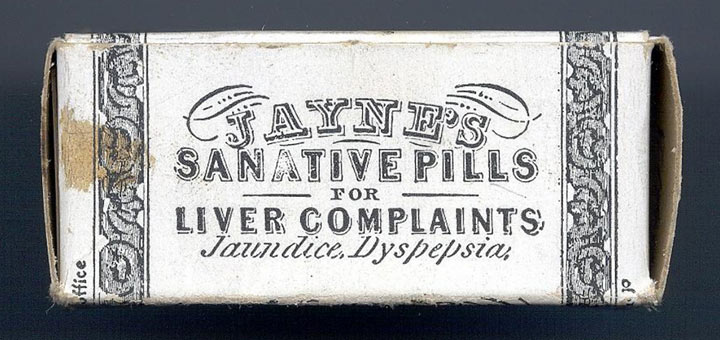 A few months ago, I found a vintage trade card on eBay, dating from around 1880. Trade cards were an early form of printed advertisement. One side of the card would include an image, while the other touted a "trade"—the business being advertised. Some trade cards came ready-made, meaning that a business only needed to print its name at the bottom before distributing to customers.
The trade card I found was interesting for a number of reasons. First, the design on the front side had a lithograph of a painting by Thomas Faed titled O Nannie, Wilt Thou Gang Wi' Me? This depicted a Scottish scene, where a man proposes marriage to a seated woman. The card indicated the image was the seventh in a series, indicating that customers might collect all of them.
The back side of the card provided details about the painting and also described a product—Dr. Jayne's Sanative Pills. These were advertised as being able to treat lung, throat, and bronchial ailments. Finally, at the bottom of the card was printed the name of Charles C. Hagenbuch, Mahanoy City, Schuylkill County, Pennsylvania.
Now, I began to wonder: who was this Charles Hagenbuch, and what were these pills he was selling?
Finding information about Dr. D. Jayne's Sanative Pills was the easy part. The word "sanative" in their name refers to the power to heal. However, research showed that the pills were a patent medicine, similar to a special tonic or elixir, and likely did little to cure any illness.
Dr. D. Jayne's Sanative Pills can be found in newspaper ads from the 1860s. They continued to be marketed and sold into the early 1900s, when the United States government began regulating medicines and forcing transparency of ingredients. Quack products like these were eventually driven out of business.
The name of Charles C. Hagenbuch was added to the trade card because he likely sold the pills at a drugstore he owned in Mahanoy City, Pennsylvania during the late 1800s. This was first located at 102 West Centre Street and later moved directly across the street to 101 West Centre Street to a building that is presently The Village Inn. Before opening his drugstore, Charles served as the postmaster of Mahanoy City, and he also signed the city's founding charter in 1863.
Charles Coleman Hagenbuch came to Mahanoy City from Bloomsburg, Columbia County, PA. He was born on April 27,1835 and was the son of Robert (b. 1808, d. 1862) and Hannah (Bomboy) Hagenbuch (b. 1808, d. 1853). His line is Andreas (b. 1715) > Christian (b. 1747) > John (b. 1785) > Robert (b. 1808) > Charles (b. 1835).
Charles married Anna Dawson Ramsey (b. 1843, d. 1924). They had at least seven children:
Dr. James Hervey (b. 1862, d. 1930, m. Bessie Seligman)
George F. (b. 1865, d. 1878)
Horace (b. 1868, d. unknown)
Dr. John "Bert" Bertram (b. 1871, d. 1936, m. Maude I. Shipman)
Agnes S. (b. 1873, d. 1949, married an unknown Kaercher)
Mary D. (b. 1880, d. 1881)
Nellie C. (b. 1882, d. 1955, 1st m. Sylvanus Cobb Aiman, 2nd m. Martin A. Duffy)
Charles C. Hagenbuch died on December 13, 1889 and is buried in the German Protestant Cemetery in Mahanoy City, PA. His wife, Anna, outlived him by nearly three decades and eventually moved west with their daughter, Nellie. Anna is buried in Tacoma, Washington.
His son, Dr. James H. Hagenbuch, graduated from the Jefferson Medical College in Philadelphia and went on to run his father's pharmacy in Mahanoy City. Another son, Dr. John "Bert" Hagenbuch, Sr., graduated from the Veterinary Department at the University of Pennsylvania.
In talking with my father, he recounted meeting with Louise (Jeffers) Hagenbuch (b. 1906, d. 2004) back in the 1980s. She was the wife of Bert's son, Dr. John B. Hagenbuch, Jr. (b. 1900, d. 1981) and supplied additional information about his line. At that time some of their children and grandchildren lived around Carlisle, Pennsylvania.
Writing this article highlights just how much work is needed to fully document the line of Charles C. Hagenbuch and his descendants. That said, it also shows just how much is already known about this family and what can be gleaned from a card about Dr. D. Jayne's Sanative Pills that was found on eBay.