Cop and Robber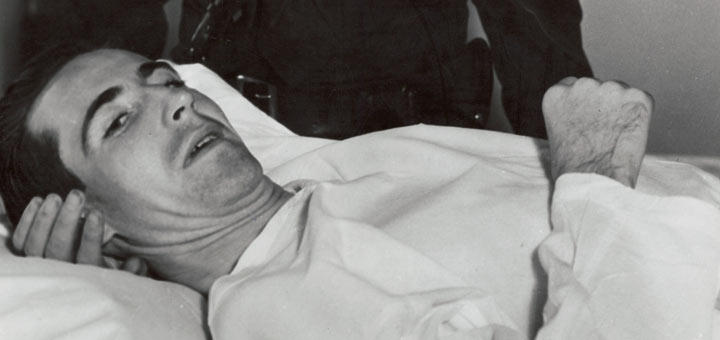 Several months ago Andrew found a photograph on eBay that was for sale. The image depicted a Los Angeles policeman, W. R. Hagenbaugh, with a robber, Joe Miller. Andrew purchased the photo for the Hagenbuch family archives.
On the back of the photo was typed the date, Oct. 25, 1934, along with the following caption:
L.A. Bureau. Purse Returned: Bandit Suspect Shot Down. A robber's courtesy in returning unwanted papers to a holdup victim with a polite expression of regret climaxed yesterday in the wounding of Joe Miller, 22, bandit suspect, and the arrest of his brother, Sam, in a police "stake-out." The package of papers returned contained a rent receipt from a Los Angeles hotel. Officers staked out, saw the Miller brothers flee, and Joe was brought down by a bullet in the right hip. Sam was also captured. Joe Miller was identified in the hospital by John De Renzy, as the man who had held him up and taken purse and papers. Photo shows Joe Miller in receiving hospital with Officer W. R. Hagenbaugh.
Andrew contacted me and asked if this was the Hagenbaugh who had been a police officer in Los Angeles and had compiled a huge amount of Hagenbuch genealogical material in the 1930s. A check of my records showed this was not that Hagenbaugh (William Louis Hagenbaugh, b. 1878) and instead was his son, William Raymond Hagenbaugh (b. 1904) who was also a Los Angeles policeman.
The genealogical line of this family of policemen is: Andreas (b. 1715) > Michael (b. 1746) > Jacob (b. 1777) > Daniel (b. 1816) > William Allen (b. 1855) > William Lewis/Louis (b. 1878) > William Raymond (b. 1904). As mentioned, both William Louis and William Raymond were officers for the L.A. Police Department. In addition, another son of William Louis, Robert Louis (b. 1921), was an investigator for the L.A. Police Department. It was Robert Louis Hagenbaugh who in 1979 sent me information about his Hagenbaugh family.
William Allen Hagenbaugh was born a Hagenbuch on Aug. 26, 1855 in Waterloo, Iowa. As a young man, he moved to California and by 1886 had changed his last name to Hagenbaugh (per California's voter registration records). William was married to Lydia Ann Barr in 1876 and they had 7 children, the eldest being William Lewis (Louis) Hagenbaugh, who was born in 1878 in Champagne, Illinois. William Allen died in 1937. He and Lydia are buried at Inglewood Park Cemetery, Inglewood, California.
William Louis Hagenbaugh, the genealogist, seems to have been given the middle name "Lewis" but later changed it to "Louis." He was first married to Ida (maiden name unknown). They were divorced by 1912, and Ida remarried Frank Scott. William and Ida had one son together—William Raymond.
William Raymond Hagenbuch was born on May 28, 1904. He is the cop seen in the eBay photo and mentioned in its caption. William Raymond was married to Beverly (maiden name unknown) and they had no children according to William's half brother, Robert. In 1979, William Raymond lived in Laguna Hills, California and had retired from the L.A. Police Department with the rank of captain. He died on Dec. 6, 1982, though research has not revealed his burial place.
Returning to William Raymond's father: William Louis remarried on Nov. 11, 1912 to Lillian Louise Norquist. They had three children, the youngest being Robert Louis Hagenbaugh. William Louis was a captain in the L.A. Police Department and a veteran of the Spanish American War. As written in a previous article, he had a great interest in compiling Hagenbuch family genealogy, but after his death all his work was destroyed in a fire. William died in March 1943. He and Lillian are buried at Inglewood Park Cemetery in California.
As mentioned, the youngest child of William Louis and Lillian (Norquist) Hagenbaugh was Robert Louis Hagenbaugh. He was born on May 20, 1921 in Los Angeles, California. Robert was a pilot during World War II and, carrying on the family tradition, was an investigator for the L.A. Police Department. He was in contact with me in 1979 when he lived in Springville, CA. He was married to Jean Stephens from Jonesboro, Arkansas. They had three children: Ronald, Richard, and Robin Louise.
As I did research for this article, from my paper records and through Ancestry.com, I was reminded of this very interesting Hagenbaugh family with which I have lost contact. Along with other lines of Hagenbuchs, this one is now on my list to make contact with again.