Hagenbuch-Reichard Connections: Part 1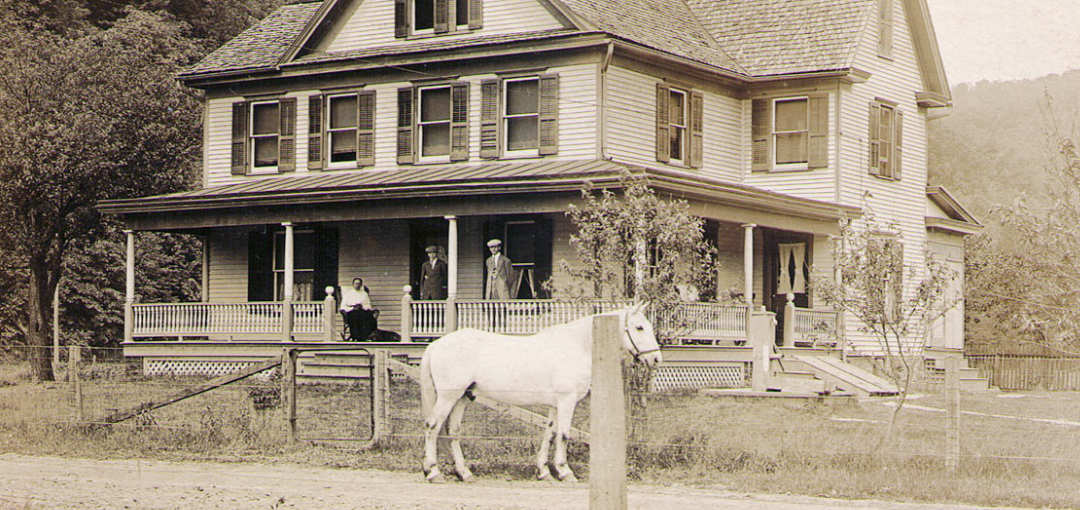 The March 9, 2021 article was about the connections between the Hagenbuchs and the Reichard family of Columbia County, Pennsylvania. Some of that information was provided by Shaun Creighton. In providing information, Shaun sent several emails to me with interesting facts and memories plus some exceptional photographs. That information is in my next two articles. Readers should remember that brothers Elias and John Reichard married sisters—Matilda (Tillie) Hagenbuch (b. 1850, d. 1920) and Emma Frances Hagenbuch (b. 1854, d. 1938) respectively—and that their brother,  Simon Reichard, had a son, James Richard, who married Clara Hagenbuch (b. 1862, d. 1940).
Many thanks to Shaun for the following, well-written articles. They not only give us insight into the characters of these people, but also contribute more connections between our Hagenbuch and Reichard families.
Elias and John Reichard's eldest brother Simon "Sim" Reichard (b. 1836, d. 1919) was the father of James Reichard (b. 1864, d. 1910). Simon owned a large farm on Frosty Valley Road toward Danville, Pennsylvania, on the northern side. The back of the farm eventually had Route 80 cut through the lower rim of the property in the 1950's. Owners along this stretch were paid handsomely for their acreage at the time. Simon Reichard purchased the Inn at Turkey Hill property as a wedding present in 1884, for his only son Jim Reichard and his wife Clara Hagenbuch. The Turkey Hill property also had Interstate Route 80 literally cut the original property in half in the 1950's.
Simon Reichard was a Civil War Veteran of the 103rd Regiment of the Pennsylvania Infantry. Simon volunteered. Two of his younger brothers, Elias and Jacob Reichard, were both drafted. Elias served in the 177th Regiment of PA Infantry, Company I, and Jacob served in the 128th Regiment of the PA Infantry. After the Civil War brother Jacob moved with his family to Los Angeles, California. The family stayed in touch for many, many years. John and Emma (Hagenbuch) Reichard, followed by their son Ray Reichard, hosted Jacob's son Barton Reichard and grandson, also named Barton Reichard from California, on many visits to Pennsylvania at their farm along the Millville Road in Hemlock Township, Columbia County, (near the Wanich Covered Bridge).
Simon Reichard outlived both his wife Sue (Emmitt) Reichard and their only child, James "Jim" Reichard who died from a ruptured appendix in 1910 at the age of 46. Jim Reichard had been a highly successful grain merchant and commodities broker. His father, Sim, was quite wealthy in his own right not only with his large farm in Frosty Valley but with multiple properties in Bloomsburg including his large "town house" at 537 Market Street in Bloomsburg and several rental properties in town.
An avid investor, Simon had a significant investment portfolio. He died a quite wealthy man in 1919. Being that Jim, his only son, had predeceased him, Sim entrusted his estate settlement to his nephew, John Reichard's elder son Raymond Reichard, son of Emma (Hagenbuch) Reichard, as his executor. Fortunately, many of the estate settlement documents from 1919 survive. My great-grandmother Lawson (Simon Reichard's favorite niece) was one of the significant beneficiaries of Uncle Sim's Estate.
Mrs. Lawson (nee Lula Beagle) was the daughter of Sim's next-in-age younger sister, Ellen (Reichard) Beagle (b. 1838, d. 1901). Ellen died of pneumonia the day after Christmas 1901, on her husband's birthday. Brother Elias died the following year in 1902 of the same thing. There were no antibiotics in 1901 and 1902! Lula was consequently Jim Reichard's first cousin. They were very close, more like brother and sister, with Jim being an only child.
A footnote to Simon Reichard's estate: He left his large Frosty Valley Farm to his nephew-by-marriage, John Franklin Emmitt (b. 1868, d.1947), who passed it on to his son. The property remains in the Emmitt family to this day. This was the farm where James Reichard, of course, grew up.
Part two will continue with more choice photos and information about the Hagenbuchs and Reichards.