Henry Hagenbuch's Revised Birth and Death: The Evidence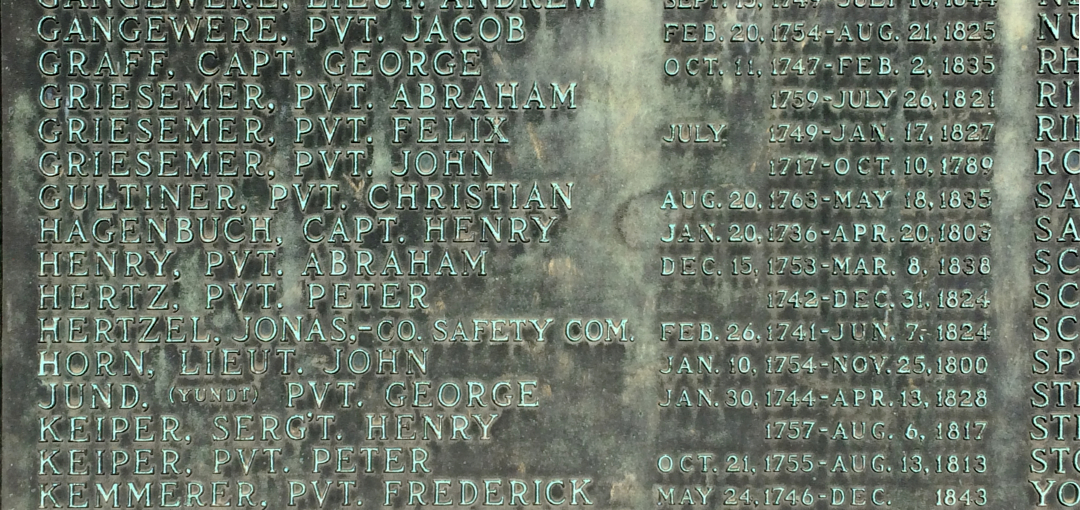 Genealogy is like a giant jigsaw puzzle—one where key pieces are missing and a clear picture of what is being assembled is unknown. This article, the first in a two-part series, will examine a puzzle surrounding Henry Hagenbuch. Then, in the second part, we will explore how a revision to Henry's birth and death dates impacts our Hagenbuch family story.
In February of 2021, I received a message from Christina Fischer. She was investigating her 7th great grandfather, Tobias Stapleton (b. 1717), whose property adjoined that of Andreas Hagenbuch (b. 1715) in Albany Township, Berks County, Pennsylvania. For decades, it was suspected that Andreas' daughter, Anna Barbara, was married to Tobias. While a 1741 baptism record from Jordan Lutheran Church in Whitehall, PA confirms that Tobias' wife was named Anna Barbara, we do not believe she was Anna Barbara Hagenbuch. Rather, we assert Anna Barbara was the youngest of Andreas' children, wasn't born until 1764 or 1765, and likely never married.
When discussing this with Christina, she provided a source thought to show that Anna Barbara had married Tobias and had arrived in the Americas in 1737 with Andreas and his wife, Maria Magdalena. This information came from an article titled "Immigrant Ancestors" in The Palatine Immigrant, Volume 6:4 (Spring 1981), pages 189–191, edited by Mrs. Arta F. Johnson. Below is the passage in question:
While the above mentions Andreas' children, who they supposedly married, and a few dates, it does not explain what primary sources (e.g. historic records, family Bibles, and so on) were used. It is a summary of family information instead of documented research. Something else caught my eye too. The passage notes that Henry Hagenbuch was the second of Andreas' children and was born in 1736, suggesting that Anna Barbara was born before him and that he and his sister immigrated to Pennsylvania with their parents. Yet, neither of their names appear on the list of people who stepped off the Charming Nancy on October 8, 1737, even though the names of other children do.
All of this got me thinking about Henry's birth year of 1736 and how much of our early family history rests upon this being correct. I needed to double check that the date was right.
Gravestone and Plaque
Henry Hagenbuch is buried in the Old Allentown Cemetery in Allentown, PA, not far from where he once ran the Cross Keys Tavern. My father, Mark, and I have visited the cemetery. Unfortunately, while Henry's gravestone is still there, the text on it is entirely weathered away, destroying this important method for confirming his birth and death dates.
That said, there is another information source just a short distance away. At one corner of the cemetery is a bronze plaque erected by the DAR (Daughters of the American Revolution) in 1928, honoring veterans of the Revolutionary War and War of 1812. The plaque shows that Henry Hagenbuch was born on January 20, 1736 and died on April 20, 1803.
End of the story, right? Not quite.
Probate Documents
A previous article examined the birth order of Henry Hagenbuch's children using original court records from the probate of his estate. Since he died intestate—without a will—a judge in Easton, PA was petitioned to sort everything out. However, the court proceedings provide strong evidence that the plaque in Old Allentown Cemetery may not be correct. The first probate hearing for Henry's estate was held on August 17, 1805 and states that he "lately died intestate." This was followed by a second hearing on October 24, 1805 and a final one on January 15, 1806.
Then, as now, it would have been highly unusual to wait two years to begin administering a person's estate. I began to wonder if Henry might have died in 1805 and not 1803. To answer this, I would need to research where the information for the plaque came from.
DAR and SAR Applications
The DAR and SAR (Sons of the American Revolution) have been in existence since the late 1800s. To join, applicants must prove that they are descended from someone who served or aided in the cause of independence during the Revolutionary War. Henry Hagenbuch served as a captain during the conflict, meaning his descendants may apply for membership. The DAR and SAR maintain libraries filled with information about genealogical lines too.
The earliest applicant to the SAR using Henry Hagenbuch appears to be Edwin Krause in 1919. Around the same time his sister, Alma Krause, applied to the DAR. Both listed that Henry Hagenbuch was born in 1736 and died in 1803, though no definitive source is cited for these details. On Edwin's application, he simply states that Henry's tombstone is found in the Old Allentown Cemetery with his name and rank. Edwin was living in Massachusetts at the time, so it is possible that he didn't personally review the stone. Additionally, while he does mention Henry's Revolutionary War service came from the Pennsylvania Archives, these reference books do not provide his birth and death dates.
A later SAR application, this one from 1929 for Jacob Hagenbuch, does include a citation for Henry's birth and death—the History of Lehigh County, Pennsylvania by Charles R. Roberts, published 1914, Volume 1: pages 127 & 163, and Volume 2: page 488. Since the book was printed prior to the Krauses joining the SAR and DAR in 1919 and before the DAR plaque was erected in 1928, it seems reasonable that this source supplied key details for the applications and the monument.
History Books
By the early 1900s, many places in the United States were publishing books documenting their local histories and families. Lehigh County was no exception. In 1914, a three volume history of the county was authored by Charles R. Roberts and several others. Curiously, the book includes conflicting details for Henry. While Volume 1 states that he died in 1805, Volume 2 lists 1803:
Captain Henry Hagenbuch was a resident of Allentown, where he died April 20, 1805. (Volume 1: page 127)
Henry Hagenbuch . . . was born in 1738. He kept a hotel at Eighth and Hamilton streets, Allentown, for many years, and died here April 20, 1805. (Volume 1, pages 163–164)
Captain Henry Hagenbuch was born Jan. 20, 1736, died April 20, 1803, at Allentown, aged sixty-seven years and fourth months. (Volume 2: page 488)
It should also be noted that the third excerpt is the earliest known mention of Henry's full birth and death dates and is exactly what appeared on the DAR plaque 14 years later. This strongly suggests that Volume 2 of the History of Lehigh County was the source for the plaque, although it does not explain why Volume 1 provided 1805 as his death year and Volume 2 stated 1803. (Both volumes agree that April 20th was the day he died.)
The book's primary author, Charles R. Roberts, actually presented his research about Henry Hagenbuch seven years earlier to the Lehigh County Historical Society. On January 16, 1907, The Allentown Morning Call printed part of this in the article "Allentonians As Patriots In 1776." The piece mentions that Henry Hagenbuch was born in 1738, died on April 20, 1805, and that his "tombstone is still to be seen in the old Allentown cemetery." These statements support what was later published in two places in Volume 1 of the History of Lehigh County.
Why then would Roberts contradict them in Volume 2? The most probable theory is that he did not research or write the other volumes, leaving that task to others. While Volume 1 tells the story of Lehigh County's founding and development, Volumes 2 and 3 are focused purely on the "genealogical and biographical" profiles it residents. Often the information for these was submitted by their descendants with minimal edits and fact checking. For example, in Volume 2 on page 488, Henry's wife, Susanna, is said to have died on "June 82, [sic] 1823" and the Hagenbuch family is described as abandoning Albany Township, Berks County in the 1750s during the French and Indian War. While the first is a simple mistake, the second is completely wrong and we know, for a fact, the Hagenbuchs remained at the Hagenbuch Homestead until the mid-1800s.
Even so, Volume 2 does contain one new and significant detail about Henry. It states that he died at the age of "sixty-seven years and four months." This got me thinking: Was this information originally on Henry's gravestone?
Cemetery Records
In my search to confirm the original inscription on Henry's stone, I happened upon an online comment made by Diana Quinones. After emailing her, she sent me a copy of a letter from the Pennsylvania German Cultural Heritage Center addressed to none other than Kathleen (Hagenbuch) Courie, who was featured in an article last year. In the December 2002 letter, a researcher and librarian, Lucy Kern, wrote that the Old Allentown Cemetery records list that "Henry died 20 April 1805 at the age of sixty-seven years and four months."
The cemetery records appear to be in the collections of the Lehigh County Historical Society Library, which is closed at this time due to the pandemic. In the future, I plan to visit and confirm the cited information is correct. However, given that a reputable organization and librarian performed the research, there is no reason to believe it wrong.
Drawing Conclusions
After reviewing all of the available evidence, several facts about Henry Hagenbuch's death appear unchallenged and supported by multiple sources:
He died on April 20th.
He was 67 years and 4 months old when he died.
This information was almost certainly engraved on his stone, along with the questionable year of this death. Furthermore, official court proceedings from 1805, Roberts' 1907 research, and the Old Allentown Cemetery records document that:
Why did a few places get this wrong then? We suspect that the "5" in "1805" was so weathered on Henry's gravestone that it was erroneously read as a "3."  Since the stone didn't include a birth date, the still legible age at death was used to calculate it. In this scenario, an incorrect death date would lead to a wrong birth date too.
Using the correct death date (April 20, 1805) and age at time of death (67 years, 4 months) we can now determine Henry's real birthdate. Start with the year: 1805 – 67 years old = 1738. Then finish with the months: April 20th – 4 months = December 20th of the previous year, 1737. In other words, Henry Hagenbuch was born on December 20, 1737 and died on April 20, 1805. We believe these dates to be correct and will be using them for future articles.
Genealogy truly is a giant jigsaw puzzle, and in the case of Henry, changing just one piece has begun to reshape the story we tell about him and our early Hagenbuch family. More about the impacts of revising Henry's birth and death dates will be explored in part two of this series.