Michael Hagenbuch, Last Family Owner of the Homestead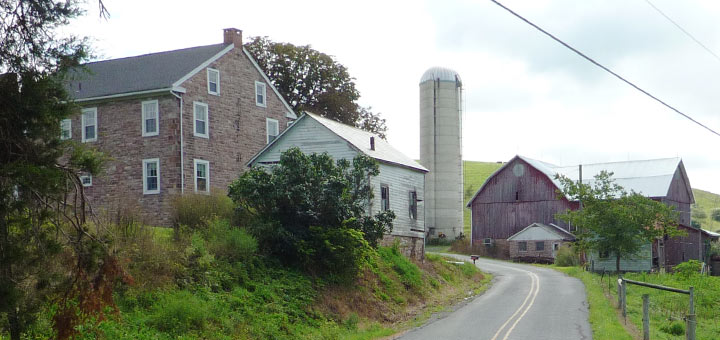 Michael Hagenbuch was born on December 20, 1805 and died on August 9, 1855 at the age of 49 years old. He was the last Hagenbuch to own the family homestead in Albany Township, Berks County, Pennsylvania.
The Hagenbuch homestead was established in 1741 by Andreas Hagenbuch (b. 1711, d. 1785). It originally was about 150 acres and likely consisted of a small house, barn, distillery, and other outbuildings. Over the next century, it was expanded to include a tannery and additional lands totaling over 300 acres.
Michael Hagenbuch was the son of Jacob Hagenbuch (b. 1777, d. 1842). He was named after his grandfather Michael Hagenbuch (b. 1746, d. 1809) and was the great grandson of Andreas.
When Jacob died without a will in 1842, it was not immediately clear how his property would be divided between his children. Eventually, a 10 acre tract having the original house, barn, and outbuildings was split from the whole. This lot became the home of Sarah (Hagenbuch) Knepper Brobst (b. 1817, d. 1904), a daughter of Jacob. Read more in part two of the series, Searching for Andreas Hagenbuch's House.
The remainder of the land, still over 300 acres, was acquired by Michael Hagenbuch. Here, he constructed a beautiful stone house, summer kitchen, and barn. As noted by his brother Timothy (b. 1804, d. 1852) in an 1851 letter, the house was still being worked on in the fall of that year.
Michael, with the help of his wife Abigail (Stapleton) Hagenbuch (b. 1811, d. 1883) and their nine children (two others died young), ran the homestead much in the way his ancestors had. Fields were planted and crops harvested. Livestock were raised and butchered. Trees were lumbered and stone quarried from the nearby Blue Mountains.
Enoch Hagenbuch (b. 1814, d. 1895), who was also a son of Jacob, describes in his history how his brother, Michael, was "a tanner and also taught school." It is known that his brother Timothy also taught school, and it is believed that Michael had a small schoolhouse built on the homestead property for this purpose. As a future article will show, there is little evidence of Michael being a tanner at the time of his death, perhaps because he had practiced this trade when younger and had gotten out of it later in life.
On August 9, 1855, without leaving a will, Michael Hagenbuch died of what was recorded as "Auszchrung." Translated from Pennsylvania Deitsch, "Auszchrung" means atrophy or wasting. The Bible verse on his gravestone (Psalm 73, 25-26) at New Bethel Church in Albany Township, Berks County, PA seemingly speaks to the the cause of death as well:
Whom have I in heaven but thee? And there is none upon earth that I desire beside thee.

My flesh and my heart faileth: But God is the strength of my heart, and my portion for ever.
All of this leads to more questions than answers. What can be surmised is that Michael's death was not a sudden accident and was likely the result of a long illness, leading one to wonder why no will had been written. It also raises questions as to the true nature of his illness.
While cancer or a pulmonary problem such as tuberculosis are possible suspects, another theory suggests that the tanning which occurred at the homestead for many decades had ill effects upon the family. Indeed, exposure to tannins, or breathing the silica dust found within the lime necessary to the tanning process, both have been determined to cause health issues. More research is needed, though, to support this theory.
What is known with certainty is that when Michael died, he left behind a widow and nine children – seven of which were under 21 years old and still considered minors. Without a written will, his estate went before a judge who ordered guardians assigned to the underage children and the contents of the property inventoried.
A court appointed committee met to determine if the estate could be divided fairly between Abigail and the nine children. When it was decided this was impossible, everything including the land was sold at a public sale and the proceeds of it were divided between the heirs. It should be noted, that during this time in American history, it was uncommon for a woman to own property. In other words, Abigail, though she was Michael's wife, could not simply be deeded the property.
Michael's eldest son, Harrison W. R. Hagenbuch (b. 1835, d. 1857) was an adult when his father died and might have bought the homestead had he enough means to do so. However, given his young age, he appears to have only had the wherewithal to purchase a handful of items at the sale. Even if he had bought the property, Harrison himself died soon after in 1857, leaving little possibility that the homestead would have stayed within the family.
At the public sale, Michael's house and much of the homestead property was sold to Sabion Miller. About five years later, it passed to John Koenig and finally was sold to the Trexler family. This family has maintained ownership of the property all the way to the present day.
Now, it might be argued that at least part of the homestead stayed within the Hagenbuch family for a few decades longer. Michael's sister Sarah resided on the 10 acres parcel, site of the original house and barn, until it was finally sold in 1876. But this was a small remnant of what had previously been farmed by the Hagenbuchs.
Michael Hagenbuch's untimely death at the age of 49 brought to an end family ownership of the Hagenbuch homestead. Established in 1741, the property had been passed down through the family for over a century and through four generations. The next two articles in this series will continue to explore the Hagenbuch homestead as it existed in 1855, including Michael Hagenbuch's estate inventory and an analysis of its contents.