Sgt. Isaiah Bomboy Hagenbuch's Story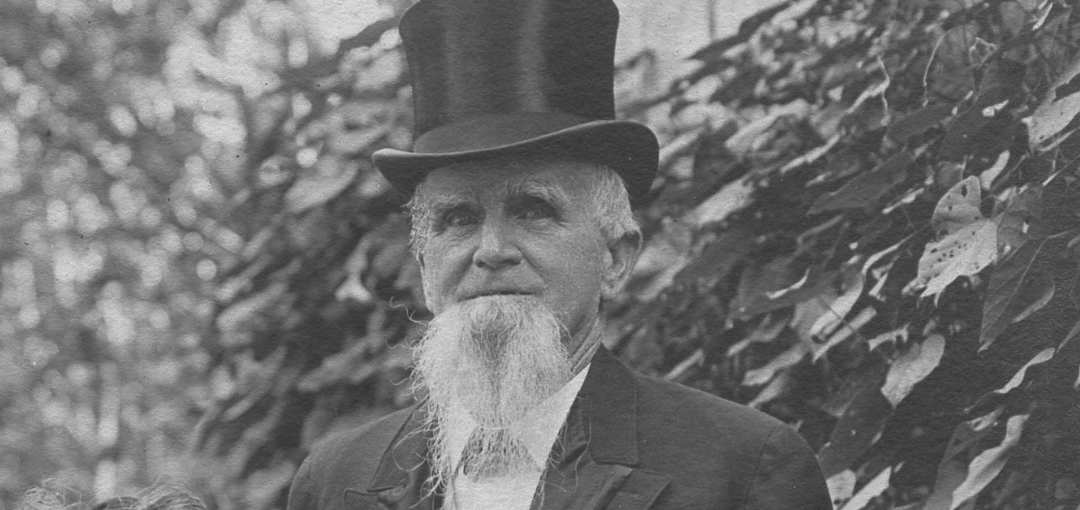 As I mentioned in the July 11, 2023 article on visiting cemeteries, an article has never been written about Isaiah Bomboy Hagenbuch who was born in 1836 and died in 1912. However, Isaiah has been mentioned in several articles, notably one written by Andrew in January of 2021. Isaiah's family line is: Andreas (b. 1715) > Christian (b. 1747) > John (b. 1785) > Robert (b. 1808) > Isaiah (b. 1836). Isaiah's family has been featured in several articles. Along with information about his father, Robert, and his father's two wives, Hannah (Bomboy) and Lydia (Larish), articles have been written about his brother Benjamin Del Fel (b. 1833) and his Civil War letters; about his brother Charles C. (b. 1835) and his druggist business; and about his brother John "Jack" Andrew (b. 1857) and his gold hunting adventures with Isaiah's son Jacob "J. C." Clark (b. 1862).
In addition to these four, Isaiah had a fifth brother named Abner (b. 1839), whom little is known about. He also had two sisters: Sarah Lavinia (b. 1842, m. Josiah Ralston) and Mary Ella (b. 1845, m. William Harris). Isaiah and his siblings would have had interesting childhoods as father Robert owned and operated the Forks Hotel, located in Bloomsburg, Columbia County, Pennsylvania. On the 1850 census, the "tavern" as it was called lists five people as living there, and they were likely not related to the Hagenbuchs. A tavern/hotel in the mid 1800s—especially one that rented out rooms—would have been a very busy establishment. Along with the tenants, there would have been day travelers and locals who would have been eating and drinking there on a regular basis. It was a fascinating place to raise seven children!
Isaiah married Hannah Kline in 1858. In 1860, Isaiah was listed as a harness maker living near Light Street. He and Hannah had two children at this time: Cora (b. 1858) and Bion William (b. 1860). In 1870, Isaiah was working as a tinsmith and two more children had joined the family: Jacob Clark (b. 1862, who went by "Clark" when he was a child) and Bertha (b. 1867). It is assumed that Cora died young as no more information can be found about her, not even her burial spot. Bion William married Janette "Nettie" Mason in 1880. They had four children: Robert, Walter, Righter, and Agnes. These children's history has never been researched, which must be done. Bion worked for the Bloomsburg post office. He died in 1928 and is buried with Nettie at Old Rosemont Cemetery in Bloomsburg, PA.
Isaiah was married three times. His first four children were from his first wife, Hannah. She died in 1870 and in 1871 Isaiah married Effie Brink. The couple had one son together, Jacob "J. C." Clark. J. C. never married and died in 1930. Effie died in 1884. Isaiah married for the third time to Sarah "Hettie" Ketchum on March 11, 1886. Their son, Rea Isaiah, was born on August 9, 1886. Isaiah was 49 years old at the time and had only been married to Hettie for five months when Rea was born—do the math! Rea has quite the story, especially about his military service, and it will need to be explored in another article.
Speaking of military service, Isaiah enlisted in the United States Army as a private in June of 1863 and joined the Pennsylvania 28th Independent Infantry. The 28th served in major battles and campaigns: the battles at Chancellorsville, Gettysburg, and Lookout Mountain. The 28th was also involved in taking Atlanta and was part of Sherman's "March to the Sea." However, Isaiah did not participate in any of these battles and campaigns because he was only with the 28th for one month! Pennsylvania soldiers were enlisted in the 28th in June of 1863 as emergency backup troops against the Confederate army which was moving north to Pennsylvania. After the battle of Gettysburg, these emergency militia troops were mustered out. However, Isaiah was reputable and responsible enough for that one month that he was mustered out as a sergeant.
In February of 1865 Isaiah enlisted in the army again. This time in the 74th Pennsylvania Infantry and was mustered out in August of 1865 with the rank of sergeant—a six month service at the end of the Civil War. As I was searching for Isaiah's military service in Ancestry.com and in my paper records, I came across another Isaiah Hagenbuch. My paper records list this Isaiah (b. 1845) as serving in the 74th which is documented by the records at Veterans' Post #250 from Bloomsburg, PA. This Isaiah's lineage is: Andreas (b. 1715) > Michael (b. 1746) > Henry (b. 1772) > Samuel (b. 1806) > Isaiah (b. 1845).
After a bit of thinking and searching I realized that Isaiah (b. 1845) is not the Hagenbuch who served in the 74th. We now know that Isaiah Bomboy Hagenbuch (b. 1836) of this article served in the 28th and the 74th. Although serving in both regiments as a sergeant, it seems he saw no action during his one month of service in the 28th and no action at the end of the war in the 74th. During his six months of service in the latter, the soldiers of the 74th were tasked with guarding sections of the Baltimore and Ohio Railroad in West Virginia.
With the Civil War over, Isaiah returned home and continued his tinsmithing craft. The 1880 census lists his family living on Second Street in Bloomsburg which included his second wife, Effie, and three of their children: Bion, Clark, and Bertha. Isaiah is listed as a "Health Officer" in the 1900 census and the family is still living in Bloomsburg with his wife, Hettie, and children, Bertha and Rea. Bertha died in Philadelphia in 1955, unmarried. She was cremated and the location of her ashes is unknown. As previously mentioned, Rea has an interesting story which will be told in a future article.
Isaiah Bomboy Hagenbuch died on February 5, 1912 of heart complications from influenza. Did he contract this sickness from serving as a health officer? He is buried, along with all three wives, in Old Rosemont Cemetery, Bloomsburg, PA. Isaiah's story may not be all that interesting at first glance. But the facts that he married three times, that he served in two regiments as a sergeant during the Civil War, that two of his sons have engaging stories, and that he looks like quite the character in his photo with Hettie give me pleasure in knowing that his story has now been written down. Yes! Isaiah can march proudly beside the hundreds of other Hagenbuchs whose details are important to our family history.