Letters of Samuel and Mary "Davis" Sechler, Part 2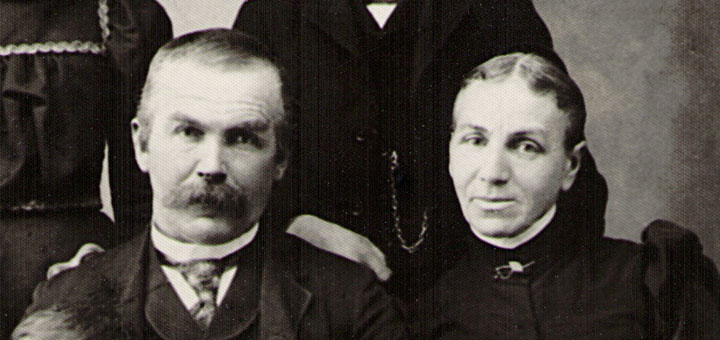 The fifty some pieces of communication mentioned in Part 1 of this series are in a small cardboard box. The letters are divided into two packets wrapped inside the outer sleeves that were once used to slip over shirt or dress sleeves to protect them from becoming soiled with ink. Also inside the box are two pieces of trim lace and two small doilies. After all these years we do not know what memories these keepsakes meant to Mary and Samuel. But, through these letters we can understand the love and joy they felt when they courted and why they saved them.
Limestoneville, Jan. 5th 1880

Dear Mary, According to promise (sic) I seat myself this evening to inform you of my safe arrival home. I am sorry I caused you folks so much trouble. It was all my fault too. If I had put the horse in the stable when you asked me to it would not of (sic) happened. It learned me a good lesson, one that I will not forget very soon.

They have no suspicion here that there was any thing happened. I don't think it will come out if your mother or Will does not tell it. Caution them please not to tell it for if it comes out I will be the laughing stock of the country. I lost a hub ring off one of the wheels. I think it must either be at the upper end of the wagon shed where I had the horse tied or else in the gutter where the buggy upset. It is a wide brass ring if you find it please keep it until I come down again. I don't know whether Laz has missed it yet or not. Don't think strange of me Dear Mary if I don't come down every week for I will remain true to you as though I saw you every day. You will make me very happy if you will do the same. This is my hearts wish Dear Mary.

My ink froze the other night now it is good for nothing so I must write with a pencil excuse me this once and I will try to have some by the next time I write to you. If you will allow me I will get you some cards printed. If you will tell what style of cards you prefer. I must close hoping to hear from you soon.

I remain yours to command

Dr. S. H. S.
Enclosed in the letter is a small piece of newsprint similar to the one found in the first letter Sam wrote to Mary on November 29, 1879. It reads: "That gentle heart so prized by me; May sorrow never grieve it." However, unlike the first newsprint poem, it is not enclosed in a folded piece of paper. As a joke and referencing back to Mary's December 7, 1879 letter where she states that Sam need not wrap poetry in a piece of paper like a powder from a doctor, Samuel Sechler signs the above letter as "Dr."!
The main point of this letter clues us in as to what happened when Sam called on Mary previous to the writing of this letter: the buggy he was driving upset outside Mary's home. This was because he did not unhitch the horse and put it in the stable as Mary had suggested. Sam is worried that this irresponsible act will run through the local gossip mill. Isn't it so true to human nature throughout time – a man in love is in a hurry to see his sweetheart and forgets to unhitch the horse or put the brake on the car and the story becomes one of those memories which are cherished years later?
Sam writes of "Laz" not noticing the missing hub ring. Laz is most likely a good friend of Samuel's who lived nearby – Daniel Lazarus, who must have loaned his buggy to Sam to do his courting. A photo of Laz is kept in a small photo album which was owned by Sam and Mary and contains photos of friends and relatives. The photo album is part of the Hagenbuch archives.
Finally, Sam writes of a common issue which we do not deal with today: frozen ink. And, he asks Mary if he can get cards made. These are most likely photo cards of some sort and we find in Mary's next letter that she declines accepting these.
Pleasant Vallie Jan. 11, 1880

Dear Sam,

I received your welcome letter this evening and was pleased to hear of your safe arrival home. I was afraid some accident might have occured (sic) on your way home and I hope you will profit by your lesson. Just one week ago to night I was talking instead of writeing (sic) what a contrass (sic) there is to me wich (sic) would you prefer. I have read your book and admired some of the noble qualities displayed by Mrs. Grafton and Karl.

Dear Sam I do not think strange of your not writing me every week every two weeks if the weather permits is often enough and you say you will be as true to me as though you saw me every day and I will be as true to you. And in regard to those cards you write about . Sam I thank you and hope you will not feel insulted if I decline your offered present. Indeed I have no other excuse except I have never accepted other than a Christmas present from any gentleman and I seem to shrink from the idea.

I prise (sic) the keepsake you gave me and send you one in return. Dear Sam please do not feel insulted for truly I would no sooner think of insulting you than you would me. So good night with wishes for your happiness and hopeing (sic) to hear from you soon. I will close as ever your true Friend,

Mary C. Davis Milton Pennsylvania
The keepsake Mary writes of is certainly the piece of newsprint poetry which Sam had sent with his letter of January 5. What she sent in return was a small piece of paper in her own handwriting: To Samuel H. Sechler: Please accept this token of love and esteem in the spirit that it is given and may many be the returns of the day in Health & Happiness in the Prayer of your true Friend Mary.
In this letter Mary seems to be chastising Sam for the buggy incident, hoping he will "profit" from the lesson. And, the buggy may have had more than a missing hub ring as she seems worried that he may have had an accident on the way home. Furthermore, Mary seems to be telling Sam that her face to face visits are in "contrast" to how she writes to him, most likely meaning that she is very formal in the visits but more demonstrative in her love for him when she writes.
The reference to "Mrs. Grafton and Karl" is from a book which Sam must have loaned to her. In 1859 a popular author named Augustus Hoppin wrote a book entitled: "Karl Kiegler: Or The Fortunes of a Foundling" which includes a character named Mrs. Grafton. Research has found a few copies of this for sale on the internet but not a complete description of the story.
Finally, Mary declines the acceptance of the "cards" that Sam has offered and hints that it would be too forward for her to accept gifts from Sam. Words of Victorian affection close the letter.
Limestoneville Jan. 21st 1880

My Dear Mary

I arrived home safe last evening at six O'clock. I had quite a pleasant visit & saw folks that I had not seen for seven years or more. Old school mates of mine and you will know by that that I had a pleasant time. I met one young lady a school mate of mine that tried very much to capture me she was so very inquisitive she tried to find out whether I was keeping company with a young lady. I would not tell her (Dear Mary don't get jealous). But she went so far as to tell me she had no company so I told her she ought to set her cap for some young man better looking than herself. Dear Mary you must not get uneasy about that picture for I have it yet and you shall have it the next time I see you. I wish very much to have one of yours (at your pleasure).

The news got home before I did that I had been at your place. Your brother told some one of my folks. But, I don't care. I will try not to trouble you again by staying over night. I cause you a great deal of trouble do I not.

Dear Mary I must thank you for what you told me Saturday evening also for the nice letter you wrote me the last time as I respond to it with my whole heart as I respect you above all others and hope to prove myself worthy of you and your respect.

I must close my letter by wishing you a great deal of happiness which is the wish of your true friend and lover.

Sam  P.S. Write soon.
The first paragraph of this letter is very interesting, describing Sam's attendance at a party of school mates where a young girl flirts with him and he spurns her advances. Furthermore, Sam hints that he does have a photo of himself to give Mary and he wants one of her. But, it's the second paragraph that holds the bombshell!
"I will try not to trouble you again by staying overnight". Because of Victorian morals, when first reading this it was thought that maybe Sam just stayed after midnight at Mary's home, not staying overnight. However, in reading Mary's letter of January 28 (below), she uses the words "stay all night". How could Mary have gotten away with this in that era without a scandal? Reference Mary's December 24 letter (previous article) when we find that on Christmas eve her mother had left and Mary was alone. It might have been a regular occurrence that Mary spent nights alone. And, how did the word get out that Sam spent the night? Mary's brother Will told some one of Sam's folks. But, Sam does not care and writes to Mary that he will not stay overnight again.
Sam closes the letter by thanking Mary for what she told him (what was that?), and for the nice letter, and that he respects her. And, he goes one step further in his final closing statement: he refers to himself as her lover.
Pleasant Vallie Jan. 28, 1880

Dear Friend Sam,

It was with many regrets as to my mailing you that horrorable (sic) letter that I returned home today if I had known of my going to town this morning I would have written last night but hopeing (sic) you will adopt the good old maxim Forgive & Forget I will try and write something else. Dear Sam did you ever take a thought as to my age. I thought of it when you wrote about keeping company with a young lady. But as for you keeping company with me you have chosen an old maid. Don't laugh but indeed this is the truth as I am your senior by very near two years and a half. What do you think of that. Answer me truly please. I suppose your lady friend wished you to know the privileges Leap Year allowed her and as I am not of a jealous mind you need not fear and I wish her success whoever she may be.

Sam what do you mean when you write about giveing (sic) trouble do you think I could be such a hipocrite (sic) to ask you to stay all night and not mean it. But excuse me Please. from the time of your letter I believe you have no such thoughts and I think you heartly (sic) for the respect you have always shown me and trust our friendship may never grow less expecting to see you Saturday eve. I will close with many wishes for your Happiness as ever your true Friend,

M.C.D.
Mary's Jan. 28 letter begins with a mystery. She mentions a horrible letter she sent and wants Sam to forgive her and forget about it. This letter does not exist in the box of communications. Then she goes on to write about their differences in age calling herself an old maid. Mary had turned 27 years of age in October of 1879. Sam was 24 years old and would not turn 25 until May. Mary brings this subject up because of Sam's reference in his previous letter about the young lady who had flirted with him. We find out that Mary believed the young lady felt that flirtation was proper because 1880 was a leap year. It was tradition at that time that a lady could propose marriage to a man during a leap year.
Next Mary broaches the subject of the overnight stay. It seems from her writing that she asked Sam to stay the night, she has no regrets, and she appreciates the respect that Sam continues to give her. But, we notice that both in Sam's and her letter they do not dwell on the overnight stay. It is mentioned but not overstated. Her closing is formal: "ever your true friend".
The analysis of these letters can only go so far. There is a danger into reading too much into them, but speculation also brings human characteristics into play as we realize that these two people had the same emotions that all of us had when we courted our sweethearts. It is certainly a joy even after 135 years to read letters that convey the back and forth love talk between two people who otherwise, we only know through the few photos that survive.
A third article in the future will present more letters between Samuel Sechler and Mary Davis as they continue to court leading to their marriage on December 1, 1880.