Child Mortality and the Family of Joseph Hagenbaugh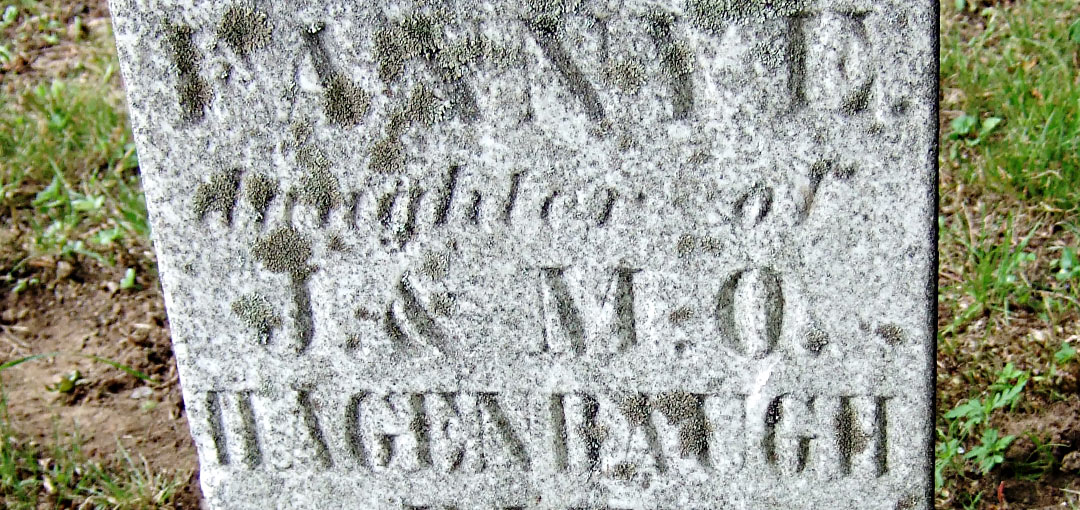 One of my goals for our Hagenbuch genealogy is to document all of the descendants of Andreas Hagenbuch (b. 1715) and place them on our family tree. So far, over 2,000 of these have been added to Beechroots with many more remaining to be researched.
While entering family members into Beechroots, I sometimes discover a forgotten family group and their history. One of these is that of Joseph Hagenbuch/Hagenbaugh (b. 1814). Joseph's line is: Andreas (b. 1715) > Henry (b. 1736) > Joseph (b. 1778) > Joseph (b. 1814). In the early 1800s, Joseph's parents, Joseph and Maria Magdalena (Mickley) Hagenbuch, moved their family north from Northampton County, Pennsylvania to Northumberland County and, finally, even further north to Tioga County. There, some of the family stayed, while others moved west to Ohio and beyond.
Joseph (b. 1814) was the seventh of the couple's eleven children. According to a newspaper advertisement, in 1839 he was living in Wellsboro, Tioga County, PA, where he worked as a blacksmith in partnership with Joseph Hitchcock. Around this time, he married Elizabeth "Betsey" Marvin and began using the last name Hagenbaugh instead of Hagenbuch.
The couple had three children together. The first was a boy whose name has been lost to time, though his existence is recorded on the 1840 United States census. He does not appear on the 1850 census, indicating that he died sometime before this was taken. The other two children were: Hiram P. (b. 1842, d. 1859) and Martha S. (b. 1844, d. 1929, m. W. Leroy Scouten). Sadly, Betsey died in 1845 and is buried in Old Settler's Cemetery in the town of Covington, PA.
Joseph quickly remarried, this time to a woman named Mary Ophelia. Her last name is unknown. The couple lived in Covington where Joseph continued to work as a blacksmith. They had five children together: Florence G. (b. 1847, d. unknown, m. an unknown Thomas), Charles E. (b. 1849, d. 1849), Fanny (b. 1850, d. 1851), Edwin (b. 1853, d. 1859), and Eola (b. 1860, d. 1861).
In total, Joseph had eight children, though only two of them survived to adulthood. By today's standards this is downright shocking, and it caused me to wonder just how common young deaths once were.
Indeed, child mortality was significantly higher in the 1800s. Research shows that nearly 40% of all children died before the age of five. To put this into perspective, 50% of Joseph's children died before the age of five and 75% died before the age of eighteen. Today, the child mortality rate is around 0.5% in the United States—a drastic improvement facilitated by better medical care and nutrition.
Entering their names into Beechroots, I could only begin to imagine the heartache felt by this family. Yet, they were not alone in experiencing such losses. Many families written about on this site saw the deaths of their children, though none perhaps on such a large scale.
As with so many forgotten branches of the Hagenbuch family, a scarcity of information forces our story to draw to a close here. Mary Ophelia died in 1887 and is buried near many of her children in Old Settler's Cemetery. Some sources indicate that Joseph Hagenbaugh lived for a time with his daughter, Martha, in Bradford County, PA and that he eventually died in 1899. Although, at this time his burial location is unknown.
Life was hard for our ancestors in ways that are difficult for us to fathom today. Whether it was going to war or dealing with the deaths of children, their stories are worth remembering and can help us to appreciate the lives we have today.