The Family of Michael Hagenbaugh: My First Cousin (Four Times Removed)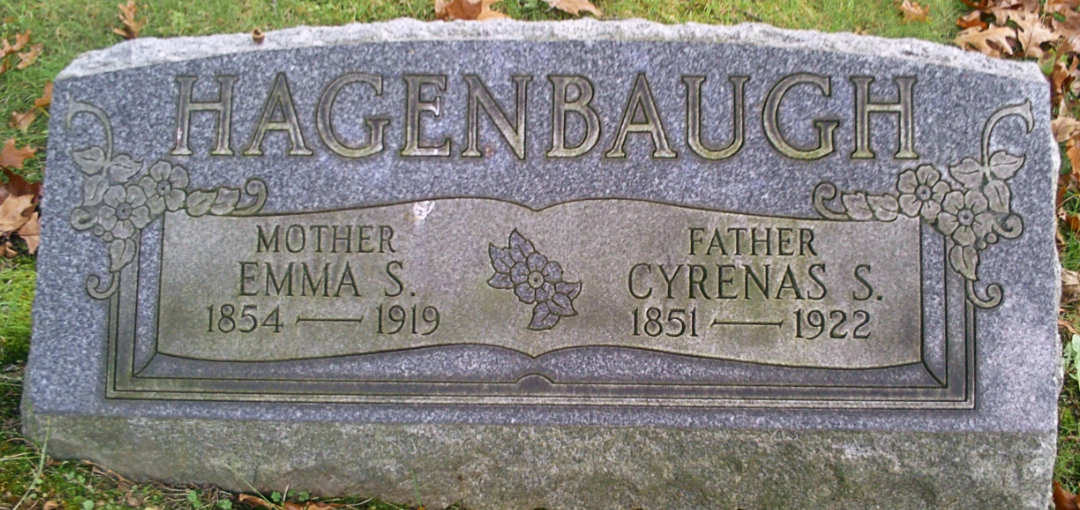 Four generations before me, my great great grandfather William Hagenbuch (b. 1807) had a first cousin named Michael (b. 1815) who changed his last name to "Hagenbaugh." William and Michael had fathers who were brothers: Michael's was Christian (b. 1770) and William's was Henry (b. 1772). These brothers grew up on the Hagenbuch Homestead in Albany Township, Berks County, Pennsylvania, and their father was Michael (b. 1746)—my 4th great grandfather. It was Michael's father, Andreas (b. 1715), who had established the homestead in 1741. Oh, and yes, Andrew and I have no trouble keeping the names of all of these ancestors straight!
Henry had moved off the homestead in the late 1700s; first to what is now Lehigh County, PA and then in 1802 to Centre Township, Columbia County, PA near Hidlay Church. By 1810, his brother Christian had moved from Berks County to Bloom Township, Columbia County, PA. I have no doubt that these brothers, although living in neighboring townships, kept in contact. So, it makes sense that their sons, Michael and William, knew each other as boys. Although William stayed in Columbia County until 1852 and then moved to Montour County, Michael moved west with his parents, Christian and Susanna. By 1860, he was living in Tallmadge, Ohio with the last name of "Hagenbaugh."
Michael (b. 1815) had 11 brothers and sisters. Sometime between 1830 and 1839, his parents moved to Medina County, OH along with some of his younger siblings. Michael was about 20 years old at that time. In 1839, he married Catherine Smith, and the couple started a family in Tallmadge, Ohio. They had four children: Sarah (b. 1842), Cyrenas (b. 1851), Susan (b. 1853), and Charles (b. 1857). On the 1870 census, Michael Hagenbaugh was recorded as a farmer. His wife Catherine died in 1888 and Michael died in 1892. After much research, their burial location hasn't been found, although it is suspected to be in or around Tallmadge, OH.
We know little about Michael Hagenbaugh's eldest child, Sarah. She was married to Samuel Taylor and died in 1864. On the other hand, the second child, Cyrenas (b. 1851), is well documented. He was married to Emma Foltz in 1874. In 1880 they were living in Tallmadge, OH and Cyrenas was listed in the census as a laborer. The couple had two children at the time of the census: George Wesley (b. 1875) and Francis Henry (b. 1878). Two more children were born after 1880: Mary Bell (b. 1881) and John Clarence (b. 1888). In 1900, the family was still living near Tallmadge and Cyrenas was a farmer. Cyrenas died in 1922 and Emma died in 1919. They are buried at Mount Peace Cemetery, near Akron, OH.
George Wesley Hagenbaugh (b. 1875) married Cornelia Caswall in 1901. She was from Kentucky. George held down several jobs over the years, including manager of a "polish works", an oil salesman, and an accountant in a rubber factory in Akron. He and Cornelia had two sons: Robert Frederick (b. 1902), and Irvin (b. 1910). No other information is known about Irvin. George died in 1946. He and Cornelia are buried at Glendale Cemetery, Akron, OH.
Robert Frederick Hagenbaugh (b. 1902) is an interesting character. He graduated from the University of Akron and married Nella Grimes in 1933. In 1940, the two were living in Akron and the census lists Robert as working for the Automobile Club with no other explanation. He and Nella had one daughter, Roberta (b. 1937). However, by 1950 Robert and Nella were divorced, and Robert was now an accountant for a glass factory. Robert died in 1973 and is buried at Glendale Cemetery, Akron, OH. His daughter Roberta married Wesley Lybrand in 1960. We know they had one child, Phillip. More research is being done to bring this family up to date.
Francis "Frank" Henry Hagenbaugh (b. 1878) married Lena Zeisig in 1901. According to the 1910 census, Frank and Lena lived with her parents in Portage, OH. Frank was a hired man on a farm. The next year, 1911, they had a son, Frank Leslie Hagenbaugh. Frank (b. 1878) died in 1913, and is buried at Mount Peace Cemetery, Akron, in a grave behind his parents, Cyrenas and Emma. Lena died in 1952 and is buried beside her husband, Frank.
Mary Bell Hagenbaugh (b. 1881), Cyrenas' third child, is sometimes listed as Marie. She married Frank White in 1914. In 1930 they were living in Stow, OH and Frank White was a salesman for a furniture company. They had one daughter, Dorothy, who was born in 1933. Mary (Hagenbaugh) and Frank White are buried at Glendale Cemetery, Akron, OH.
The youngest child of Cyrenas and Emma (Foltz) Hagenbaugh is John Clarence (b. 1888). In 1913, he married Mary Spitzer and they lived in Akron. John worked as a repairman in a furniture store, and in 1930 was a truck driver. Presently, John and Mary's burial place is not known.
Michael (b. 1815) and Catherine (Smith) Hagenbaugh's third child is Susan (b. 1853). She married John Derthick in 1874, and they had two daughters, Esther and Edith. In 1900, the family was farming in Medina County, OH. It is suspected that Susan (Hagenbaugh) Derthick died between 1910 and 1920 because by 1920 John was remarried to Sarah Corley.
The youngest child of Michael and Catherine is Charles (b. 1857). In 1881, he married Lillian Rockwell. By 1900 they were farming near Tallmadge, Summit County, OH. The couple had four children: Harry (b. 1884), Ralph (b. 1889), Ethelyn (b. 1892), and Edward Charles (b. 1898).
Harry married Ruth Cummins in 1908. No children appear to have been born to this couple. In 1930, they were farming in Summit County, OH. Harry died in 1964. He and Ruth are buried at Rose Hill Burial Park, Fairlawn, OH.
Ralph married Mary Alice Harris in 1907. By 1930, they were living in Akron and Ralph was a machinist in a rubber factory. They have two daughters: Frances Marie and Jean Ellen. Ralph died in 1970. He and Mary Alice are buried at Holy Cross Cemetery, Akron, OH.
Ethelyn married William McKinley Pierson in 1912. They farmed near Bath, OH and had six children: Margorie, Frank, Thomas, Max, Robert, and Ethelyn (named for her mother). Ethelyn (Hagenbaugh) Pierson died in 1975. She and husband "McKinley" are buried at Rose Hill Burial Park, Fairlawn, Ohio.
Edward Charles (who mostly went by Charles) was born in 1898 and married Anna McFarland in 1922. Charles held a number of different jobs: a machinist, a conveyor loader in a rubber factory, and a "propretion man." He and Anna lived in various towns in Summit County, OH. They had a large number of children: Marilyn, Charles, Richard, Joanne, Jackson, Michael, Gerald, Lawrence, Harry, and Kay. However, these children all need further research to flesh out their details since some are listed in the census, while others are noted on Findagrave.
Altogether, as noted in this article, Michael and Catherine (Smith) Hagenbaugh have at least 40 descendants, but that excludes the most recent generations. This family that has never before been researched or documented. While this article is mainly names, dates, and places, there are gems of information interspersed. Most interesting are the jobs many of these men held in and around Akron—the rubber capital of the world.
Michael Hagenbaugh, who was born in 1815 in Berks County, Pennsylvania, made his way to Ohio where he became the ancestor of a large number of Hagenbaughs. These relatives need to be recorded and their descendants found. As with all of our other groups of Hagenbuchs, Hagenbaughs, and Hagenbushs, they are an important part of our complete family story.