Timothy Hagenbuch: Teacher, Scrivener, and Caregiver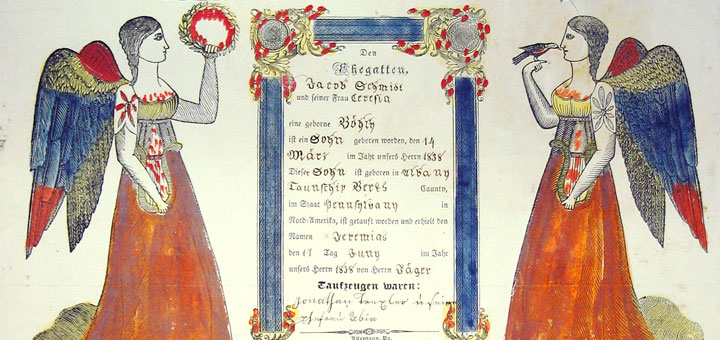 On May 12, 1852 Timothy Hagenbuch died at the age of 47 years old. He never married and had no children.
Family trees are known as such because they branch and grow as children are born to each subsequent generation. But what happens when a branch ends as Timothy's did? Without any ancestors, is that person simply lost to history? And, if not, how might he or she be remembered?
Timothy Hagenbuch was born on October 9, 1804 in Albany Township, Berks County, Pennsylvania at the Hagenbuch homestead. He was the first child born to Jacob (1777-1842) and Magdalena "Wolf" (1770-1817) Hagenbuch. His father, Jacob, was a tanner and a grandson of Andreas Hagenbuch (1711-1785).
While growing up, Timothy learned to tan hides and work with leather. His younger brother, Enoch (1814-1895) mentions this when describing his grandsons moving to the Dakotas. Enoch writes:
They took with them a bridle that was brought by their grandfather [Enoch] from Pennsylvania when he moved to Indiana. Their mother being then three years old. It was made of leather tanned by their great-grandfather [Jacob] and made by their grandfather's brother, Timothy.
Timothy, however, did not become a tanner like his father. Why? Well, running a tannery is a dirty job requiring a lot of hard, physical labor. One theory, stemming from his death at 47, is that Timothy was weak or sickly. As a result, he chose a scholarly career that challenged his mind and focused on his education.
Enoch, in his history of the Hagenbuch family, confirms this when he writes that his older brother "taught school." Indeed, there is a small, one-room building on the Hagenbuch homestead property that is thought to have been the location of a school.
In addition to teaching children, Timothy worked as a scrivener and helped to create written documents for the residents of Albany Township. Several of these survive today in museums and collections of Pennsylvania Deitsch Frakturs. Franklin & Marshall College has three of Timothy's birth and baptism certificates, known as Taufschein, in their library.
Each Taufschein began as a broadside pre-printed with a poem as well as drawings depicting angels, birds, or scenes from the Bible. Timothy was paid to transcribe upon this the details of a child's birth and baptism using the Fraktur style of calligraphy. In addition, he would hand-color the drawings to create a unique document with vibrant colors.
Timothy also appears to have worked for his younger brother, Amos (1808-1868). In his will, Timothy states, "I give and bequeath at first to my brother Amos the whole sum of which I have earned by him at the Pine Creek." While the exact nature of the work is unclear, it probably was related to his skills as scrivener.
As was previously noted, Timothy Hagenbuch never married. The 1850 census reveals that he lived with the family of his sister, Sarah "Hagenbuch" Knepper, and her husband, Isaac Knepper. Also listed in the household is Timothy's younger sister, Esther Hagenbuch (1807-1867). Esther suffered from some form of mental disability as evidenced by her being marked as "insane" on the census sheet.
It appears that Timothy supported and cared for his disabled younger sister–a theory which is further bolstered by his will. In it, he writes:
I give and bequeath … money in equal shares to my brothers and sisters them that are hear [sic] named, excepting Esther shall [receive] twice as much as any one of the others, Michael, Anna, Nathan, Enoch, Daniel, Sarah. In case that Esther's money that here bequeath should not be sufficient during her life, then shall my brothers and sisters them that have inherited from me, one as the other shall assist her if it should take all the money which they have inherited from me.
The above excerpt reveals Timothy as a caring, older brother who desired to look after his younger sister even after his own death. Perhaps, it was this devotion that prevented him from marrying and building a family of his own?
Timothy also thought highly of his 19 year old nephew, Solomon Bailey Hagenbuch (b. 1833), who was the son of his brother, Amos. In his will, Timothy gave the young man $200 (about $6000 in today's money), a watch, and his collection of books. He also left his nephew specific instructions "not to sell any religious ones but … make diligent use of them." Timothy's compassion and concern for Solomon is evident, leading one to question if he thought of the young man as a son.
In 1850, two years before his death, Timothy Hagenbuch drafted his will. Though only in his mid-40s, he must have known that an early death was imminent. He was buried a short distance from the Hagenbuch homestead at New Bethel Church in Albany Township. Interestingly, his gravestone references the Bible text Romans 8, 18-23. These verses read as follows:
I consider that our present sufferings are not worth comparing with the glory that will be revealed in us. For the creation waits in eager expectation for the children of God to be revealed. For the creation was subjected to frustration, not by its own choice, but by the will of the one who subjected it, in hope that the creation itself will be liberated from its bondage to decay and brought into the freedom and glory of the children of God.

We know that the whole creation has been groaning as in the pains of childbirth right up to the present time. Not only so, but we ourselves, who have the firstfruits of the Spirit, groan inwardly as we wait eagerly for our adoption to sonship, the redemption of our bodies.
One can only speculate as to the reasons why the above text was selected. Perhaps, it is a reference to the physical or spiritual pain Timothy experienced in his life. Yet, another way to view it is a reference to the frustration he endured through the years of watching over his disabled sister. Unfortunately, it is impossible to know for certain.
Timothy's gravestone presents one final mystery. On it, his name is spelled Timotheus. A similar spelling is used in his will when he calls himself Thimotheus. Is this Greek spelling of his name a Biblical reference? Did, Timothy, upon learning that Timothy of the Bible was a Greek, use an alternative spelling of his name? One can only wonder.
In a family tree, some branches grow while others do not. However, this does not mean that some people should be forgotten. Timothy Hagenbuch's life, though short, enriched and positively impacted those around him. Today he is remembered for his compassionate care of his sister, dedicated career as a teacher, and artistic talent as a scrivener whose work lives on in museums.