Robert and William: Hagenbuch Twins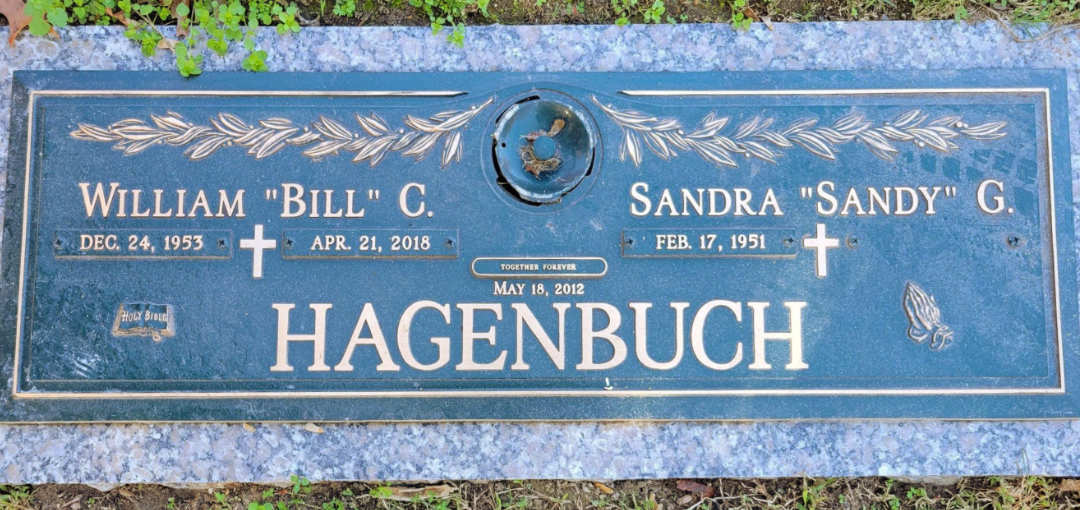 Once again I am writing an article that has many names, dates, and places attached to it. It may not be as thought provoking as other subjects, but it is necessary so that we can document and remember these Hagenbuchs and their families.
On December 2nd of last year, Andrew sent me the obituary of Robert Frank Hagenbuch who was born on December 24, 1953 and died September 28, 2022. Like with a few other obituaries Andrew has dug up (no pun intended), we weren't sure who this was without some research. Unfortunately, the obituary included few details in it.
I began by going to my old paper records to look for clues as to Robert's ancestry. Nothing on Robert Frank Hagenbuch born in 1953. And, although my paper records are often helpful, I have not updated them for many years. Next, I did a search through Whitepages.com for a Robert Hagenbuch living in Richmond, Virginia and found that living with him had been a Charles F. Hagenbuch. Searching through the 1940 census records brought up Charles Frank Hagenbuch living in Virginia with his parents Paul and Ruth Hagenbuch and siblings. It didn't take too long until I could trace Robert's family line back to our patriarch, Andreas Hagenbuch. Although filled with holes, my paper records did end up detailing some of this family's line.
Robert's and William's line is: Andreas (b. 1715) > John (b. 1763) > Michael (b. 1799) > William A. (b. 1841) > Charles Ernest (b. 1873) > Paul Gideon (b. 1894) > Charles Frank (b. 1920 ) > twins Robert Frank and William Charles (b. 1953). I sent this information to Andrew, then waited until we got through the holidays—since I had articles planned for Christmas and New Year's—to finish the research and write this article.
Much has been written about Andreas' youngest son, John (b. 1763). A previous article written in June of 2021 gives information about John's son, Michael, who was born in 1799 and married Mary Hess. That article also mentions their five children, one of which was William A. Hagenbuch born in April of 1841 near Bear Gap, Northumberland County, Pennsylvania. William married Frances "Fannie" Kirkendall in 1872, and they had two children: Charles Ernest (b. 1873) and Mary Alice (b. 1884, m. Paul Lohr). William is listed as a farmer in the 1870 census as he was living with his aunt Lavinia (Hagenbuch) Fowler and his cousins, helping out on their farm. In the 1900 census, William is listed as a night watchman at the Berwick Stove Company. He, Fannie, and their daughter, Mary Alice, were living in Berwick. The census also notes that they are renting out rooms in their home to boarders.
William A. Hagenbuch died in 1916 and his wife Fannie died in 1940. In 1930 she was living with her daughter, Mary Alice (Hagenbuch) Lohr in Berwick, PA. William and Fannie are buried at the Pine Grove Cemetery in Berwick. Paul and Mary Alice (Hagenbuch) Lohr had one daughter, Thurley, who was born in 1920 and died in 2020. Thurley was named for the main character in the 1919 book The Gray Angels, which her mother was reading when she was born. Thurley Lohr became a registered nurse working at Geisinger Hospital in Danville, PA and married Harry Bittenbender in January of 1943. He worked as a steel worker in Berwick, until October of 1943 when he joined the United States Marines. Harry obtained the rank of sergeant and served until July of 1945 as an instructor at Quantico, Virginia. The couple had one child, Mark, who died in 2004. Harry and Thurley (Lohr) Bittenbender are buried at Mansfield Memorial Park, Ontario, Ohio.
William's and Fanny's son, Charles Ernest Hagenbuch was born in 1873 and married Ada Beishline. They had two children: Paul Gideon (b. 1894) and Veda (b. 1897). In 1910, the family was living in Wilkes Barre, PA, and Charles was working as a railroad conductor. Charles died in 1939 and Ada died in 1925. They are buried at the Pine Grove Cemetery in Berwick, PA. Their daughter, Veda, married Charles Smith, who was a draftsman. They lived in Bloomsfield, New Jersey. In 1927, their daughter Beverly was born. She grew up and married Wilbur Chinery. Veda (Hagenbuch) Smith died in 1971 and her husband Charles died in 1963. They are buried at Restland Memorial Park in Morris County, NJ.
Paul Gideon Hagenbuch served in the United States Navy as an "apprentice seaman and inspector" at the Cape May Base Hospital from 1917 to 1918, when he received an honorable discharge due to health problems. He married Gertrude Mary Keefer in 1919. In 1930 Paul was working as a draftsman for a construction company and they were living in Deptford, NJ. The couple had three children: Charles Frank (b. 1920), Paul Gideon Jr. (b. 1921), and Phyllis Elizabeth (b. 1927). Gertrude died in 1937 and is buried at Fort Lincoln Cemetery, Brentwood, Maryland. Paul was remarried in 1938 to Ruth Thomas. He died in 1982 and Ruth in 1983. They are buried at the Skyway Memorial Gardens, Palmetto, Florida, where it seems they may have had moved sometime after 1950 from Arlington, Virginia.
Paul and Gertrude's daughter, Phyllis, married John Maley in 1949. They were living with Paul Gideon Hagenbuch and his second wife, Ruth, in Arlington, VA in 1950. John was working as an auto mechanic. Phyllis died of cancer in 1983 and is buried in Falls Church, VA. The younger son of Paul and Gertrude, Paul Gideon Jr., was working for an Arlington plumbing company in November of 1942 when he enlisted in the United States Army. Paul, Jr. married Minnie Koepper, and they had three children: Paul Gideon III (b. 1947, d. 1949), Joan (b. 1948), and Wayne (b. 1952). This information came from a letter I received in 1979 after I had written to Paul Jr. in Edgewater, MD asking for his family's information. His wife, Minnie, wrote back but then I lost contact with them. Paul Gideon Hagenbuch, Jr. died in 1992 and Minnie died in 1989. In the letter, Minnie questioned how I found their address. Back then, I relied on friends and relatives finding Hagenbuchs in telephone books as they traveled around the country. It was very hit and miss compared to today's standards!
This brings us to the father of Robert and William Hagenbuch, Charles Frank Hagenbuch (b. 1920). Charles was working in a department store when he enlisted in the U.S. Army in October of 1942. He married Doris Howard in 1953 and the twins, Robert Frank and William Charles, were born that December. From census and marriage records, it seems that Charles and Doris had been married previously and divorced from those spouses. In addition to the twins, Robert and William, Charles and Doris had another son, Raymond. Charles Frank Hagenbuch died in 1990, and Doris died in 2019. They are buried in Forest Lawn Cemetery, Richmond, VA. Twin William Charles Hagenbuch died in 2018. He was married but had no children.
There is still a lot of work to do on this Hagenbuch family. Doris (Howard) Hagenbuch's obituary mentions having grandchildren and great grandchildren, probably some of whom are descendants of the two sons, Robert and Raymond. As with other families that we come across which are missing from my paper records and Beechroots, I ponder how the years have passed without us knowing about these individuals. It takes hours of research in cases like this one to fill in the blanks using tools like Ancestry and Findagrave. It takes even more research to utilize Whitepages, Facebook, and other internet tools to track down the family members who are alive in the 21st century. However, this is the task that Andrew and I have set ourselves out to do!