Hunting for Lost Children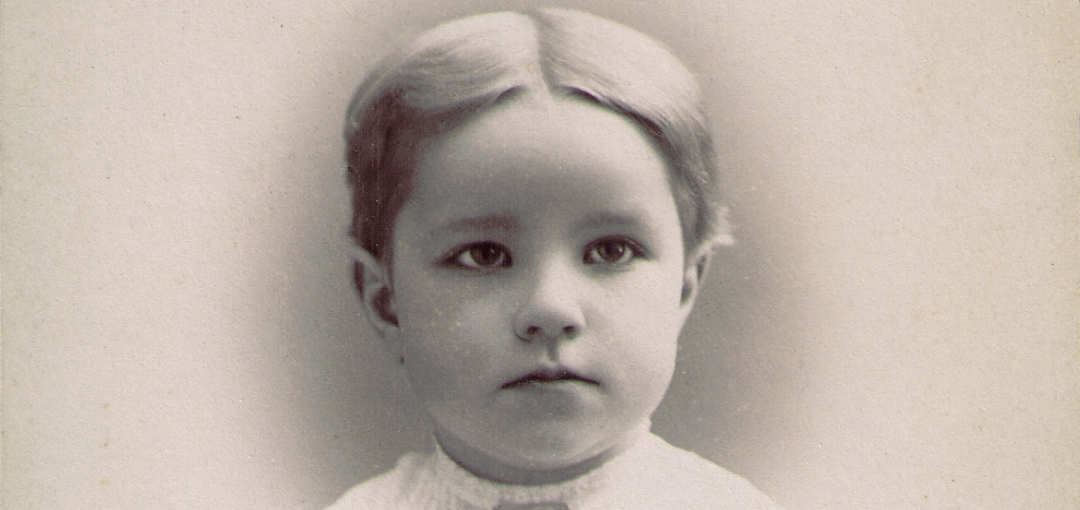 There is little more fulfilling to genealogical work than gazing at 100 plus year old photos of lovely children: their clothing, their innocent expressions, and knowing how they are related to us. Realizing two out of three of these joys is fine. But when we have children's photos that cannot be identified, it's sad. Such is the case with 14 photos I recently found in the Hagenbuch Family Archives. Adding to this disappointment, I don't know where these photos came from! I stashed them in a file some time ago and did not mark the donor.
As I looked over these the other day, I could separate out five of the photos. Not only were they from the same photographer, M'Killip from Bloomsburg, Pennsylvania, but they also appear to have been taken during the same time period. What's more, two of the photos have writing on the back to identify the children: Hiram Creasy on one, and brothers Nevin and Paul Englehart on the other. The other three photos are of a little girl with the sweetest face one would want to gaze upon. But who is she?
Using these five photos as the theme for this article, my task was to find out who the little girl was, as well as Hiram, Nevin, and Paul. I wanted to see if the three boys were related to the little girl and determine if they were related to the Hagenbuch family.
Instead of beginning with Hagenbuchs, let's start with the Hess family because I found out that the three boys were descended from that family in Columbia County, Pennsylvania. After some research, I discovered that John Hess, Sr. (b. 1776, d. 1850) was married three times. His first wife was Eva Catherine Knorr, who he married in 1796. Eva Catherine died in 1826. From this marriage were born John Jr., Susannah, Mary, Charles, Abraham, Isaac, Jeremiah, Aaron, and Thomas.
However, before writing about their descendants, let's take a look at just Eva Catherine (Knorr) Hess (b. 1778). Eva's parents were Leonard (b. 1741, d. 1824) and Susanna (Womelsdorf) Knorr. Five children were born to this marriage—one was Eva Catherine and another was John (b. 1783). John and his wife Susanna (Hess) Knorr are buried at Hidlay Church Cemetery, Columbia County, PA. Many Hagenbuchs are buried there, making it a "Hagenbuch church."
The couple had two children: Anna and William. Anna (b. 1810, d. 1839) was married to William Hagenbuch (b. 1807, d. 1879), who was my great great grandfather. After Anna died in 1839, William married Rebecca Muffley. William and Rebecca are buried at Oak Grove Church, another "Hagenbuch church." Confused yet? We haven't even gotten to the photos of the children!
Back to three children of John Sr. and Eva Catherine (Knorr) Hess.
John Hess Jr. (b. 1797, d. 1868) was married to Mary M. Hagenbuch (b. 1799, d. 1870). Mary M. (Hagenbuch) Hess' parents were Henry (b. 1772, d. 1850) and Mary (Wolf) Hagenbuch. Henry's grandfather was the patriarch, Andreas (b. 1715, d. 1785). Counting Mary Hess, the family had eight children total. One of these was William (b. 1807, d. 1879) who was, as mentioned above, married first to Anna Knorr. With this mix of Hagenbuchs, Hesses and Knorrs, there are some double cousins!
However, let's move on. Another of John Sr. and Eva Catherine (Knorr) Hess' children, Mary (b. 1802, d. 1867), was married to Michael Hagenbuch (b. 1799, d. 1852). Michael's father was John born 1763, the youngest son of patriarch, Andreas. Michael and Mary (Hess) Hagenbuch had five children: Lavina (m. Enos Fowler), John Jackson (m. Elizabeth Armstrong), Catherine (m. Isaiah Freas), William A. (m. Fannie Kirkendall), and Charles Wesley (m. Sarah Seybert). Several of these children have been featured in previous articles. Michael and Mary (Hess) Hagenbuch are buried at Hidlay Church cemetery.
Oh, but we want to get to the children! John and Eva Catherine (Knorr) Hess' son, Isaac (b. 1808, d. 1883), married Anna Miller (b. 1818, d. 1881). They had five children: Anna Matilda, Margaret Ann, Mary Alice, Ella Isadora, and Ida May. Isaac and Anna (Miller) Hess are buried at Creveling Cemetery, Almedia, Pennsylvania.
Anna Matilda (b. 1840, d. 1904) married Hiram Sweppenheiser. They are buried at Creveling Cemetery. They had four sons and one daughter: Addison, Anna, Charles, John and Hiram. Anna, (b. 1863, d. 1931) married Henry Lloyd Creasy. From this marriage were born five sons and one daughter. The eldest son was Hiram Wilbur Creasy, the dapper little boy in the photo who is not only wearing a velvet coat, leggings, and a white bow tie, but also a tartan kilt (common children's fashion at this time due to the influence of the British royal family)! Hiram (b. 1885, d. 1936) and Malinda "Millie" (Harker) Creasy were married in 1911. They had one son, Robert. Hiram and Millie lived in Schuylkill County and farmed. They are buried at Mahanoy City, Pennsylvania.
Isaac and Anna (Miller) Hess' second child, Margaret Ann (b. 1842, d. 1907), never married. She lived with her parents and cared for them. She is also buried at Creveling Cemetery.
The third child of Isaac and Anna (Miller) Hess was Mary Alice (b. 1844,  d. 1914). She married Thomas Sweppenheiser, brother to Hiram Sweppenheiser, who was married to Mary Alice's sister Anna Matilda—sisters marrying brothers! Thomas and Mary Alice (Hess) Sweppenheiser had four children: Edwin Grant (m. Nora Nagle), Carrie May (m. Harvey Rice), Ella (m. Elmer Wilson Hagenbuch), and Florence (m. Euan Daniel Adams). Here is another connection to the Hagenbuchs! Elmer Wilson Hagenbuch's line is: Andreas (b. 1715) > John (b. 1763) > Jacob (b. 1792) > Jeremiah (b. 1814) > Jacob S. (b. 1846) > Elmer (b. 1873). Elmer and Ella (Sweppenheiser) Hagenbuch had one son Gilbert (b. 1895, d. 1958). Thomas and Mary Alice (Hess) Sweppenheiser farmed and are buried at Creveling Cemetery. Their daughter Ella and her husband, Elmer Wilson Hagenbuch, are buried at Roselawn Cemetery in Berwick, Pennsylvania.
The fourth child of Isaac and Anna (Miller) Hess is Ella Isadora (b. 1852, d. 1873). She married Charles Fowler. No children were born to this marriage as Ella died young. She is buried at Creveling Cemetery. Charles Fowler seems to have remarried and may have moved to Connecticut.
Finally, we learn about the youngest child of Isaac and Anna (Miller) Hess and the photos of the other children. Ida May Hess (b. 1856, d. 1913) married William Henry Englehart. They farmed near Almedia and had five children: Nevin, Paul, Margaret, William, and Alice. Nevin (b. 1886, d. 1952) is the little boy shown with his younger brother, Paul (b. 1888, d. 1971). They are wearing the dresses typical of both boys and girls of that era before they were potty trained. Nevin married Aleta Bomboy and Paul married Harriette "Hallie" Compton. Nevin and Aleta lived in Almedia and farmed. Paul and Hallie lived in Harrisburg, Pennsylvania. Paul worked as an accountant. He and Hallie are buried in Harrisburg. Nevin and Aleta, along with parents William and Ida May (Hess) Englehart, are all buried at Creveling Cemetery.
Now, we come to the three photos of that sweet, unidentified girl. Looking through all the possibilities in the Englehart, Sweppenheiser and Hess families in the 1880s and 1890s, I believe it to be William and Ida May Englehart's daughter, Margaret, sister to Nevin and Paul. Margaret (b. 1889, d. 1972) married Eugene Esch, and they had three children: Margaret "Madge", Mary Louise, and Eugene, Jr. In 1930 the Esches lived in Ferndale, Cambria County, Pennsylvania. The census for that year lists Margaret as a homemaker and Eugene as a foreman working in a blast furnace within the steel industry. They are buried at Southmont, Pennsylvania.
Although we not certain these photos are Margaret (Englehart) Esch, they seem to follow in an age progression. Unsmiling in the images, the child has an angelic innocence. The earliest photo has her dressed in a jumper with some sort of necklace or hanging pearls attached to the one shoulder strap. The next photo shows her dressed up for a winter walk. Look closely at the details of the coat, muff, and hat. They are lovely and have intricate workmanship. The last photo, a cameo, is the simplest and most beautiful of the three. In all the images this child has her hair parted and pulled back to show her perfect countenance.
Once again, as genealogists, Andrew and I have taken a few photos and found interesting details that bring these people to life. The bits of information from these photos have generated information, enabling more people to be added to Beechroots.
Think of all the connections these people have! Think of how these Columbia County families: Hess, Knorr, Hagenbuch, Sweppenheiser, Englehart and others were all related and knew each other so well. I have a friend who showed me some old photos the other day of her family. Of the 30 or so photos, she could only identify two or three. Information on the rest, their names, and relationships were lost to time. Thankfully, the children in these five photos have now been rediscovered. They are once again real people with real stories—and, they have brought so many of our family back together. "…and a little child shall lead them." (Isaiah 11:6)