Do What You Do (I Don't Know What You Do)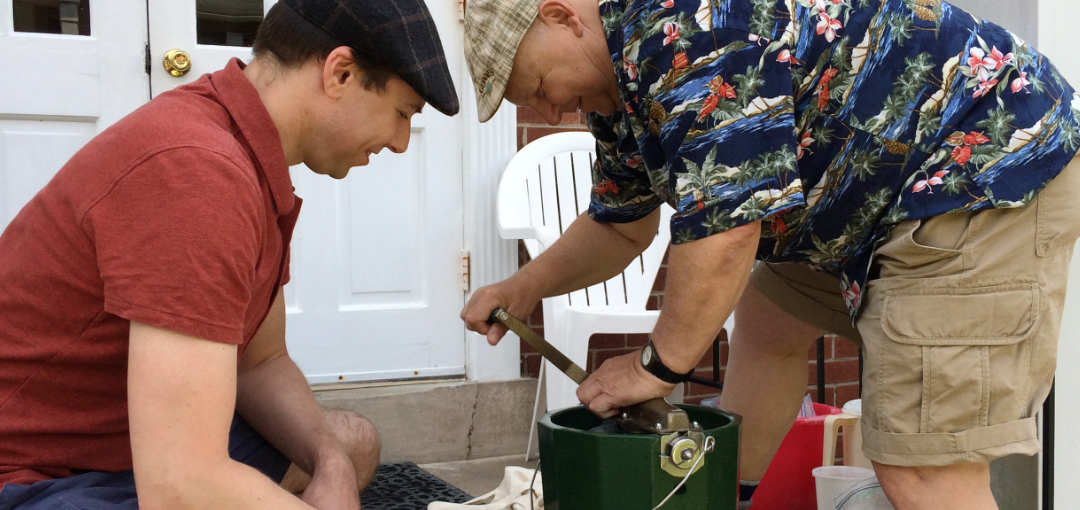 When I was eleven years old, my parents purchased a video camera. Soon my sisters, cousins, friends, and I were making home movies. The films, with titles like The Detention Girl, had loose plot lines and ad-libbed dialogue. We were complete amateurs at the craft of moviemaking. Yet, we had a lot of fun creating our little masterpieces and still quote from them decades later.
For instance, in Oh My Gosh! my cousin, Christina Young, played the manager of a hotel where an esteemed scientist, Dr. Schlockenheimer, had been murdered. In one scene, Christina, unsure of what to say next tells my sister, Julie, to "Do what what you do. I don't know what you do!"
While it didn't win an Oscar, this line has been repeated again and again in our family. Just this past weekend, I thought of it when my sister-in-law asked me about how we come up with so many interesting stories for Hagenbuch.org, or as I heard it in my head: "How do you do what you do? (I don't know what you do.)" With this in mind, I thought I would explain how my father, Mark, and I find inspiration, research stories, and publish these on the site.
Inspiration
The ideas for our articles come from a variety of different sources. Many of our earliest pieces relied upon the genealogy records that my father had collected over several decades, as well as family photographs in the Hagenbuch Archives. Eventually, we started doing more primary research by examining census records, property deeds, and historic maps. Each of these can provide clues about family movements, marriages, and other relationships.
Another source of inspiration comes from old newspapers and their contents. Along with obituaries, newspapers publish advertisements and longer stories about local happenings. Sometimes these mention the names of specific family members and their businesses. My father and I read books for ideas too. Family histories from the 19th and early 20th centuries, biographies, cookbooks, and niche subject matters have all provided information for articles.
Most importantly, we possess a curiosity about people and their lives. Sometimes relatives reach out to us with information about their family lines and loved ones. Other times, we stumble upon a name without an appropriate place on our family tree. We believe that everyone has a story and these are all worth sharing. In that sense, our shelf of inspiration is nearly limitless.
Research
Once we have an idea for an article, my father and I research the subject matter. Today, the internet makes it easy to examine genealogy sources from home. Many times a well-formed Google search can return helpful results about a family member, such as a social media profile or a recent obituary if deceased.
We also use online tools such as Ancestry, Find-A-Grave, and Family Search. These provide access to a number of resources including census records, burial locations, and deeds. Recently, we have started using Newspapers.com to explore historical newspaper articles that mention family too.
Lastly, we rely upon Beechroots, our custom-built database of family names, to locate relatives and families on our tree. As Beechroots has grown to over 4,500 people, we find ourselves referencing my father's paper genealogy records less and less. Nevertheless, these still come in handy when something is missing from Beechroots.
Publishing
Writing articles for Hagenbuch.org is a weekly task. While we trade off who writes an article each week, my father and I collaborate on proofreading and editing each piece. These are typed directly into the site's content management system then.
Once the article's copy has been written, I work on cleaning, adjusting, and resizing the images that will accompany it. Additionally my wife, Sara, does a final review of all the articles before they are posted. We strive to complete that by Sunday night, so they can be published on Tuesday morning. For over six and a half years, we have managed to keep up this process without skipping a beat!
While I was writing this piece, Sara looked over my shoulder and quipped "You've written an article about writing articles!" Yes, it is a bit meta, as they say. However, there was one final reason I wanted to share it with everyone.
This past weekend marked the first time my father and I talked in person since the pandemic began in early 2020. As one might imagine, we enjoyed a number of Hagenbuch activities together: sharing stories, discussing genealogy, looking at old photographs, and, of course, making Grape-Nut ice cream.
We hope to keep doing what we do (now that you know what we do) for many more years to come.