The Privy Bottle, Part 1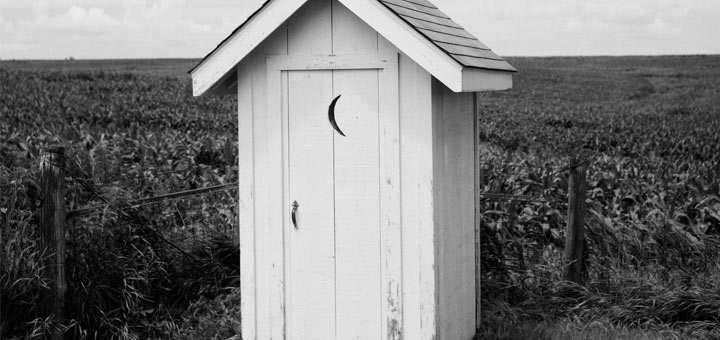 This two-part article tells the fictional story and true facts about a bottle recently discovered in a privy in Tamaqua, Pennsylvania.
The year was 1875. Mr. Smith, from Tamaqua, Pennsylvania, had taken the train on a business trip to Williamsport in Lycoming County. While there he came down with a cough and some other lingering symptoms of distress. Asking at the hotel, he was directed to a local druggist, Mr. George M. Hagenbuch, who lived on Pine Street.
Mr. Smith found Mr. Hagenbuch behind the counter mixing some liquids together and using a funnel to fill some medicine bottles. When druggist Hagenbuch found out what maladies Mr. Smith had contracted, he prescribed a concoction which, according to Mr. Hagenbuch, would cure lingering coughs, laryngitis, public speaker's sore throat, indigestion, and constipation.
Mr. Smith purchased a bottle of the elixir and the druggist pointed out that the bottles had the name "Hagenbuch" on one side and "Williamsport" on the other. "That way," stated Mr. Hagenbuch, "you'll always know where to find more of this wonderful elixir." That afternoon, Mr. Smith checked out of his hotel and caught the train back to Tamaqua. He dosed himself well with the Hagenbuch medicine before boarding.
After about a four-hour trip, Mr. Smith arrived back in his hometown of Tamaqua. He lived close to the train station. During the train ride (there were several stops along the way), he had almost finished the bottle of medicine he had purchased from Mr. Hagenbuch. As he began the short walk back to his home, he suddenly realized that his cough was much better but that he was certainly not constipated. On the contrary, his bowels gurgled wildly, and he broke into a very fast walk to try to reach his home.
Knowing that he probably would not make it, he popped into a public privy. Moving quickly, he opened the door, (thank goodness no one else was in there), stepped inside, shut and latched the door, and began his "business." Dusk was just settling on the town of Tamaqua and only a bit of light was still filtering through the crescent moon cut-out into the outhouse door.
Mr. Smith began to feel much better. He was marveling at the medicinal qualities of the Hagenbuch concoction, when he remembered that there was still a bit of the amber liquid left in the bottle. Still seated, he took it from the inside of his suit jacket, uncorked the bottle, and took a swig. As he held the bottle up to see if any more of the medicine was left, it slipped from his hand and dropped with a "plop" through the other hole beside him. "Oh well," Mr. Smith said out loud with only a few spiders to hear him, "that did the trick. Druggist Hagenbuch knew what he was talking about!"
A hundred and forty years later while searching for artifacts at an old outhouse site in Tamaqua, Bill Jones (not his real name) found the medicine bottle. He decided to sell it on eBay, and the bottle was purchased by Andrew Hagenbuch. It is now part of our archival treasures.
George Miller Hagenbuch was a druggist in Williamsport, PA and is listed in the 1880 census as such. His genealogical line is: Andreas (b. 1715) > John (b. 1763) > Simon (b. 1788) > George Miller (b. 1826). George was married to Campaspa Melick.
The next article in this series will provide additional information about George M. Hagenbuch's family, as well as the privy bottle.