Birthday Celebrations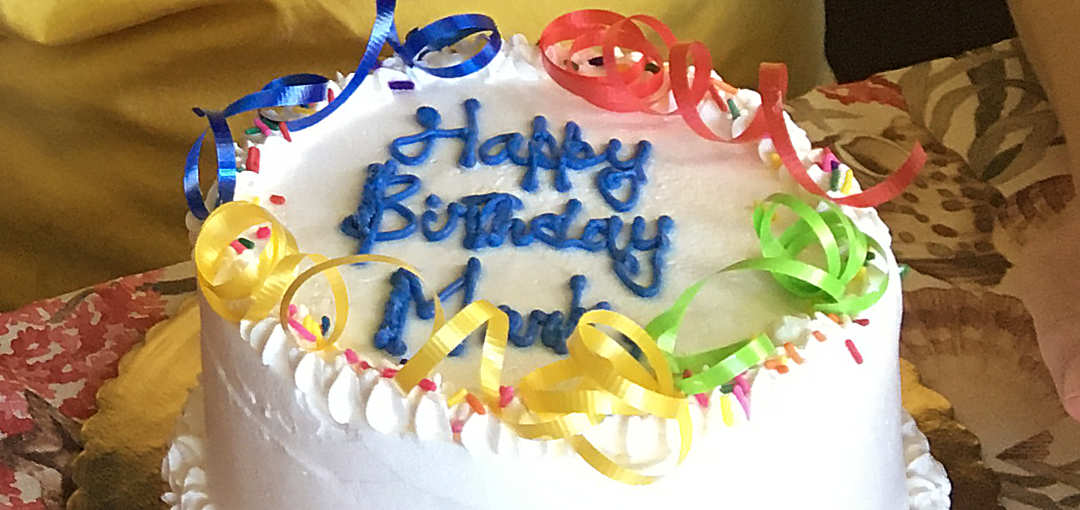 As Andrew wrote in last week's article, we often get inspiration for articles from photographs. Fortunately, I started collecting photos from my Montour County, Pennsylvania family when I was very young, and over the years, I have been given many more photos of other branches of our families. Also, we now have the ability to capture photos from internet sources and store them on the computer.
One photo got me thinking about my own birthday, especially my birthday celebrations in the past. I only had one birthday party as a boy, when I was eight years old. Not long ago, I saw the photo taken of myself and the children who attended that party. But now I cannot find it! In fact, it may not even be a photo, but a slide that is stuck in among many other old slides which my parents were given by my aunt, Ellen Hagenbuch. Aunt Ellen was a prolific photographer during the 1950s and 1960s. I have looked through many boxes of photos in the Hagenbuch Archives, and I have gone through some slides. Still, I have had no luck on finding this special photo—yet!
However, I want to describe the photo, and when I do find it, I plan on publishing it in an article with some other photos which I often bypass and later wish I had put them aside for future articles. My eighth birthday occurred on Monday, June 19, 1961. The party probably happened the Saturday before on June 17th. I remember being in our back yard at the farm, behind the house playing in my sand box when I heard commotion out front. My mother may have even called for me. As I rounded the corner of the house there were several children waiting for me. I don't know if they shouted "surprise," but I was surprised!
The photo has me standing in the middle of the group of children who attended my birthday party. I am wearing one of my gifts, although I am not sure who gave it to me. It is a straw hat with a wire screen covering a small cutout in the front —to circulate out the hot air. The children around me, as I remember, are my cousins: Denise Lowe, Steve Shupp, and Linda Hagenbuch. The other children are school friends: Randy Durlin, Dale Myers, and Linda Penman, as well as I believe Danny Phillips, Darla Snyder and Debbie Chaapel. It's 1961 so you can imagine the clothing we were wearing. The girls were in dresses with bows in their hair and the boys in jeans with crew cuts.
I don't remember many of the other gifts that I was given. I don't remember a cake, but I'm sure there was one. I don't remember us playing any party games. Yet, I do remember a gift that was given to me that day by my Hagenbuch grandparents, Pap Pap and Grandma. It might have been after the party that they dropped off a tool set. These were real tools but in miniature: a saw, hammer, screwdriver, pliers, and ruler, all in a red metal box. I sure wish I had that tool set now!
Oftentimes, folks associate themselves with people who have the same birthdates, as if they have the same personalities. I suppose I am proud to say that I share my birthday with James I of England (the same James VI of Scotland, son of Mary, Queen of Scots) who was born in 1566. He is remembered for authorizing the King James version of the Holy Bible. Other notables born on June 19th are wrestler André the Giant, actress Kathleen Turner, and Boris Johnson the present Prime Minister of Great Britain. If we take a look in Beechroots, I share this birthdate with Esther (Hagenbuch) Moyer who was born in 1817 and was the daughter of Johann Conrad and Mary (Ruckle) Hagenbuch. I also share my birthday with Jay Randall Hagenbuch born in 1935 who was the son of Ray and Carolyn (Thurlow) Hagenbuch.
Birthdays have been celebrated for thousands of years in all cultures. There is usually a party with ice cream and cake, candles, and the traditional "Happy Birthday" song. I know that many children have a birthday party every year beginning when they are one year old which they never remember; but the parents and grandparents are there to remember for them! As people become older, parties change from a few close relatives attending, to several childhood friends being invited, to teen friends and young adults taking the birthday boy or girl out, and finally in the latter years when one's children and grandchildren are present. By this time, the usual statement from the birthday person is, "Well, I really don't care much to think about getting another year older!"
I wonder if birthdays become more important to people who have health issues. For me, another year to celebrate the anniversary of my birth has become a blessing since I was diagnosed with Stage IV prostate cancer on June 2, 2016. Since then, each birthday celebration is a milestone meaning I made it another year and I must continue to fight to celebrate again.
This year, although only turning 68, was very special. Our nuclear family of Andrew, Sara, and William from Yardley, PA; Katie, Nelson, Hadley, and Ada from Freeport, Maine; and Julie and Eddy from Lewisburg, PA were in contact with Linda and me on my birthday. We FaceTimed with the Mainers, we visited with the Yardleys, and the Lewisburgers came to visit us two days later. Also, the Mainers will be visiting with us soon for several days! In addition, I received a visit from my sister, Barb, phone calls and messages from my brothers, Bob and Dave, and over 200 birthday greetings from friends and relatives. To me, I no longer state, "Oh, it's just another year."
The celebration of birthdays can ebb and flow for most people due to age and family circumstances. A photo can jog a memory, so one remembers a special birthday celebration. When we are young, our parents usually take those special photos, with decorations and the birthday child wearing a party hat. We often lose this sense of playfulness as we go through our teen and middle years. But then, the playfulness may return as we mug for the camera in a funny hat once again. Let's celebrate birthdays with joy and fun! And, as my brother Dave always quips to birthday folks, "Eat cake!"
(Now, back to looking for that photo of my 8th birthday party!)