September, 1893 or Why Genealogy Can Be So Frustrating!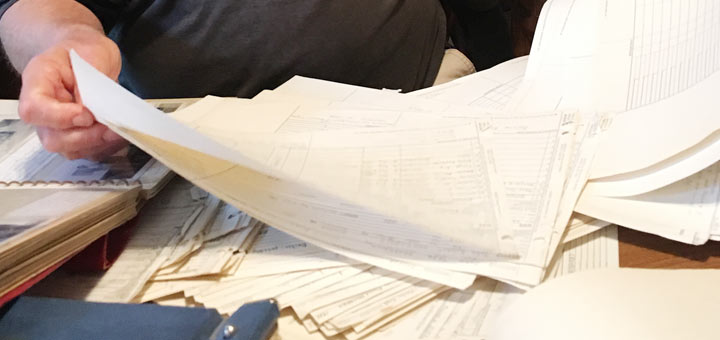 This morning (Monday, Aug. 14) I was awake and up by 4 AM. I had several emails to send out, some regular mail to go through for an elderly lady for whom I serve as power of attorney, and I wanted to begin an article for this website. My idea was to take the month of September and write about relatives in my records who were born, married, or died in that month. Then tie those dates with some world events occurring at the same time.
As I leafed through the worn papers that I have kept my records on for the past forty years, the first September date I came to was a birth date of Sept. 17, 1851 for Thomas H. Hagenbuch from the Bethlehem, PA area. And, consequently, I found that he died in September, on the 22nd day in 1893. Thomas's father is listed in my records as Jacob Hagenbuch (b. 1830). I continued through more records to check the line of Thomas: Thomas (b. 1851) < Jacob (b. 1830) < Daniel (b. c.1803) < Jacob (b. 1765) < Henry (b. 1736) < Andreas (b. 1711). I planned on writing a paragraph about him and his lineage and then find more Hagenbuchs or relations that had September dates.
Well, one thing leads to another. As I read Jacob Hagenbuch's information sheet, I saw that he died on Sept. 22, 1893, the same day listed as Thomas's death date. Ah! There is a bigger story here. I logged into ancestry.com to check grave records for this father and son. I found Jacob, who is buried at Nisky Hill Cemetery, Bethlehem, PA. But, I did not find Thomas. I widened the search for all of Pennsylvania graveyards – still no burial site for a Thomas Hagenbuch.
This is where genealogy always becomes interesting. I have sometimes spent hours searching for someone's grave site either on ancestry.com or findagrave.com which are both prime resources. But, there can be glitches and one of the most common is that not all graves have been photographed or logged for the cemeteries listed in findagrave.com.
My mind wandered and I decided to check out newspaper clippings from September, 1893 in the Bethlehem/Allentown area. Maybe, with father Jacob and son Thomas dying on the same date, there would be an article about the circumstances? More time was spent on this, but I found nothing. Then I shifted gears.
By now I had spent about two hours on this search, as it led me another way for about half an hour while I researched Thomas's siblings. One in particular was familiar to me. Thomas had a brother John Daniel Hagenbuch (b. 1874) whose grandson, also named John Daniel, lived in Holland, PA and had been in contact with me in the 1980s. In fact, I had a newspaper article of him in the archives. I searched for it and found it. I remembered John was an engineering professor and, I was back on track with Thomas.
I went back to ancestry.com to search if there was a death certificate listed for either the father Jacob or the son Thomas. All of a sudden a 1900 census record popped up for Thomas! How could this be? I had it listed that he died the same day as his father in 1893 – the coincidence was to be this article's theme.
The light bulb brightened in my mind as I looked at the reference I have listed for the death date of Thomas. It was given to me by a great grandson of Thomas, Ed Hagenbuch of Hazleton about 30 years ago. Either he had given me the wrong date by mixing it up with his great great grandfather Jacob, or I had written down the date for the wrong person. Whatever the case, the mistaken death date for Thomas got in my records. The wild goose chase was over.
However, I still cannot find a grave site or death date for Thomas H. Hagenbuch who was born in 1851 in the Bethlehem area. That said, I do have lots of other information on him and his family. One thing for sure, I will probably spend several more hours looking for Thomas's gravesite, a needle in a haystack. It's a frustrating but rewarding task for a dedicated genealogist.
Here is some of Thomas's information beginning with his family lineage: Andreas (b. 1711) > Henry (b. 1736 and owner of Cross Keys Tavern in Allentown) > Jacob (b. 1765, m. Margaret Romig, he inherited the Cross Keys from his father). In his 1810 will, Jacob names four underage sons, one of which is Daniel.
Daniel was born on Oct. 15, 1803 and died on March 6, 1876. He married Hanna Steckel, and they are buried at Salem Union Church cemetery, Moorestown, PA. Daniel and Hannah had six children one of which was Jacob Hagenbuch, born Sept. 15, 1830 and died Sept. 22, 1893. He married Elizabeth Loehr, and they had nine children. Jacob and Elizabeth are buried at Nisky Hill cemetery, Bethlehem, PA.
A future article may outline in detail the family history of these nine children, as there are some interesting facts surrounding them. For example, Allen Wesley Hagenbuch changed his last name to Hagenbach and became a well known doctor in the Chicago area. The youngest child, John Daniel Hagenbuch, was born in 1874 and died in 1916. He married Catherine Blackwood and they had four children, one of which was Jacob Hagenbuch (b. 1895, d. 1983) who was married to Marion Brown in 1917. It was their son, John Daniel Hagenbuch (b. 1918), who lived in Holland, PA with his wife Ella Jane (Van Horn) Hagenbuch and with whom I had corresponded with 30 years ago.
The eldest child of Jacob and Elizabeth (Loehr) Hagenbuch was Thomas H. born in 1851. But he did not die in 1893 as was once thought. Thomas was married to Ida Heist and in the 1880 census records they have three children listed: Joseph J. (b. 1873), Edward Allen (b. 1876), and Franklin T. (b. 1879). In the 1900 census a child, Elizabeth, is listed as age "5/12" meaning five months old. The wife of Edward is listed: Annie E. L. Hagenbuch. It is surmised that Elizabeth is Edward and Annie's child, who is noted in the Hagenbuch records as dying at age nine months.
A 1934 death certificate for Joseph J. states that his father was Thomas but his mother was "Elizabeth Leah". Could it be that Thomas was married first to Elizabeth Leah (maiden name unknown) who was the mother of Joseph? Yes! For in the 1900 census it lists Thomas and Ida's marriage date as December, 1873.
After Joseph's birth in May, 1873, his mother Elizabeth Leah died, and Thomas married Ida Heist in December 1873. Thomas and Ida (Heist) Hagenbuch then have two sons Edward and Franklin. Further research has found that Ida (Heist) Hagenbuch was born in 1853, died in 1906, and is buried at Linden St. cemetery in Allentown, PA with no Thomas Hagenbuch beside her! He is most likely buried with his first wife, Elizabeth Leah, whose grave site has yet to be found.
From the frying pan into the fire. No mystery found because Thomas and his father Jacob did not die on the same day. But, new mysteries and interests exist as to Thomas's burial site and marriages. Oh, how frustrating!