Powwowing: A Pennsylvania Deitsch Tradition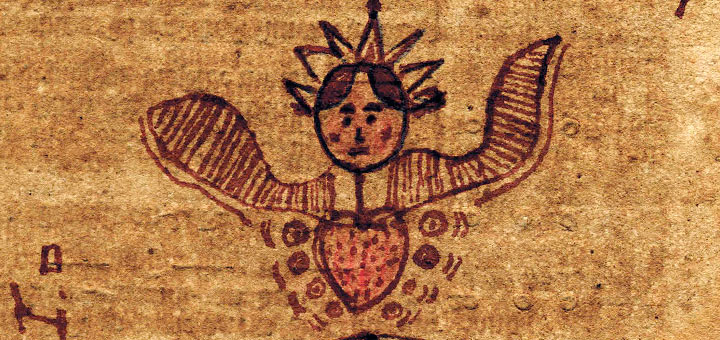 Those who are not from a Deitsch background rarely understand the term powwowing as it is used among Pennsylvanians. When confronted with the term, most people will quip "Sure, I've seen American Indian dancers", or "my wife's great grandfather was a powwow doctor from the Cherokee tribe." For Pennsylvanians, powwowing refers to the tradition of folk medicine practiced by Pennsylvania Deitsch people called "Braucherei." Very common many years ago among the Deitsch, it is still practiced today, albeit clandestinely.
In about 1950 at the age of one or two, David Hagenbuch, son of Homer (b. 1916, d. 2012) and Irene (Faus) Hagenbuch (b. 1920, d. 2011), broke out with eczema whenever he drank cow's milk. The family bought goats since David did not seem to be allergic to their milk. However, it's just not a good thing for a boy living on a dairy farm to be allergic to cow's milk! So, Irene took him to the powwow doctor. She also took along her two older children, Barbara and Bobby.
Barb and Bob (both born in the early 1940s) have vague memories of their mother, Irene, walking them back through a wooded area, baby David in her arms, to visit the powwow doctor. Barb has memories of the man living in an old, dark house and being disheveled. Some words were said over David, and Irene would tell the story that soon after David was cured. He no longer got eczema when he drank cow's milk!
In the late 1970s during the height of my work recording family history, my father and I visited Marian Sechler (b. 1892, d. 1991) who was a distant cousin living in Mifflinburg, PA. Marian, whose husband Ryan had died in 1957, met with us to talk about the Sechler family. She showed us a book written by Ryan's grandfather or possibly great grandfather who had been a powwow doctor. It was filled with symbols and incantations, most of which could not be read because they were in Deitsch. Ryan and Marion's descendants are being contacted to find out if the book survives.
Others who have memories of powwowing remember their parents taking them to the powwower (who could be a man or woman) for some ailment. The powwow doctor would make use of some "incantations," often described as whispering, and then request the sick person to perform an act such as walking around a table three times. Another act involved writing something on a piece of paper and asking that it be hidden someplace in the dwelling of the sick person or on their person.
Greg Wonders, who lives in Dillsburg, PA, is in possession of his great great uncle's powwow book from the 1850s which describes the cure for many ailments. Although his great great uncle, Levi Laydom, was not Pennsylvania Deitsch, some of the incantations and directions for healing are written in a mix of Deitsch and English. Powwowing utilizes a combination of herbal and homemade medicines, religious and old time incantations, and often, some sort of activity. For example in Laydom's book the remedy to help a child's pain in teething is as follows: Boil a rabbit's brain, then rub the substance on the child's gums while invoking the name of Father, Son and Holy Ghost three times.
Powwowing was (is) not only used for healing people but also for healing animals. In addition, there are incantations and activities to promote good luck for people, animals, and even dwellings. When a house was built, a powwow doctor might place a shoe in the wall and recite a religious blessing before the wall was plastered.
An excellent study of this Pennsylvania Deitsch tradition is found in a booklet written by Patrick Donmoyer, Director of the Pennsylvania German Cultural Heritage Center, Kutztown University of Pennsylvania. Entitled Powwowing in Pennsylvania, Healing, Rituals of the Dutch Country, it is available at Glencairn Museum.
Patrick Donmoyer has studied hundreds of sources so we have a better understanding of this Deitsch tradition. Too numerous and detailed to describe in this article, Donmoyer's booklet introduces to readers the curious and amazing techniques used by the powwow doctor: the use of a red string to draw illness from the body, calling the ailing person's baptismal name three times to cure a fever, or the European blessing on an iron horse in church which is placed in the barn as a blessing to all the livestock.
Of particular interest is the connection of powwowing to pietism which has been mentioned in previous hagenbuch.org articles. An 18th century document owned by Patrick Donmoyer features a star of David, a series of three crosses, the Biblical abbreviation of INRI, and a winged angel with a burning heart and crown – the latter of which was a popular symbol among pietist groups of the Pennsylvania Deitsch. Considering that Andreas Hagenbuch (b. 1711, d. 1785) was a pietist because of his ownership of Johann Arndt's book Wahren Christenthum, there is little doubt that he and the Hagenbuchs of Berks County shared many beliefs in common with powwowing.
Knowing the traditions that our ancestors followed gets us one step closer to understanding them. I urge all of you to purchase a copy of Donmoyer's upcoming book Powwowing in Pennsylvania: Braucherei and the Ritual of Everyday Life, which will be released later this fall and to visit the Pennsylvania German Cultural Center if you are in the Kutztown area. Also, ask others, especially your older family members, what and if they might know about powwowing. Our own personal stories of family traditions must be ferreted out to be preserved through oral and written means.